(-)-Lyoniresinol 9'-O-glucoside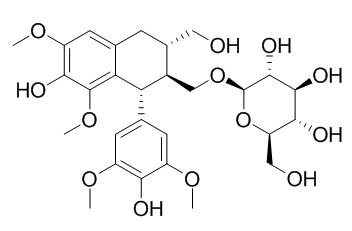 (-)-Lyoniresinol 9'-O-glucoside is a natural product from Phyllostachys heterocycla MITF.
Inquire / Order: manager@chemfaces.com
Technical Inquiries: service@chemfaces.com
Tel: +86-27-84237783
Fax: +86-27-84254680

Address:
1 Building, No. 83, CheCheng Rd., Wuhan Economic and Technological Development Zone, Wuhan, Hubei 430056, PRC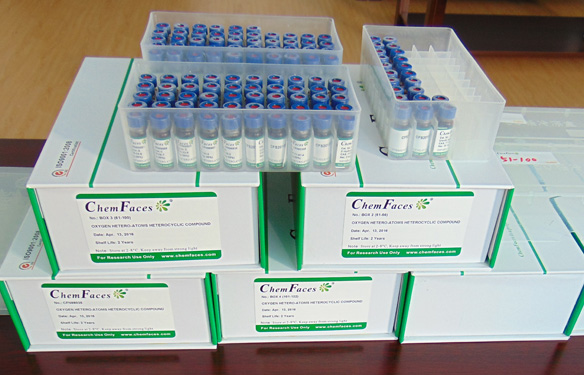 Providing storage is as stated on the product vial and the vial is kept tightly sealed, the product can be stored for up to
24 months(2-8C)
.
Wherever possible, you should prepare and use solutions on the same day. However, if you need to make up stock solutions in advance, we recommend that you store the solution as aliquots in tightly sealed vials at -20C. Generally, these will be useable for up to two weeks. Before use, and prior to opening the vial we recommend that you allow your product to equilibrate to room temperature for at least 1 hour.
Need more advice on solubility, usage and handling? Please email to: service@chemfaces.com
The packaging of the product may have turned upside down during transportation, resulting in the natural compounds adhering to the neck or cap of the vial. take the vial out of its packaging and gently shake to let the compounds fall to the bottom of the vial. for liquid products, centrifuge at 200-500 RPM to gather the liquid at the bottom of the vial. try to avoid loss or contamination during handling.
Sci Rep.2018, 8(1):12970
Ind Crops Prod.2014, 62:173-178
Cytotechnology.2017, 69(5):765-773
Phytomedicine.2018, 38:12-23
Planta Med.2019, 85(3):217-224
J Ethnopharmacol.2019, 228:132-141
Drug Chem Toxicol.2020, 1-12.
J. of Agricultural Science2015, 1916-9760
Evid Based Complement Alternat Med.2016, 2016:1739760
Journal of Oil Palm Research2019, 31(2):238-247
Chem Pharm Bull (Tokyo). 2017;65(9):878-882.
Identification of Characteristic Phenolic Constituents in Mousouchiku Extract Used as Food Additives.[Pubmed:
28867716
]
Mousouchiku extract is prepared from the bamboo-sheath of Phyllostachys heterocycla MITF. (Poaceae), and is registered as a food manufacturing agent in the List of Existing Food Additives in Japan.
METHODS AND RESULTS:
This study describes the chromatographic evaluation of characteristic components of this extract to obtain the chemical data needed for standardized specifications. We isolated 12 known compounds from this extract: 5-hydroxymethyl-2-furfural, 4-hydroxybenzoic acid, trans-p-coumaric acid, trans-ferulic acid, N,N'-diferuloylputrescine, 4'-hydroxypropiophenone, β-arbutin, tachioside, isotachioside, 3,4'-dihydroxypropiophenone 3-O-glucoside, koaburaside, and (+)-lyoniresinol 9'-O-glucoside. Moreover, a new propiophenone glycoside, propiophenone 4'-O-(6-β-D-xylosyl)-β-D-glucoside (propiophenone 4'-O-primeveroside), was isolated. The structure of each isolated compound was elucidated based on NMR and MS data or direct HPLC comparisons with authentic samples.
CONCLUSIONS:
Among the isolates, (+)-lyoniresinol 9'-O-glucoside was found to be the major ingredients of the extract as observed using HPLC analysis. However, 2,6-dimethoxy-1,4-benzoquinone, which is considered the main constituent of mousouchiku extract, was only detected as a trace constituent and not isolated in this study.