Kukoamine A
Kukoamine A possesses anticancer, cytoprotective, antioxidant, and anti-inflammatory activities, it also has neuroprotective effects through inhibiting oxidative stress and apoptosis after whole-brain irradiation (WBI) in rats. Kukoamine A prevents radiation-induced neuroinflammation and preserves hippocampal neurogenesis in rats by inhibiting activation of NF-κB and AP-1. It attenuates insulin resistance and fatty liver through downregulation of Srebp-1c.
Inquire / Order: manager@chemfaces.com
Technical Inquiries: service@chemfaces.com
Tel: +86-27-84237783
Fax: +86-27-84254680

Address:
1 Building, No. 83, CheCheng Rd., Wuhan Economic and Technological Development Zone, Wuhan, Hubei 430056, PRC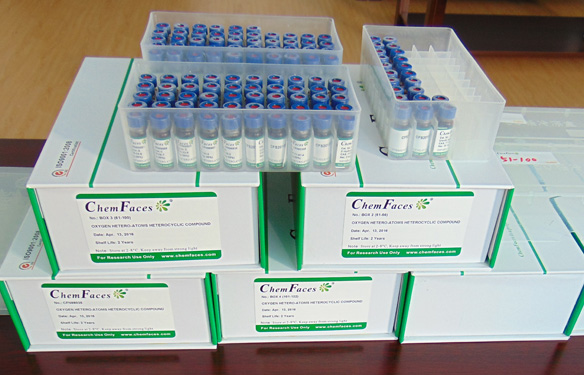 Providing storage is as stated on the product vial and the vial is kept tightly sealed, the product can be stored for up to
24 months(2-8C)
.
Wherever possible, you should prepare and use solutions on the same day. However, if you need to make up stock solutions in advance, we recommend that you store the solution as aliquots in tightly sealed vials at -20C. Generally, these will be useable for up to two weeks. Before use, and prior to opening the vial we recommend that you allow your product to equilibrate to room temperature for at least 1 hour.
Need more advice on solubility, usage and handling? Please email to: service@chemfaces.com
The packaging of the product may have turned upside down during transportation, resulting in the natural compounds adhering to the neck or cap of the vial. take the vial out of its packaging and gently shake to let the compounds fall to the bottom of the vial. for liquid products, centrifuge at 200-500 RPM to gather the liquid at the bottom of the vial. try to avoid loss or contamination during handling.
Journal of functional foods2018, 171-182
Molecules.2016, 21(10)
Plant Foods Hum Nutr.2020, 10.1007
Food and Chemical Toxicology2020, 111221
United States Patent Application2020, 20200038363
Molecules.2021, 26(16):4722.
Molecules.2016, 21(6)
Environ Toxicol.2019, 34(4):513-520.
Biomed Sci Letters.2020, 26:319-326
UDC.2020, 19(4).
Journal of Enzyme Inhibition and Medicinal Chemistry, 2009, 24(5):1188-1193.
Kukoamine A analogs with lipoxygenase inhibitory activity.[Reference:
WebLink
]
Kukoamine A (KukA) is a spermine (SPM) conjugate with dihydrocaffeic acid (DHCA), with interesting biological activities.
METHODS AND RESULTS:
The four possible regioisomers of KukA, as well as a series of KukA analogs incorporating changes in either the SPM or the DHCA structural units, were evaluated for their antioxidant activity and their inhibitory activity on soybean lipoxygenase (LOX) and lipid peroxidation. The reducing properties of the compounds were evaluated using the 1,1-diphenyl-2-picrylhydrazyl (DPPH) free radical scavenging assay and found to be in the range 5-97.5%. KukA significantly inhibits LOX with IC(50) 9.5 mu M. All tested analogs inhibited lipid peroxidation in the range of 11-100%.
CONCLUSIONS:
The most potent compounds KukA and its analog 3, in which the DHCA units had been replaced by O,O'-dimethylcaffeic acid units, were studied for their anti-inflammatory activity in vivo on rat paw edema induced by carrageenan and found to be of comparable activity to indomethacin. The results of the biological tests are discussed in terms of structural characteristics.
Molecules, 2018, 23(4):973.
Antioxidant and Cytoprotective Effects of Kukoamines A and B: Comparison and Positional Isomeric Effect.[Pubmed:
29690528
]

METHODS AND RESULTS:
In this study, two natural phenolic polyamines, Kukoamine A and kukoamine B, were comparatively investigated for their antioxidant and cytoprotective effects in Fenton-damaged bone marrow-derived mesenchymal stem cells (bmMSCs). When compared with kukoamine B, Kukoamine A consistently demonstrated higher IC50 values in PTIO•-scavenging (pH 7.4), Cu2+-reducing, DPPH•-scavenging, •O2−-scavenging, and •OH-scavenging assays. However, in the PTIO•-scavenging assay, the IC50 values of each kukoamine varied with pH value. In the Fe2+-chelating assay, kukoamine B presented greater UV-Vis absorption and darker color than kukoamine A. In the HPLC–ESI–MS/MS analysis, Kukoamine A with DPPH• produced radical-adduct-formation (RAF) peaks (m/z 922 and 713). The 3-(4,5-Dimethylthiazol-2-yl)-2,5-diphenyl (MTT) assay suggested that both kukoamines concentration-dependently increased the viabilities of Fenton-damaged bmMSCs at 56.5–188.4 μM. However, Kukoamine A showed lower viability percentages than kukoamine B.
CONCLUSIONS:
In conclusion, the two isomers Kukoamine A and kukoamine B can protect bmMSCs from Fenton-induced damage, possibly through direct or indirect antioxidant pathways, including electron-transfer, proton-transfer, hydrogen atom transfer, RAF, and Fe2+-chelating. Since kukoamine B possesses higher potentials than Kukoamine A in these pathways, kukoamine B is thus superior to Kukoamine A in terms of cytoprotection. These differences can ultimately be attributed to positional isomeric effects.
Neurochemistry International, 2017:S0197018616301875.
Neuroprotective effects of Kukoamine A against cerebral ischemia via antioxidant and inactivation of apoptosis pathway.[Reference:
WebLink
]
Kukoamine A (KuA) is a bioactive compound, which is known for a hypotensive effect. Recent studies have shown that KuA has anti-oxidative effect and anti-apoptosis stress in vitro. However, its neuroprotective effect in rats with cerebral ischemia is still unclear.
METHODS AND RESULTS:
In the study, we investigated whether KuA could attenuate cerebral ischemia induced by permanent middle cerebral artery occlusion (pMCAO) in rats. Results revealed that KuA could significantly reduce infarct volume both pre-treatment and post-treatment, and increase corresponding Garcia neurological scores. Acute KuA postconditioning not only significantly reduced cerebral infarct volume, brain water content and improved neurological deficit scores, but also decreased the number of TUNEL-positive cells. Moreover, it markedly increased the activities of Cu/Zn-SOD and Mn-SOD, reduced levels of MDA and H2O2. Increased expressions of caspase-3, cytochrome c and the ratio of Bax/Bcl-2 were significantly alleviated with KuA treatment.
CONCLUSIONS:
These findings demonstrated that KuA was able to protect the brain against injury induced by pMCAO via mitochondria mediated apoptosis signaling pathway.
Scientific Reports, 2016, 6:36543.
Kukoamine A inhibits human glioblastoma cell growth and migration through apoptosis induction and epithelial-mesenchymal transition attenuation.[Reference:
WebLink
]
Cortex lycii radicis is the dried root bark of Lycium chinense, a traditional Chinese herb used in multiple ailments. The crude extract of Cortex lycii radicis has growth inhibition effect on GBM cells. Kukoamine A (KuA) is a spermine alkaloid derived from it. KuA possesses antioxidant, anti-inflammatory activities, but its anticancer activity is unknown.
METHODS AND RESULTS:
In this study, the growth and migration inhibition effect of KuA on human GBM cells and the possible mechanism of its activity were investigated. After KuA treatment, proliferation and colony formation of GBM cells were decreased significantly; apoptotic cells were increased; the cell cycle was arrested G0/G1 phase; the migration and invasion were decreased, the growth of tumors initiated from GBM cells was inhibited significantly; the expressions of 5-Lipoxygenase (5-LOX) were decreased, apoptotic proteins, Bax and caspase-3 were increased, and antiapoptotic protein Bcl-2 was decreased significantly; The expressions of CCAAT/enhancer binding protein β (C/EBPβ), N-cadherin, vimentin, twist and snail+slug were decreased significantly, while the expression of E-cadherin was increased significantly in KuA treated GBM cells and tumor tissues.
CONCLUSIONS:
KuA inhibited human glioblastoma cell growth and migration in vitro and in vivo through apoptosis induction and epithelial-mesenchymal transition attenuation by downregulating expressions of 5-LOX and C/EBPβ.
Neurotoxicity Research, 2016, 31(2):259.
Kukoamine A Prevents Radiation-Induced Neuroinflammation and Preserves Hippocampal Neurogenesis in Rats by Inhibiting Activation of NF-κB and AP-1.[Reference:
WebLink
]
Impaired hippocampal neurogenesis and neuroinflammation are involved in the pathogenesis of radiation-induced brain injury. Kukoamine A (KuA) was demonstrated to have neuroprotective effects through inhibiting oxidative stress and apoptosis after whole-brain irradiation (WBI) in rats. The aim of this study was to investigate whether administration of KuA would prevent radiation-induced neuroinflammation and the detrimental effect on hippocampal neurogenesis.
METHODS AND RESULTS:
For this study, male Wistar rats received either sham irradiation or WBI (30 Gy single dose of X-rays) followed by the immediate injection of either KuA or vehicle intravenously. The dose of KuA was 5, 10, and 20 mg/kg, respectively. The levels of pro-inflammatory cytokines were assayed by ELISA kits. The newborn neurons were detected by 5-bromo-2-deoxyuridine (BrdU)/neuronal nuclei (NeuN) double immunofluorescence. Microglial activation was measured by Iba-1 immunofluorescence. The expression of Cox-2 and the activation of nuclear factor κB (NF-κB), activating protein 1(AP-1), and PPARδ were evaluated by western blot. WBI led to a significant increase in the level of TNF-α, IL-1β, and Cox-2, and it was alleviated by KuA administration. KuA attenuated microglial activation in rat hippocampus after WBI. Neurogenesis impairment induced by WBI was ameliorated by KuA. Additionally, KuA alleviated the increased translocation of NF-κB p65 subunit and phosphorylation of c-jun induced by WBI and elevated the expression of PPARδ.
CONCLUSIONS:
These data indicate that KuA could ameliorate the neuroinflammatory response and protect neurogenesis after WBI, partially through regulating the activation of NF-κB, AP-1, and PPARδ.
Biomedicine & Pharmacotherapy, 2017, 89:536-543.
Kukoamine A attenuates insulin resistance and fatty liver through downregulation of Srebp-1c.[Reference:
WebLink
]
Nonalcoholic fatty liver disease (NAFLD) refers to a pathological condition of hepatic steatosis. Insulin resistance is believed to be the key mechanism mediating initial accumulation of fat in the liver, resulting in hepatic steatosis. Kukoamine A (KuA), a spermine alkaloid, is a major bioactive component extracted from the root barks of Lycium chinense (L. chinense) Miller.
METHODS AND RESULTS:
In the current study, we aimed to explore the possible effect of KuA on insulin resistance and fatty liver. We showed that KuA significantly inhibited the increase of fasting blood glucose level and insulin level, and the glucose levels in response to glucose and insulin load in HFD-fed mice, which was in a dose-dependent manner. KuA dose-dependently decreased the histological injury of liver, levels of hepatic triglyceride (TG), and serum AST and ALT activities in HFD-fed mice. The increase of serum levels of TNFɑ, IL-1β, IL-6 and C reactive protein in HFD-fed mice was inhibited by KuA. HFD feeding-induced increase of hepatic expression of Srebp-1c and its target genes, including fatty acid synthase (FAS) and acetyl CoA carboxylase 1 (ACC1), was significantly inhibited by KuA. Moreover, upregulation of Srebp-1c notably inhibited KuA-induced improvement of insulin-stimulated glucose uptake, decrease of lipid accumulation and H2O2 level in palmitic acid-treated AML-12 cells.
CONCLUSIONS:
In conclusion, we reported that KuA inhibited Srebp-1c and downstream genes expression and resulted in inhibition of lipid accumulation, inflammation, insulin resistance and oxidative stress. Overall, our results provide a better understanding of the pharmacological activities of KuA against insulin resistance and hepatic steatosis.