Isobavachromene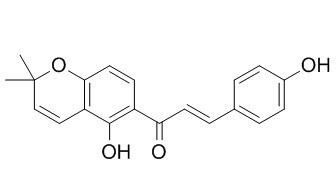 Isobavachromene is an inhibitor of NADH-Ubiquinone oxidoreductase and ornithine decarboxylase. Isobavachromene has antifungal activity.
Inquire / Order: manager@chemfaces.com
Technical Inquiries: service@chemfaces.com
Tel: +86-27-84237783
Fax: +86-27-84254680

Address:
1 Building, No. 83, CheCheng Rd., Wuhan Economic and Technological Development Zone, Wuhan, Hubei 430056, PRC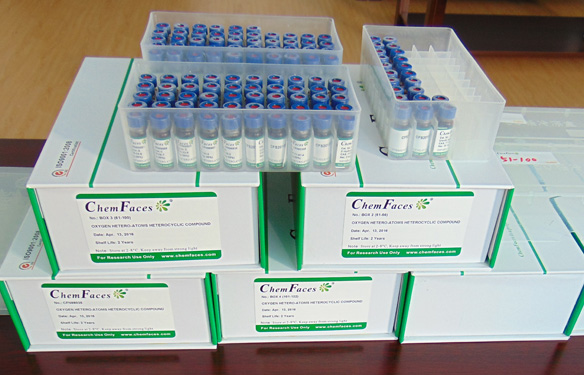 Providing storage is as stated on the product vial and the vial is kept tightly sealed, the product can be stored for up to
24 months(2-8C)
.
Wherever possible, you should prepare and use solutions on the same day. However, if you need to make up stock solutions in advance, we recommend that you store the solution as aliquots in tightly sealed vials at -20C. Generally, these will be useable for up to two weeks. Before use, and prior to opening the vial we recommend that you allow your product to equilibrate to room temperature for at least 1 hour.
Need more advice on solubility, usage and handling? Please email to: service@chemfaces.com
The packaging of the product may have turned upside down during transportation, resulting in the natural compounds adhering to the neck or cap of the vial. take the vial out of its packaging and gently shake to let the compounds fall to the bottom of the vial. for liquid products, centrifuge at 200-500 RPM to gather the liquid at the bottom of the vial. try to avoid loss or contamination during handling.
Food Chem.2018, 252:207-214
J Pharmaceut Biomed2020, 182:113110
Int J Mol Med.2019, 43(6):2516-2522
Srinagarind Medical Journal2019, 34(1)
Biomedicine & Pharmacotherapy2020, 125:109950
Anticancer Res.2014, 34(7):3505-9
Evid Based Complement Alternat Med.2015, 2015:165457
Appl Microbiol Biotechnol.2018, 102(12):5105-5120
J Sci Food Agric.2018, 98(3):1153-1161
Korean J of Crop Science2019, 452-458
Phytomedicine. 2011 Mar 15;18(5):425-30.
Estrogenic activities of Psoralea corylifolia L. seed extracts and main constituents.[Pubmed:
21382704
]

METHODS AND RESULTS:
Estrogenic activities of ethanol extract and its active components from Psoralea corylifolia L. were studied using various in vitro assays. The main components from ethanol extract were analyzed to be bakuchiol, psoralen, isobavachalcone, Isobavachromene, and bavachinin. In a fractionation procedure, hexane and chloroform fractions showed estrogenic activity in yeast transactivation assay and E-screen assay. In yeast transactivation assay, ethanol extract, hexane, and chloroform fractions showed significantly higher activities at a concentration of 1.0 ng/ml, and bakuchiol at the concentration of 10(-6) M was showed the highest activity, especially, which was higher than genistein at the same concentration.
CONCLUSIONS:
In E-screen assay, cell proliferation of bakuchiol (10(-6) M) showed similar estrogenic activity with genistein (10(-6) M). In ER binding assay, bakuchiol displayed the strongest ER-binding affinity (IC(50) for ERα=1.01×10(-6) M, IC(50) for ERβ=1.20×10(-6) M) and bakuchiol showed five times higher affinity for ERα than for ERβ.
Planta Med. 2008 Sep;74(11):1405-8.
In vitro BACE-1 inhibitory phenolic components from the seeds of Psoralea corylifolia.[Pubmed:
18666047
]

METHODS AND RESULTS:
A new isoflavone, neocorylin ( 1) was isolated from the seeds extract of Psoralea corylifolia L. (Fabaceae), together with eight known constituents ( 2 - 9), i. e., bakuchiol ( 2), psoralen ( 3), bavachromene ( 4), Isobavachromene ( 5), bavachalcone ( 6), isobavachalcone ( 7), 7,8-dihydro-8-(4-hydrophenyl)-2,2-dimethyl-2 H,6 H-[1,2- B:5,4- B']dipyran-6-one ( 8), and bavachinin ( 9). The structure of the new isoflavone 1 was elucidated as 7-hydroxy-3-[2-methyl-2-(4-methylpenten-3-yl)-2 H-chromen-6-yl]-4 H-chromen-4-one by spectroscopic analyses.
CONCLUSIONS:
Neocorylin ( 1) as well as related compounds 2, 4 - 6, 8 and 9 exhibited a significant inhibitory effect on baculovirus-expressed BACE-1 in vitro.