Glycitein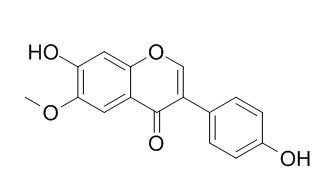 Gycitein has antioxidant, weak estrogenic, anti-invasion, and anti-proliferation activities, it has potentiol to prevent Abeta associated neurodegenerative disorders, and atherosclerotic cardiovascular diseases. It is a potent activator of ERK1/2, decreases RWPE-1 cell proliferation, it induces ERK1/2 activation was dependent, in part, on tyrosine kinase activity associated with vascular endothelial growth factor receptor (VEGFR).
Inquire / Order: manager@chemfaces.com
Technical Inquiries: service@chemfaces.com
Tel: +86-27-84237783
Fax: +86-27-84254680

Address:
1 Building, No. 83, CheCheng Rd., Wuhan Economic and Technological Development Zone, Wuhan, Hubei 430056, PRC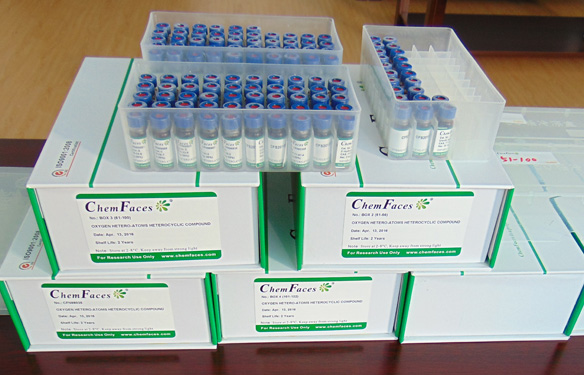 Providing storage is as stated on the product vial and the vial is kept tightly sealed, the product can be stored for up to
24 months(2-8C)
.
Wherever possible, you should prepare and use solutions on the same day. However, if you need to make up stock solutions in advance, we recommend that you store the solution as aliquots in tightly sealed vials at -20C. Generally, these will be useable for up to two weeks. Before use, and prior to opening the vial we recommend that you allow your product to equilibrate to room temperature for at least 1 hour.
Need more advice on solubility, usage and handling? Please email to: service@chemfaces.com
The packaging of the product may have turned upside down during transportation, resulting in the natural compounds adhering to the neck or cap of the vial. take the vial out of its packaging and gently shake to let the compounds fall to the bottom of the vial. for liquid products, centrifuge at 200-500 RPM to gather the liquid at the bottom of the vial. try to avoid loss or contamination during handling.
Journal of Life Science2017, 233-240
Plant Cell Tiss Org2017, 479-486
Academic J of Second Military Medical University2018, 39(11)
Nat Chem Biol.2018, 14(8):760-763
J Herbmed Pharmacol.2018, 7(4):280-286
Nutrients.2018, 11(1):E17
Plos One.2019, 15(2):e0220084
J Food Sci Technol.2019, 56(5):2712-2720
Front Pharmacol.2019, 10:1025
Acta Pharmaceutica Hungarica2016, 86:35-40
J Nutr. 2001 Apr;131(4):1154-8.
Genistein, daidzein and glycitein inhibit growth and DNA synthesis of aortic smooth muscle cells from stroke-prone spontaneously hypertensive rats.[Pubmed:
11285318
]
Recent studies have reported that estrogen replacement therapy (ERT) reduces the risk of cardiovascular diseases in postmenopausal women. However, mechanisms responsible for this effect are not yet completely understood, and ERT is associated with carcinogenic side effects in women and feminizing effects in men.
METHODS AND RESULTS:
Because soybean isoflavones, a group of natural phytoestrogens, have only weak estrogenic activity and are not known to have side effects such as carcinogenesis and feminization, we evaluated the effects of genistein, daidzein and Glycitein on the growth and DNA synthesis of aortic smooth muscle cells (SMC) from stroke-prone spontaneously hypertensive rats (SHRSP). SMC were cultured in dishes and proliferated on 10% dextran-coated charcoal/fetal bovine serum, and then treated with 0.1-30 micromol/L of genistein, daidzein or Glycitein to investigate cell proliferation (cell number) and DNA synthesis (cell proliferation ELISA system), respectively. We also studied their effects on platelet-derived growth factor (PDGF)-BB (20 microg/L)-induced SMC proliferation. Soybean isoflavones inhibited proliferation and DNA synthesis of SMC from SHRSP in a concentration-dependent manner. Inhibition was significant at 3 micromol/L of genistein and 10 micromol/L of both daidzein and Glycitein. For significant inhibition of PDGF-BB-induced SMC proliferation, concentrations as low as 0.1 micromol/L of each isoflavone were effective.
CONCLUSIONS:
These isoflavones, with their inhibitory effects on natural and PDGF-BB-induced SMC proliferation, may be useful in attenuatating such proliferation, a basic mechanism involved in atherosclerotic vascular change, thereby preventing atherosclerotic cardiovascular diseases.
Free Radic Res. 2007 Jun;41(6):720-9.
Inhibitory effects of glycitein on hydrogen peroxide induced cell damage by scavenging reactive oxygen species and inhibiting c-Jun N-terminal kinase.[Pubmed:
17516245
]
The present study investigated the cytoprotective properties of Glycitein, a metabolite formed by the transformation of glycitin by intestinal microflora, against oxidative stress.
METHODS AND RESULTS:
Glycitein was found to scavenge intracellular reactive oxygen species (ROS), and 1,1-diphenyl-2-picrylhydrazyl (DPPH) radical, and thereby preventing lipid peroxidation and DNA damage. Glycitein inhibited apoptosis of Chinese hamster lung fibroblast (V79-4) cells exposed to hydrogen peroxide (H(2)O(2)) via radical scavenging activity. Glycitein abrogated the activation of c-Jun N-terminal kinase (JNK) induced by H(2)O(2) treatment and inhibited DNA binding activity of activator protein-1 (AP-1), a downstream transcription factor of JNK.
CONCLUSIONS:
Taken together, these findings suggest that Glycitein protected H(2)O(2) induced cell death in V79-4 cells by inhibiting ROS generation and JNK activation.
Molecules. 2010 Jul 29;15(8):5153-61.
Synthesis of beta-maltooligosaccharides of glycitein and daidzein and their anti-oxidant and anti-allergic activities.[Pubmed:
20714292
]

METHODS AND RESULTS:
The production of beta-maltooligosaccharides of Glycitein and daidzein using Lactobacillus delbrueckii and cyclodextrin glucanotransferase (CGTase) as biocatalysts was investigated. The cells of L. delbrueckii glucosylated Glycitein and daidzein to give their corresponding 4'- and 7-O-beta-glucosides. The beta-glucosides of Glycitein and daidzein were converted into the corresponding beta-maltooligosides by CGTase.
CONCLUSIONS:
The 7-O-beta-glucosides of Glycitein and daidzein and 7-O-beta-maltoside of Glycitein showed inhibitory effects on IgE antibody production. On the other hand, beta-glucosides of Glycitein and daidzein exerted 2,2-diphenyl-1-picrylhydrazyl (DPPH) free-radical scavenging activity and supeoxide-radical scavenging activity.
Chem Biol Interact. 2010 Apr 15;185(1):18-24.
Glycitein inhibits glioma cell invasion through down-regulation of MMP-3 and MMP-9 gene expression.[Pubmed:
20188714
]
Matrix metalloproteinases (MMPs) are zinc-dependent endopeptidases that play a pivotal role in invasion and angiogenesis of malignant glioma cells. Therefore, the inhibition of MMPs has been suggested to be a promising therapeutic strategy for brain tumors.
METHODS AND RESULTS:
In the present study, we found that Glycitein, a bacterial metabolite of the isoflavone glycitin, inhibits the expression of MMP-3 and MMP-9 at promoter, mRNA, and protein levels in PMA-stimulated U87MG human astroglioma cells. In addition, gelatin zymography showed that Glycitein inhibited the PMA-induced MMP-9 secretion in U87MG cells. A subsequent Matrigel invasion assay revealed that Glycitein suppresses the in vitro invasiveness of glioma cells, which may be at least partly due to the Glycitein-mediated inhibition of MMP-3 and MMP-9. In support of this, treatment of MMP-3- or MMP-9-specific inhibitor significantly suppressed PMA-induced invasion of glioma cells. Further mechanistic studies revealed that Glycitein inhibits the DNA binding and transcriptional activities of NF-kappaB and AP-1, which are important transcription factors for MMP-3 or MMP-9 gene expression. Furthermore, Glycitein suppresses PMA-induced phosphorylation of three types of MAP kinases, which are upstream signaling molecules in MMP gene expressions and NF-kappaB and AP-1 activities in glioma cells.
CONCLUSIONS:
Therefore, the inhibition of MMP-3 and MMP-9 expression by Glycitein may have therapeutic potential for controlling invasiveness of malignant gliomas.
J Nutr Biochem. 2007 Aug;18(8):525-32.
Glycitein activates extracellular signal-regulated kinase via vascular endothelial growth factor receptor signaling in nontumorigenic (RWPE-1) prostate epithelial cells.[Pubmed:
17156992
]
Increased consumption of soy is associated with a decreased risk for prostate cancer; however, the specific cellular mechanisms responsible for this anticancer activity are unknown. Dietary modulation of signaling cascades controlling cellular growth, proliferation and differentiation has emerged as a potential chemopreventive mechanism.
METHODS AND RESULTS:
The present study examined the effects of four soy isoflavones (genistein, daidzein, Glycitein and equol) on extracellularsignal-regulated kinase (ERK1/2) activity in a nontumorigenic prostate epithelial cell line (RWPE-1). All four isoflavones (10 micromol/L) significantly increased ERK1/2 activity in RWPE-1 cells, as determined by immunoblotting. Isoflavone-induced ERK1/2 activation was rapid and sustained for approximately 2 h posttreatment. Glycitein, the most potent activator of ERK1/2, decreased RWPE-1 cell proliferation by 40% (P<.01). Glycitein-induced ERK1/2 activation was dependent, in part, on tyrosine kinase activity associated with vascular endothelial growth factor receptor (VEGFR). The presence of both VEGFR1 and VEGFR2 in the RWPE-1 cell line was confirmed by immunocytochemistry. Treatment of RWPE-1 cells with VEGF(165) resulted in transient ERK1/2 activation and increased cellular proliferation.
CONCLUSIONS:
The ability of isoflavones to modulate ERK1/2 signaling cascade via VEGFR signaling in the prostate may be responsible, in part, for the anticancer activity of soy.