Cycloeucalenol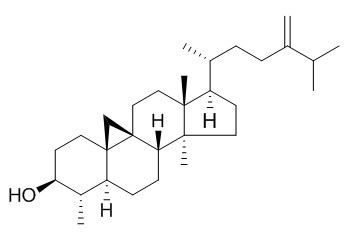 Cycloeucalenol produces mild cardiotonic effects. Cycloeucalenol and its regio-isomer were present in a ratio of 1.04:1, a dose-dependent decrease in cell viability was observed.
Inquire / Order: manager@chemfaces.com
Technical Inquiries: service@chemfaces.com
Tel: +86-27-84237783
Fax: +86-27-84254680

Address:
1 Building, No. 83, CheCheng Rd., Wuhan Economic and Technological Development Zone, Wuhan, Hubei 430056, PRC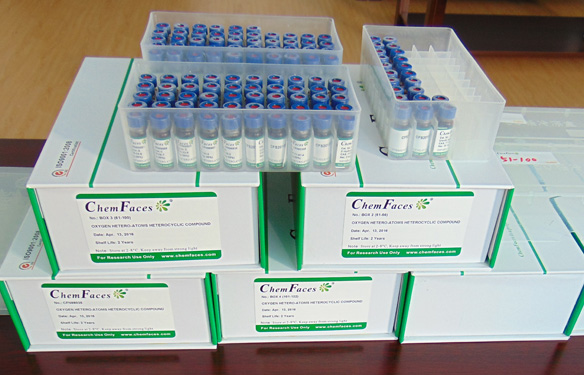 Providing storage is as stated on the product vial and the vial is kept tightly sealed, the product can be stored for up to
24 months(2-8C)
.
Wherever possible, you should prepare and use solutions on the same day. However, if you need to make up stock solutions in advance, we recommend that you store the solution as aliquots in tightly sealed vials at -20C. Generally, these will be useable for up to two weeks. Before use, and prior to opening the vial we recommend that you allow your product to equilibrate to room temperature for at least 1 hour.
Need more advice on solubility, usage and handling? Please email to: service@chemfaces.com
The packaging of the product may have turned upside down during transportation, resulting in the natural compounds adhering to the neck or cap of the vial. take the vial out of its packaging and gently shake to let the compounds fall to the bottom of the vial. for liquid products, centrifuge at 200-500 RPM to gather the liquid at the bottom of the vial. try to avoid loss or contamination during handling.
Molecules.2019, 24(11):E2102
Int J Mol Sci.2020, 21(19):7209.
J Sep Sci.2019, 42(21):3352-3362
Phytomedicine.2015, 22(14):1262-8
J Appl Toxicol.2020, 40(7):965-978.
Acta Chromatographica2016, 29(3)
Biochemical Systematics and Ecology2018, 81
Plants (Basel).2020, 9(11):1535.
Aquaculture2019, 510:392-399
Int J Mol Sci.2020, 21(22):8816.
Nat Prod Commun. 2013 Sep;8(9):1213-6.
Isolation of cycloeucalenol from Boophone disticha and evaluation of its cytotoxicity.[Pubmed:
24273848
]
Boophone disticha (Amaryllidaceae) is widely used in traditional medicine in southern Africa. Several alkaloids, volatile oils and fatty acids have been isolated from the plant. However, there has been no literature report of a triterpene from B. disticha.
METHODS AND RESULTS:
Cycloeucalenol, a cycloartane triterpene, together with its regio-isomer, was isolated from the ethyl acetate extract of the bulbs using column chromatography and preparative thin layer chromatography. Structural elucidation was carried out using 1D and 2D NMR and mass spectroscopy. The MTT and neutral red assays were used to assess the cytotoxicity of the compound in human neuroblastoma (SH-SY5Y) cells. The compound was obtained as a mixture of two regio-isomers, which were separated for the first time by chromatographic optimization. Integration of the 1H NMR spectrum showed that Cycloeucalenol and its regio-isomer were present in a ratio of 1.04:1. A dose-dependent decrease in cell viability was observed using both cytotoxicity assays. IC51 values of 173.0 +/- 5.1 microM and 223.0 +/- 6.4 microM were obtained for the MTT and neutral red assays, respectively, indicative of the low toxicity of the compound.
CONCLUSIONS:
This work describes for the first time, the presence of triterpene compounds from the genus Boophone.
J Ethnopharmacol. 2002 Nov;83(1-2):95-9.
Study on cardiac contractility of cycloeucalenol and cycloeucalenone isolated from Tinospora crispa.[Pubmed:
12413712
]

METHODS AND RESULTS:
This report describes the isolation of two triterpenes from the stems of Tinospora crispa, namely, Cycloeucalenol (1). and cycloeucalenone (2). for the first time. It was found that Cycloeucalenol (1). slightly increased the right atrial force of contraction whereas it showed an initial reduction followed by sustained reduction of about 10% on the left atria of the rat in vitro. Cycloeucalenone showed slight change from the control on the right and left atrial force.
CONCLUSIONS:
These results suggest that Cycloeucalenol and cycloeucalenone produced mild cardiotonic effects.
Eur J Biochem. 1989 May 15;181(3):615-26.
Cycloeucalenol-obtusifoliol isomerase. Structural requirements for transformation or binding of substrates and inhibitors.[Pubmed:
2731540
]

METHODS AND RESULTS:
The molecular features of 19 synthetic substrates and ground-state analogues of Cycloeucalenol, the natural substrate of Cycloeucalenol - obtusifoliol isomerase, a membrane-bound enzyme specific to higher plants, and of 9 synthetic carbocationic analogues of the high-energy intermediate occurring during the reaction catalyzed by the isomerase, were related to their ability to be transformed by this enzyme (catalytical competence) and their potency as inhibitors of this enzyme. With substrates and ground-state analogues it has been possible to determine at least two critical domains: significant binding requires the presence of the 3 beta-hydroxyl group on the ring A with the correct stereochemistry together with absence of a 4 beta-methyl group. Moreover initial enzyme-substrate interaction appears to be dependent upon the accessibility of the 3 beta-oxygen. Substitutions on the ring B do not preclude binding whereas they are of great influence on substrate transformation.
CONCLUSIONS:
Modifications of the ring A and other modifications suggest that ground-state and high-energy intermediate analogues bind two different conformations of the isomerase active site.