Cinnamic aldehyde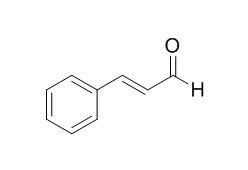 Cinnamic aldehyde, a COX-2 inhibitor, exhibits cardioprotective, antidepressant-like, anti-leukemia, anti-oxidative and anti-inflammatory properties. Its supplementation can improve glucose and lipid homeostasis in diabetic animals.
Inquire / Order: manager@chemfaces.com
Technical Inquiries: service@chemfaces.com
Tel: +86-27-84237783
Fax: +86-27-84254680

Address:
1 Building, No. 83, CheCheng Rd., Wuhan Economic and Technological Development Zone, Wuhan, Hubei 430056, PRC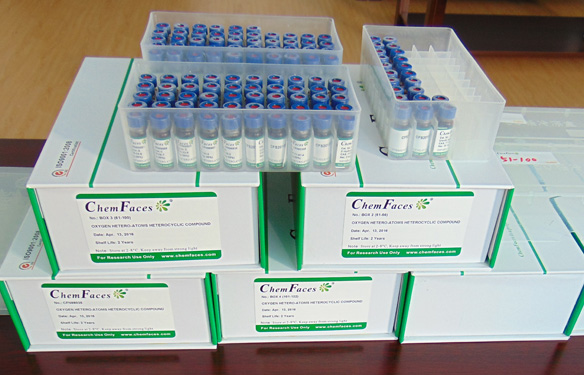 Providing storage is as stated on the product vial and the vial is kept tightly sealed, the product can be stored for up to
24 months(2-8C)
.
Wherever possible, you should prepare and use solutions on the same day. However, if you need to make up stock solutions in advance, we recommend that you store the solution as aliquots in tightly sealed vials at -20C. Generally, these will be useable for up to two weeks. Before use, and prior to opening the vial we recommend that you allow your product to equilibrate to room temperature for at least 1 hour.
Need more advice on solubility, usage and handling? Please email to: service@chemfaces.com
The packaging of the product may have turned upside down during transportation, resulting in the natural compounds adhering to the neck or cap of the vial. take the vial out of its packaging and gently shake to let the compounds fall to the bottom of the vial. for liquid products, centrifuge at 200-500 RPM to gather the liquid at the bottom of the vial. try to avoid loss or contamination during handling.
Phytomedicine.2019, 61:152813
Chemistry of Plant Raw Materials2019, 4:135-147
Biol Pharm Bull.2017, 40(6):797-806
Biomed Pharmacother.2019, 111:262-269
Molecules.2019, 24(11):E2102
Biochem Biophys Res Commun.2020, 522(1):40-46
J Pharm Biomed Anal.2019, 164:119-127
United States Patent Application2020, 20200038363
Semyung University2017, 149407
Int J Mol Med.2015, 35(5):1237-45
Zhongguo Shi Yan Xue Ye Xue Za Zhi. 2011 Jun;19(3):617-20.
Mechanism of cinnamic aldehyde-inducing apoptosis of chronic myeloid leukemic cells in vitro.[Pubmed:
21729535
]
The aim of this study was to investigate the apoptosis-inducing effect of Cinnamic aldehyde (CA) on chronic myeloid leukemic (CML) cells and its mechanism.
METHODS AND RESULTS:
K562 cells and primary bone marrow mononuclear cells (MNC) from patients with CML were treated by various concentrations of CA. Flow cytometry was employed to measure the apoptosis of K562 cells and primary CML bone marrow MNC. Western blot was used to determine the expression of C-MYC and the phosphorylation of CrkL in K562 cells, and real-time polymerase chain reaction (real-time PCR) was used to quantify the expression of BCR-ABL mRNA in K562 cells. The results indicated that CA induced the apoptosis of K562 cells in a time- and dose-dependent manner. CA induced apoptosis of CML MNC dose-dependently. CA inhibited the expression of BCR-ABL mRNA and C-MYC, reduced CrkL phosphorylation levels in K562 cells.
CONCLUSIONS:
It is concluded that CA induces apoptosis of CML cells in vitro. Down-regulation of the expression and function of BCR-ABL may be one of its most important anti-leukemia mechanisms.
J Agric Food Chem. 2013 Feb 27;61(8):1794-803.
Potent nematicidal activity of phthalaldehyde, salicylaldehyde, and cinnamic aldehyde against Meloidogyne incognita.[Pubmed:
23379671
]

METHODS AND RESULTS:
The nematicidal activity of selected aromatic aldehydes was tested against the root knot nematode Meloidogyne incognita. The most active aldehyde was phthalaldehyde (1) with an EC(50) value of 11 ± 6 mg/L followed by salicylaldehyde (2) and Cinnamic aldehyde (3) with EC(50) values of 11 ± 1 and 12 ± 5 mg/L, respectively. On the other hand, structurally related aldehydes such as 2-methoxybenzaldehyde (21), 3,4-dimethoxybenzaldehyde, and vanillin (23) were not active at the concentration of 1000 mg/L. By liquid chromatography-mass spectrometry the reactivity of tested aldehydes against a synthetic peptide resembling the nematode cuticle was characterized. At the test concentration of 1 mM, the main adduct formation was observed for 3,4-dihydroxybenzaldehyde (22), 2-methoxybenzaldehyde (21), and 3,4-dimethoxybenzaldehyde. Considering that 2-methoxybenzaldehyde (21) and 3,4-dimethoxybenzaldehyde were not active against M. incognita in in vitro experiments led us to hypothesize a different mechanism of action rather than an effect on the external cuticle modification of nematodes. When the toxicity of the V-ATPase inhibitor pyocyanin (10) was tested against M. incognita J2 nematodes, an EC(50) at 24 h of 72 ± 25 mg/L was found. The redox-active compounds such as phthalaldehyde (1) and salicylaldehyde (2) may share a common mode of action inhibiting nematode V-ATPase enzyme.
CONCLUSIONS:
The results of this investigation reveal that aromatic redox-active aldehydes can be considered as potent nematicides, and further investigation is needed to completely clarify their mode of action.
J Ethnopharmacol. 2015 Mar 13;162:97-103.
Cinnamic aldehyde treatment alleviates chronic unexpected stress-induced depressive-like behaviors via targeting cyclooxygenase-2 in mid-aged rats.[Pubmed:
25556926
]
COX-2 has been considered as a potent molecular target for prevention and therapy of depression. However, a recent study showed that COX-2 inhibitor does not improve depressive symptoms in persons aged 70 and over. Therefore, whether treatments targeting COX-2 have a clinical efficacy in depression, especially elderly individuals, remains unclear. Cinnamic aldehyde is a major constituent of Cinnamomum cassia, which has exhibited excellent anti-inflammatory activities as a COX-2 inhibitor. To investigate the potential antidepressant effect of Cinnamic aldehyde in mid-aged rats.
METHODS AND RESULTS:
The depressive-like behaviors were measured after the rats exposed to chronic unexpected mild stress (CUMS). Cinnamic aldehyde was administrated by oral gavage to stressed rats (22.5, 45, 90 mg/kg, respectively) for 21 days. The mRNA, protein expression and activity of cyclooxygenase-2 (COX-2), as well as prostaglandin E2 (PGE2) levels were measured in the frontal cortex and hippocampus of stressed animals. We found that CUMS procedure not only decreased the sucrose preference, but also elevated the COX-2 activity, mRNA and protein levels, and increased PGE2 concentration in rat brain regions. Treatment with high doses of Cinnamic aldehyde (45, 90 mg/kg) reversed the behavioral abnormalities, and decreased the COX-2 protein and activity (but not COX-2 mRNA expression) and PGE2 concentration in frontal cortex and hippocampus of stressed rats.
CONCLUSIONS:
Cinnamic aldehyde exerted antidepressant-like effects in stressed mid-aged rats, and its mechanism of action appears to decrease COX-2 protein and activity. The current findings suggest that targeting COX-2 system might be benefit to the depression, especially elderly individuals and Cinnamic aldehyde might be a promising medicine to treat the subjects in the depression.
J Ethnopharmacol. 2013 Oct 28;150(1):125-30.
Protective effects of cinnamic acid and cinnamic aldehyde on isoproterenol-induced acute myocardial ischemia in rats.[Pubmed:
24001892
]
Cinnamomum cassia is a well-known traditional Chinese herb that is widely used for the treatment of ischemic heart disease (IHD). It has favorable effects, but its mechanism is not clear. To investigate the effects of Cinnamic aldehyde (CA) and cinnamic acid (CD) isolated from Cinnamomum cassia against myocardial ischemia produced in rats by isoproterenol (ISO).
METHODS AND RESULTS:
Ninety male Sprague-Dawley rats were randomized equally to nine groups: a control group, an untreated model group, Cinnamic aldehyde (22.5, 45, 90 mg/kg) or CD (37.5, 75, 150 mg/kg) treatment, or propranolol (30 mg/kg). Rats were treated for 14 days and then given ISO, 4 mg/kg for 2 consecutive days by subcutaneous injection. ST-segment elevation was measured after the last administration. Serum levels of creatine kinase (CK), lactate dehydrogenase (LDH), tumor necrosis factor-α (TNF-α), interleukin-6 (IL-6), nitric oxide (NO), and blood rheology were measured after the rats were sacrificed. The hearts were excised for determining heart weight index, microscopic examination, superoxide dismutase (SOD) and malondialdehyde (MDA) measurements.Cinnamic aldehyde and CD decreased the ST elevation induced by acute myocardial ischemia, decreased serum levels of CK-MB, LDH, TNF-α and IL-6, and increased serum NO activity. Cinnamic aldehyde and CD increased SOD activity and decreased MDA content in myocardial tissue.
CONCLUSIONS:
Cinnamic aldehyde and CD were cardioprotective in a rat model of ischemic myocardial injury. The protection was attributable to anti-oxidative and anti-inflammatory properties, as well as increased NO. The results support further study of Cinnamic aldehyde and CD as potential treatments for ischemic heart disease.