Cedeodarin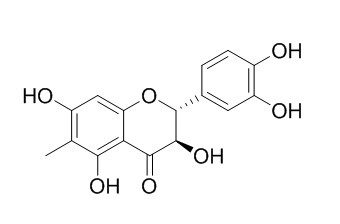 Standard reference
Inquire / Order: manager@chemfaces.com
Technical Inquiries: service@chemfaces.com
Tel: +86-27-84237783
Fax: +86-27-84254680

Address:
1 Building, No. 83, CheCheng Rd., Wuhan Economic and Technological Development Zone, Wuhan, Hubei 430056, PRC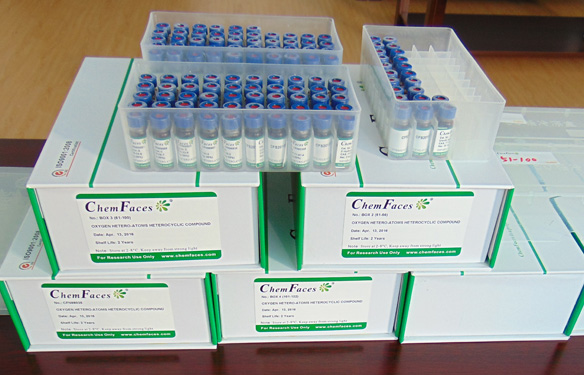 Providing storage is as stated on the product vial and the vial is kept tightly sealed, the product can be stored for up to
24 months(2-8C)
.
Wherever possible, you should prepare and use solutions on the same day. However, if you need to make up stock solutions in advance, we recommend that you store the solution as aliquots in tightly sealed vials at -20C. Generally, these will be useable for up to two weeks. Before use, and prior to opening the vial we recommend that you allow your product to equilibrate to room temperature for at least 1 hour.
Need more advice on solubility, usage and handling? Please email to: service@chemfaces.com
The packaging of the product may have turned upside down during transportation, resulting in the natural compounds adhering to the neck or cap of the vial. take the vial out of its packaging and gently shake to let the compounds fall to the bottom of the vial. for liquid products, centrifuge at 200-500 RPM to gather the liquid at the bottom of the vial. try to avoid loss or contamination during handling.
The Journal of Agromedicine and Medical Sciences2018, 4(1)
J Basic Clin Physiol Pharmacol.2016, 27(1):1-8
Korean Herb. Med. Inf. 2016, 4(1):35-42
US20170000760 A12016, 42740
Int J Mol Sci.2020, 21(19):7209.
Front Immunol.2018, 9:2655
Evid Based Complement Alternat Med.2018, 2018:3610494
Cell Metab.2020, S1550-4131(20)30002-4
AMB Express2020. 10(1):126.
Appl. Sci.2021, 11(1),14.
Adv Bioinformatics. 2014;2014:903246.
Pharmacophore Modeling and Molecular Docking Studies on Pinus roxburghii as a Target for Diabetes Mellitus.[Pubmed:
25114678
]
The present study attempts to establish a relationship between ethnopharmacological claims and bioactive constituents present in Pinus roxburghii against all possible targets for diabetes through molecular docking and to develop a pharmacophore model for the active target.
METHODS AND RESULTS:
The process of molecular docking involves study of different bonding modes of one ligand with active cavities of target receptors protein tyrosine phosphatase 1-beta (PTP-1β), dipeptidyl peptidase-IV (DPP-IV), aldose reductase (AR), and insulin receptor (IR) with help of docking software Molegro virtual docker (MVD). From the results of docking score values on different receptors for antidiabetic activity, it is observed that constituents, namely, secoisoresinol, pinoresinol, and Cedeodarin, showed the best docking results on almost all the receptors, while the most significant results were observed on AR. Then, LigandScout was applied to develop a pharmacophore model for active target. LigandScout revealed that 2 hydrogen bond donors pointing towards Tyr 48 and His 110 are a major requirement of the pharmacophore generated.
CONCLUSIONS:
In our molecular docking studies, the active constituent, secoisoresinol, has also shown hydrogen bonding with His 110 residue which is a part of the pharmacophore. The docking results have given better insights into the development of better aldose reductase inhibitor so as to treat diabetes related secondary complications.
Planta Med. 1981 Sep;43(1):82-5.
Dihydroflavanonols from Cedrus deodara, A (13)C NMR study.[Pubmed:
17402014
]

METHODS AND RESULTS:
High resolution (13)C NMR study of taxifolin, Cedeodarin, cedrin and their methyl ethers allowed unambiguous placement of the Me in 5,7-dihydroxyflavanonol nucleus, besides providing other valuable information on the substitution pattern in the molecule.