Cassiaside B2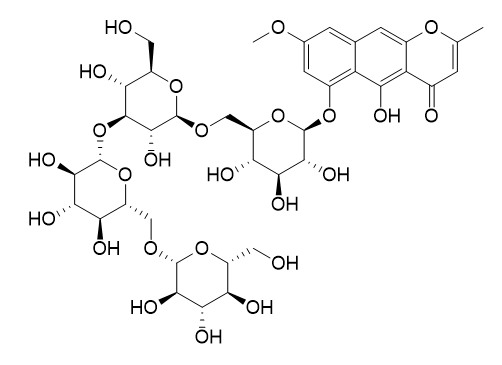 Reference standards.
Inquire / Order: manager@chemfaces.com
Technical Inquiries: service@chemfaces.com
Tel: +86-27-84237783
Fax: +86-27-84254680

Address:
1 Building, No. 83, CheCheng Rd., Wuhan Economic and Technological Development Zone, Wuhan, Hubei 430056, PRC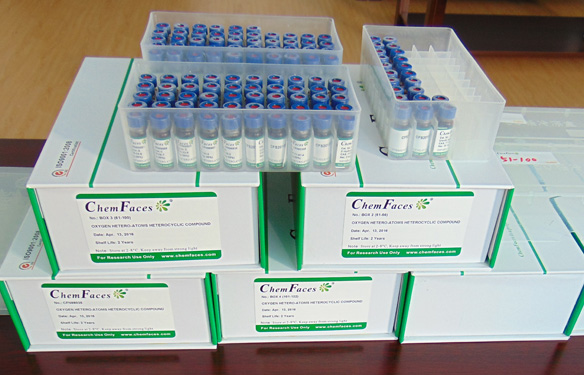 Providing storage is as stated on the product vial and the vial is kept tightly sealed, the product can be stored for up to
24 months(2-8C)
.
Wherever possible, you should prepare and use solutions on the same day. However, if you need to make up stock solutions in advance, we recommend that you store the solution as aliquots in tightly sealed vials at -20C. Generally, these will be useable for up to two weeks. Before use, and prior to opening the vial we recommend that you allow your product to equilibrate to room temperature for at least 1 hour.
Need more advice on solubility, usage and handling? Please email to: service@chemfaces.com
The packaging of the product may have turned upside down during transportation, resulting in the natural compounds adhering to the neck or cap of the vial. take the vial out of its packaging and gently shake to let the compounds fall to the bottom of the vial. for liquid products, centrifuge at 200-500 RPM to gather the liquid at the bottom of the vial. try to avoid loss or contamination during handling.
Nutrients.2019, 12(1):E40
Pathogens.2018, 7(3):E62
J Pharm Biomed Anal.2019, 172:268-277
J Ethnopharmacol.2019, 228:132-141
Chinese Medicine2019, 14(1)
Org Biomol Chem.2017, 15(31):6483-6492
Oxid Med Cell Longev2020, 12
New Journal of Chemistry2019, 43:12538-12547
The Journal of Agromedicine and Medical Sciences2018, 4(1)
J Nat Med.2020, 74(1):65-75
ACS Omega. 2019 Jul 3;4(7):11621-11630.
Rubrofusarin as a Dual Protein Tyrosine Phosphate 1B and Human Monoamine Oxidase-A Inhibitor: An in Vitro and in Silico Study.[Pubmed:
31460269
]
A number of nature-derived biologically active compounds comprise glycosides. In some cases, the glycosidic residue is needed for bioactivity; however, in other cases, glycosylation just improves some pharmacokinetic/dynamic parameters. The patterns of protein tyrosine phosphatase 1B (PTP1B) and human monoamine oxidase A (hMAO-A) inhibition by rubrofusarin 6-O-β-d-glucopyranoside (1), rubrofusarin 6-O-β-d-gentiobioside (2), rubrofusarin triglucoside (3), and Cassiaside B2 (4) were compared with the aglycone, rubrofusarin, isolated from Cassia obtusifolia seeds.
METHODS AND RESULTS:
Rubrofusarin showed potent inhibition against the PTP1B enzyme (IC50; 16.95 ± 0.49 μM), and its glycosides reduced activity (IC50; 87.36 ± 1.08 μM for 1 and >100 μM for 2-4) than did the reference drug, ursolic acid (IC50; 2.29 ± 0.04 μM). Similarly, in hMAO-A inhibition, rubrofusarin displayed the most potent activity with an IC50 value of 5.90 ± 0.99 μM, which was twice better than the reference drug, deprenyl HCl (IC50; 10.23 ± 0.82 μM). An enzyme kinetic and molecular docking study revealed rubrofusarin to be a mixed-competitive inhibitor of both these enzymes. In a western blot analysis, rubrofusarin increased glucose uptake significantly and decreased the PTP1B expression in a dose-dependent manner in insulin-resistant HepG2 cells, increased the expression of phosphorylated protein kinase B (p-Akt) and phosphorylated insulin receptor substrate-1 (p-IRS1) (Tyr 895), and decreased the expression of glucose-6-phosphatase (G6Pase) and phosphoenol pyruvate carboxykinase (PEPCK), key enzymes of gluconeogenesis.
CONCLUSIONS:
Our overall results show that glycosylation retards activity; however, it reduces toxicity. Thus, Cassia seed as functional food and rubrofusarin as a base can be used for the development of therapeutic agents against comorbid diabetes and depression.
Zhongguo Zhong Yao Za Zhi. 2017 Sep;42(17):3385-3390.
Study on naphthopyrone reference extract and application on assay of Semen Cassiae.[Pubmed:
29192451
]
A quality control method of Semen Cassiae was established by using naphthopyrone reference extract(NRE). Meanwhile, the feasibility about NRE replacing single component reference in quality control of traditional Chinese medicine was explored.
METHODS AND RESULTS:
After NRE of Semen Cassiae being prepared by chromatographic separation technology, we determined the three main components, Cassiaside B2, rubrofusarin-6-O-β-D-gentiobioside and cassiaside C. In the meantime, an HPLC analytical method, based on the NRE as standard substance, was developed to determinate the contents of three main components in Semen Cassiae. T-test was used for comparison of the determination results of the two methods(single chemical component and NRE as reference substances, respectively), and the T-test result demonstrated that there was no significant difference between the two methods.
CONCLUSIONS:
The results developed scientific basis for the application of NRE of Semen Cassia in the quality control, which could be applied for the quality control of traditional Chinese medicine using reference extract substituting single chemical reference, and provide a new research model for the quality control of Chinese medicine.