6''-O-Malonylgenistin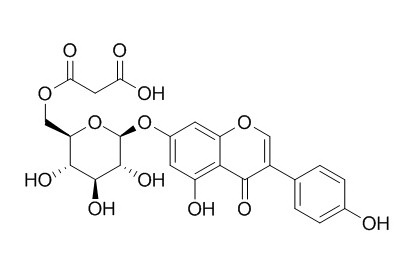 6''-O-Malonylgenistin possesses a hepatoprotective activity.
Inquire / Order: manager@chemfaces.com
Technical Inquiries: service@chemfaces.com
Tel: +86-27-84237783
Fax: +86-27-84254680

Address:
1 Building, No. 83, CheCheng Rd., Wuhan Economic and Technological Development Zone, Wuhan, Hubei 430056, PRC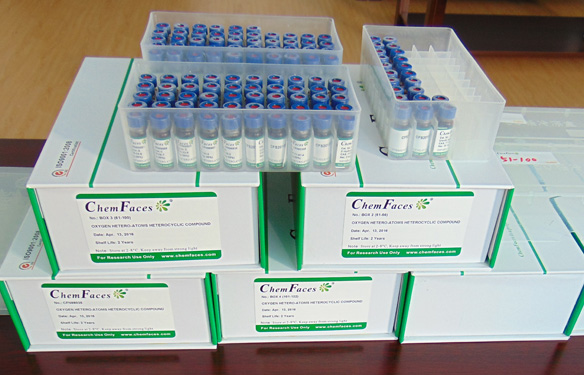 Providing storage is as stated on the product vial and the vial is kept tightly sealed, the product can be stored for up to
24 months(2-8C)
.
Wherever possible, you should prepare and use solutions on the same day. However, if you need to make up stock solutions in advance, we recommend that you store the solution as aliquots in tightly sealed vials at -20C. Generally, these will be useable for up to two weeks. Before use, and prior to opening the vial we recommend that you allow your product to equilibrate to room temperature for at least 1 hour.
Need more advice on solubility, usage and handling? Please email to: service@chemfaces.com
The packaging of the product may have turned upside down during transportation, resulting in the natural compounds adhering to the neck or cap of the vial. take the vial out of its packaging and gently shake to let the compounds fall to the bottom of the vial. for liquid products, centrifuge at 200-500 RPM to gather the liquid at the bottom of the vial. try to avoid loss or contamination during handling.
Biochem Biophys Res Commun.2018, 495(1):1271-1277
TCI CO.2019, US20190151281A1
Cell Biochem Funct.2018, 36(6):303-311
PLoS One.2018, 13(4):e0195642
Bio-protocol2018, 9(14):e3301
Clin Exp Pharmacol Physiol.2015, 42(11):1189-97
Molecules.2019, 24(6):E1155
Semyung University2017, 149407
Chin. Med.J.Res. Prac.2017, 31(4)
Phytochem Anal.2016, 27(5):296-303
J Agric Food Chem. 2008 Nov 12;56(21):9899-904.
Isoflavone content and its potential contribution to the antihypertensive activity in soybean Angiotensin I converting enzyme inhibitory peptides.[Pubmed:
18921974
]
A soybean angiotensin I converting enzyme (ACE) inhibitory peptide fraction was reported to have antihypertensive activity in a rat study. The purpose of the present study was to examine if the presence of isoflavones in the soybean ACE inhibitory peptide fraction may contribute to the blood-pressure-lowering property.
METHODS AND RESULTS:
The isoflavone concentration in soybean samples was analyzed on a C 18 reverse-phase column using a two-step gradient solvent system. Producing soybean hydrolysate led to a nearly 40% loss of isoflavones compared with the original soybean flour, but the isoflavone composition did not change and the dominant isoflavone chemicals remained as 6''-O-Malonylgenistin and 6''-O-malonyldaidzin. Ion exchange chromatography affected significantly both the content and the composition of the isoflavones. The dominant isoflavones in the ion-exchanged fraction were aglycones and nonacylated isoflavones, accounting for 95.8% of the total amount of 987.7 microg/g. It was calculated that the isoflavone content in the soybean ACE inhibitory peptide fraction was 25 times less than the minimal effective isoflavone dose reported. In vitro study also showed that adding isoflavones into both soybean flour hydrolysate and soybean ACE inhibitory peptide samples to a concentration of as high as 31.5% (w/w) did not affect ACE inhibitory activity (IC 50 values).
CONCLUSIONS:
The findings along with previously published results indicated that the contribution of isoflavones in soybean ACE inhibitory peptide fraction to the blood-pressure-lowering property in a short-term feeding study might be negligible.
J Agric Food Chem. 2008 Aug 27;56(16):7023-31.
Isoflavonoid composition of a callus culture of the relict tree Maackia amurensis Rupr. et Maxim.[Pubmed:
18671403
]
Isoflavonoids, an interesting and restricted group of secondary metabolites of legumes, exhibit estrogenic, antiangiogenic, and anticancer activities and are now popular as dietary supplements. Plant cell cultures that possess an increased ability to synthesize these metabolites were examined.
METHODS AND RESULTS:
During the investigation, cell cultures of the Far Eastern relict tree Maackia amurensis (Leguminosae) were established. A selection of seed-derived cell aggregates yielded the callus line designated A-18. This culture produces 20 isoflavonoids, namely, the isoflavones genistein, daidzein, formononetin, calycosin, derrone, and pseudobaptigenin and their glycosylated conjugates genistin, 6''-O-Malonylgenistin, ononin, 6''-O-malonylononin, daidzin, 3'-methoxydaidzin, 4'-O-beta-D-glucopyranosyldaidzin, 4'-O-beta-D-glucopyranosylgenistin, and 7-O-beta-D-glucopyranosylcalycosin; the pterocarpans maackiain and medicarpin and their glycosylated conjugates 6'-O-malonyl-3-O-beta-D-glucopyranosylmaackiain and 6'-O-malonyl-3-O-beta-D-glucopyranosylmedicarpin; and the new pterocarpan glucoside 6'-O-malonyl-3-O-beta-D-glucopyranosyl-6,6a-dehydromaackiain.
CONCLUSIONS:
These isoflavonoids, possessing a hepatoprotective activity, were stably produced by the A-18 calli for prolonged periods of observation.