2,3-dihydrosciadopitysin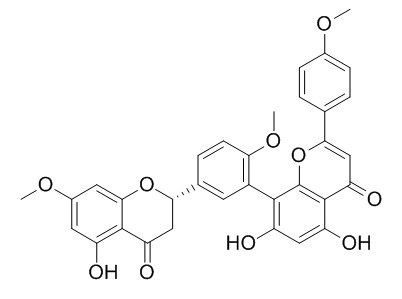 Standard reference
Inquire / Order: manager@chemfaces.com
Technical Inquiries: service@chemfaces.com
Tel: +86-27-84237783
Fax: +86-27-84254680

Address:
1 Building, No. 83, CheCheng Rd., Wuhan Economic and Technological Development Zone, Wuhan, Hubei 430056, PRC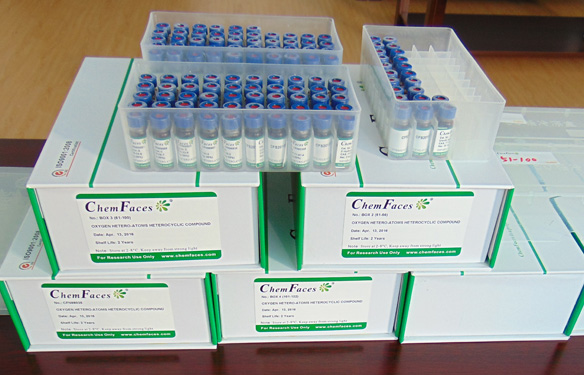 Providing storage is as stated on the product vial and the vial is kept tightly sealed, the product can be stored for up to
24 months(2-8C)
.
Wherever possible, you should prepare and use solutions on the same day. However, if you need to make up stock solutions in advance, we recommend that you store the solution as aliquots in tightly sealed vials at -20C. Generally, these will be useable for up to two weeks. Before use, and prior to opening the vial we recommend that you allow your product to equilibrate to room temperature for at least 1 hour.
Need more advice on solubility, usage and handling? Please email to: service@chemfaces.com
The packaging of the product may have turned upside down during transportation, resulting in the natural compounds adhering to the neck or cap of the vial. take the vial out of its packaging and gently shake to let the compounds fall to the bottom of the vial. for liquid products, centrifuge at 200-500 RPM to gather the liquid at the bottom of the vial. try to avoid loss or contamination during handling.
Int. J. of Food Properties2017, S108-S118
Molecules. 2013, 18(7):7376-88
Plant Cell Tiss Org2020, 1-16
Food Res Int.2017, 96:40-45
TCI CO.2019, US20190151281A1
Molecules.2019, 24(17):E3127
Phytother Res.2016, 30(12):2020-2026
Asian Journal of Chemistry2018, 30(12):2699-2703
University of Central Lancashire2017, 20472
Food Res Int.2019, 123:125-134
Chem Pharm Bull (Tokyo). 2007 May;55(5):757-61.
New constituent from Podocarpus macrophyllus var. macrophyllus shows anti-tyrosinase effect and regulates tyrosinase-related proteins and mRNA in human epidermal melanocytes.[Pubmed:
17473463
]
A new biflavonoid, 2,3-dihydro-4',4'''-di-O-methylamentoflavone (5), and five known compounds, (-)-catechin (1), quercetin (2), 2,3-dihydrosciadopitysin (3), sciadopitysin (4), and isoginkgetin (6), were isolated from Podocarpus macrophyllus var. macrophyllus (Podocarpaceae). These compounds were evaluated their ability to inhibit cellular tyrosinase activity and for their melanin inhibitory activity in human epidermal melanocytes (HEMn).
METHODS AND RESULTS:
In the melanin synthesis assay, 2,3-dihydro-4',4'''-di-O-methylamentoflavone (5) showed a potent anti-tyrosinase effect with IC(50)=0.098 mM in HEMn. It also significantly decreased both protein and mRNA levels of the tyrosinase-related protein-2 (TRP-2) by Western blot and quantitative real-time PCR (qRT-PCR) analysis.
CONCLUSIONS:
These findings suggest that the new compound, 2,3-dihydro-4',4'''-di-O-methylamentoflavone (5), is the most active component of P. macrophyllus var. macrophyllus in inhibiting pigmentation and that this inhibition is exerted through inhibition of transcription of the genes encoding TRP2.
Z Naturforsch C. 2003 Jan-Feb;58(1-2):65-9.
Antifungal activity of biflavones from Taxus baccata and Ginkgo biloba.[Pubmed:
12622229
]
Bilobetin and 4'''-O-methylamentoflavone were isolated and identified in the needles of Taxus baccata, for the first time in this species.
METHODS AND RESULTS:
The antifungal activity of biflavones from T. baccata and Ginkgo biloba, namely amentoflavone, 7-O-methylamentoflavone, bilobetin, ginkgetin, sciadopitysin and 2,3-dihydrosciadopitysin towards the fungi Alternaria alternata, Fusarium culmorum, Cladosporium oxysporum was determined employing computer-aided image analysis couplet to a microscope.
CONCLUSIONS:
Bilobetin exhibited a significant antifungal activity with values of ED50 14, 11 and 17 microM respectively. This compound completely inhibited the growth of germinating tubes of Cladosporium oxysporum and Fusarium culmorum at a concentration 100 microM. Activity of ginkgetin and 7-O-methylamentoflavone towards Alternaria alternata was stronger than that of bilobetin. Moreover, slight structural changes in the cell wall of Alternaria alternata exposed to ginkgetin at concentration of 200 microM were observed.