15-Demethylplumieride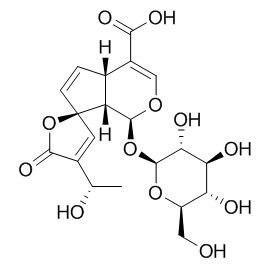 15-Demethylplumieride is a quality control index of Plumeriarubra L.
Inquire / Order: manager@chemfaces.com
Technical Inquiries: service@chemfaces.com
Tel: +86-27-84237783
Fax: +86-27-84254680

Address:
1 Building, No. 83, CheCheng Rd., Wuhan Economic and Technological Development Zone, Wuhan, Hubei 430056, PRC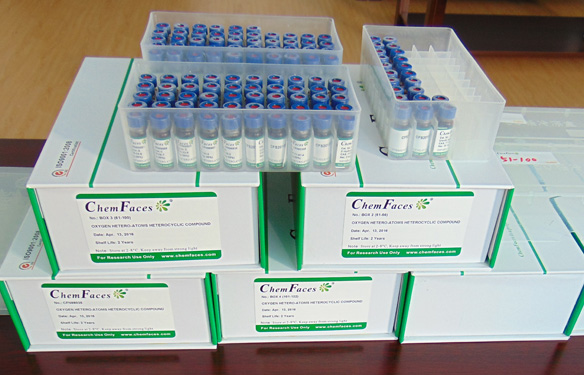 Providing storage is as stated on the product vial and the vial is kept tightly sealed, the product can be stored for up to
24 months(2-8C)
.
Wherever possible, you should prepare and use solutions on the same day. However, if you need to make up stock solutions in advance, we recommend that you store the solution as aliquots in tightly sealed vials at -20C. Generally, these will be useable for up to two weeks. Before use, and prior to opening the vial we recommend that you allow your product to equilibrate to room temperature for at least 1 hour.
Need more advice on solubility, usage and handling? Please email to: service@chemfaces.com
The packaging of the product may have turned upside down during transportation, resulting in the natural compounds adhering to the neck or cap of the vial. take the vial out of its packaging and gently shake to let the compounds fall to the bottom of the vial. for liquid products, centrifuge at 200-500 RPM to gather the liquid at the bottom of the vial. try to avoid loss or contamination during handling.
Phytother Res.2016, 30(12):2020-2026
Sci Rep.2017, 7:40345
Oncotarget.2015, 6(31):30831-49
Phytother Res.2018, 32(12):2551-2559
Plos One.2019, 15(2):e0220084
Nat Prod Sci.2019, 25(3):238
J Nat Med.2017, 71(2):457-462
Molecules.2019, 24(24):E4536
Cell Death Dis.2019, 10(12):882
Pak J Pharm Sci.2019, 32(6):2879-2885
J Nat Prod. 1990 Nov-Dec;53(6):1447-55.
Cytotoxic constituents of the bark of Plumeria rubra collected in Indonesia.[Pubmed:
1965200
]

METHODS AND RESULTS:
By bioactivity-directed fractionation, six cytotoxic constituents have been characterized from the bark of Plumeria rubra collected in Indonesia. Three iridoids, fulvoplumierin [1], allamcin [2], and allamandin [3], as well as 2,5-dimethoxy-p-benzoquinone [4], were found to be active constituents of the P. rubra petroleum-ether- and CHCl3-soluble extracts. Cytotoxic compounds isolated from the H2O-soluble extract of the bark were the iridoid plumericin [5], and the lignan liriodendrin [6]. Each of these substances was found to demonstrate general cytotoxic activity when evaluated with a panel of cell lines composed of murine lymphocytic leukemia (P-388) and a number of human cancer cell-types (breast, colon, fibrosarcoma, lung, melanoma, KB). Five additional iridoids, 15-Demethylplumieride [7], plumieride [8], alpha-allamcidin [9], beta-allamcidin [10], and 13-O-trans-p-coumaroylplumieride [11], were obtained as inactive constituents.
CONCLUSIONS:
Compound 7 was found to be a novel natural product, and its structure was determined by spectroscopic methods and by conversion to plumieride [8]. The configuration of the C-4 stereocenter was unambiguously assigned for compounds 9 and 10, and certain nmr reassignments have been provided for compound 1.
J Asian Nat Prod Res. 2011 Dec;13(12):1122-7.
Isolation and characterization of secondary metabolites from Plumeria obtusa.[Pubmed:
22115036
]

METHODS AND RESULTS:
Chromatographic purification of the methanolic extract of Plumeria obtusa yielded two new iridoid obtusadoids A (1) and B (2), along with eight known compounds plumieridin A (3), plumieridine (4), 1α-plumieride (5), 15-Demethylplumieride (6), rel-(3R,3'S,4R,4'S)-3,3',4,4'-tetrahydro-6,6'-dimethoxy[3,3'-bi-2H-benzopyran]-4,4'-diol (7), glochiflavanoside B (8), oleanolic acid (9), and methyl coumarate (10). The structures of all the isolates (1-10) were determined by NMR spectroscopy and mass spectrometry.
CONCLUSIONS:
The data of known compounds (3-10) were further compared with the reported data for these compounds.