1,2-Benzenediol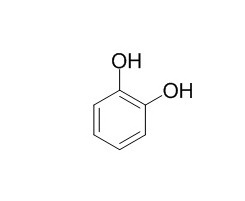 1,2-Dihydroxybenzene can induce spontaneous convulsive activity in the anaesthetized mouse and produce myoclonic jerks in the rat. It regulated 5-Hydroxytryptamine (5-HT) levels.
Inquire / Order: manager@chemfaces.com
Technical Inquiries: service@chemfaces.com
Tel: +86-27-84237783
Fax: +86-27-84254680

Address:
1 Building, No. 83, CheCheng Rd., Wuhan Economic and Technological Development Zone, Wuhan, Hubei 430056, PRC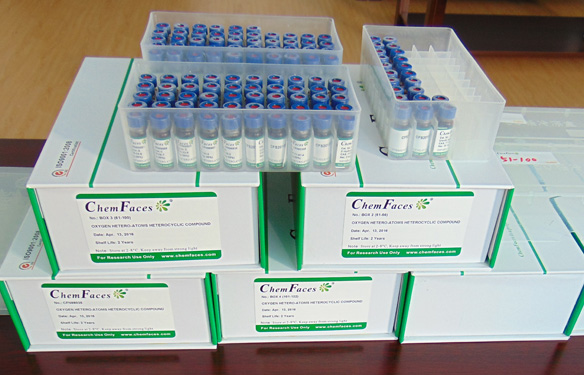 Providing storage is as stated on the product vial and the vial is kept tightly sealed, the product can be stored for up to
24 months(2-8C)
.
Wherever possible, you should prepare and use solutions on the same day. However, if you need to make up stock solutions in advance, we recommend that you store the solution as aliquots in tightly sealed vials at -20C. Generally, these will be useable for up to two weeks. Before use, and prior to opening the vial we recommend that you allow your product to equilibrate to room temperature for at least 1 hour.
Need more advice on solubility, usage and handling? Please email to: service@chemfaces.com
The packaging of the product may have turned upside down during transportation, resulting in the natural compounds adhering to the neck or cap of the vial. take the vial out of its packaging and gently shake to let the compounds fall to the bottom of the vial. for liquid products, centrifuge at 200-500 RPM to gather the liquid at the bottom of the vial. try to avoid loss or contamination during handling.
Appl. Sci.2020, 10(16),5482.
Clin Transl Oncol.2019, 10.1007
Foods.2020, 9(10):1348.
J Ethnopharmacol.2019, 235:406-414
Antioxidants (Basel).2020, 9(6):544.
J Food Biochem.2019, 43(9):e12970
J Sci Food Agric.2018, 98(3):1153-1161
Int J Anal Chem.2017, 2017:1254721
Molecules.2019, 24(22):E4022
Psychopharmacology (Berl).2020, 10.1007
Brit. J. Pharmacol., 1977, 61(3):433-9.
A pharmacological study of the spontaneous convulsive activity induced by 1,2-dihydroxybenzene (catechol) in the anaesthetized mouse.[Reference:
WebLink
]

METHODS AND RESULTS:
1. The convulsive activity induced by catechol(1,2-Benzenediol) has been examined in anaesthetized mice either by determining the CD50 for the convulsions in drug-treated and control animals, or by studying the effects of various drugs on the total whole body activity. 2. The results indicate that catecholamines play no part in the mechanism of action of catechol. Drugs which alter cerebral catecholamine levels had no effect on the convulsions, nor did the alpha- and beta-adrenoceptor blocking drugs. 3. 5-Hydroxytryptamine (5-HT) could possibly be important, though results with drugs which either change brain 5-HT levels, or block 5-HT receptors were inconsistent. 4. gamma-Aminobutyric acid also appears not to be involved in the mechanism of action of catechol.
CONCLUSIONS:
5. The results strongly suggest that catechol primarily activates a central cholinergic system, in that muscarinic and nicotinic receptor blocking drugs inhibit, and anticholinesterases potentiate the convulsions.
J Enzyme Inhib Med Chem. 2015 Aug;30(4):586-91.
Carbonic anhydrase inhibitors: guaiacol and catechol derivatives effectively inhibit certain human carbonic anhydrase isoenzymes (hCA I, II, IX and XII).[Pubmed:
25373500
]
A series of phenolic compounds, including guaiacol, 4-methylguaiacol, 4-propylguaiacol, eugenol, isoeugenol, vanillin, syringaldehyde, 1,2-Benzenediol, 3-methyl catechol, 4-methyl 1,2-Benzenediol and 3-methoxy catechol were investigated for their inhibition of all the catalytically active mammalian isozymes of the Zn(2+)-containing CA (EC 4.2.1.1). All the phenolic compounds effectively inhibited human carbonic anhydrase isoenzymes (hCA I, II, IX and XII), with Kis in the range of 2.20-515.98 μM. The various isozymes showed diverse inhibition profiles. Among the tested phenolic derivatives, compounds 4-methyl 1,2-Benzenediol and 3-methoxy 1,2-Benzenediol showed potent activity as inhibitors of the tumour-associated transmembrane isoforms (hCA IX and XII) in the submicromolar range, with high selectivity. The results obtained from this research may lead to the design of more effective carbonic anhydrase isoenzyme inhibitors (CAIs) based on such phenolic compound scaffolds.
Electroencephalography & Clinical Neurophysiology, 1973, 35(6):589-601.
An analysis of the myoclonic jerks produced by 1, 2-dihydroxybenzene in the rat.[Reference:
WebLink
]

METHODS AND RESULTS:
In rats deeply anaesthetized with urethane, injection of 1,2 dihydroxybenzene (catechol; 60 mg/kg i.p.) produces a stimulus-sensitive state in which a variety of sensory stimuli, e.g., a brief electrical shock or mechanical tap applied to the periphery, or a binaural click, produce brief (myoclonic) muscular jerks. These jerks have been recorded electromyographically in the forelimb from the biceps and triceps brachii and in the hind limb from gastrocnemius and tibialis anterior. The myoclonic jerks produced in these muscles by electrical or mechanical stimulation of the corresponding paw consisted of three distinct components. The early, first response to electrical stimulation has a short consistent latency (4.3 ± 0.6 msec in the forelimb; 8.1 ± 0.9 msec in the hind limb), large amplitude and high probability of occurence. This first response represents a polysynaptic reflex elicited by stimulation of cutaneous afferents. It is not, however, a simple reflex since it could be recorded in direct antagonists at a similar latency. The first response persisted in the hind limb muscles with both chronic and acute spinal transection at T10-T12. The second response (13.4 ± 1.6 msec in the forelimb; 19.4 ± 3.7 msec in the hind limb) and the third response (40.0 ± 7.3 msec and 51.4 ± 7.3 msec respectively) were both abolished in the hind limb muscles by spinal transection. Records of single motor units in the tibial nerve showed that discharge of a single motoneurone can account for all three components of the reflex jerk. The second, and to a lesser extent, the third response were always reduced in amplitude when the first response was large. Conversely, large second responses were only recorded when the first response was small or absent.
CONCLUSIONS:
Catechol had no effect on the amplitude or latency of the afferent volley recorded at the dorsal root entry zone, but markedly potentiated both mono- and polysynaptic reflexes.