Tectol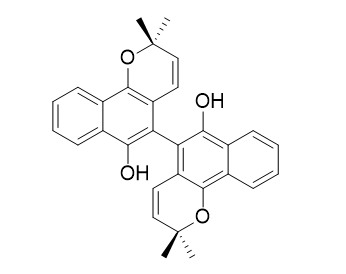 Tectol has anti-plasmodial activity, it as a moderately active growth inhibitor with an IC50 3.44±0.20μM. It exhibited significant activity against human leukemia cell lines HL60 and CEM. Tectol may cause itchy dermatitis, the dermatitis appeared on the neck, upper legs, underarms, and trunk area.
Inquire / Order: manager@chemfaces.com
Technical Inquiries: service@chemfaces.com
Tel: +86-27-84237783
Fax: +86-27-84254680

Address:
1 Building, No. 83, CheCheng Rd., Wuhan Economic and Technological Development Zone, Wuhan, Hubei 430056, PRC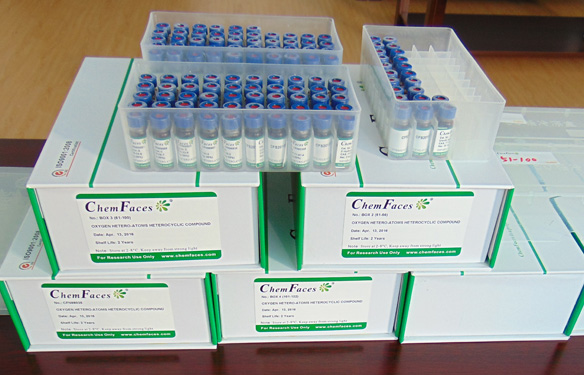 Providing storage is as stated on the product vial and the vial is kept tightly sealed, the product can be stored for up to
24 months(2-8C)
.
Wherever possible, you should prepare and use solutions on the same day. However, if you need to make up stock solutions in advance, we recommend that you store the solution as aliquots in tightly sealed vials at -20C. Generally, these will be useable for up to two weeks. Before use, and prior to opening the vial we recommend that you allow your product to equilibrate to room temperature for at least 1 hour.
Need more advice on solubility, usage and handling? Please email to: service@chemfaces.com
The packaging of the product may have turned upside down during transportation, resulting in the natural compounds adhering to the neck or cap of the vial. take the vial out of its packaging and gently shake to let the compounds fall to the bottom of the vial. for liquid products, centrifuge at 200-500 RPM to gather the liquid at the bottom of the vial. try to avoid loss or contamination during handling.
Biol Pharm Bull.2018, 41(1):65-72
Journal of Functional Foods2019, 52:430-441
J of Engineering Science&Technology2018, 13(9):2820-2828
J Pharm Biomed Anal.2016, 129:50-59
Anal Biochem.2019, 569:10-15
Process Biochemistry2019, 87:213-220
Molecules.2019, 24(17):E3127
Sci Rep.2016, 6:25094
Acta Pharm Sin B.2015, 5(4):323-9.
Chin J Appl. Physiol.2019, 35(3):283-288
J Nat Prod. 2001 Jun;64(6):792-5.
Chemical constituents from Lippia sidoides and cytotoxic activity.[Pubmed:
11421746
]

METHODS AND RESULTS:
Eleven known compounds and a new prenylated naphthoquinone, lippsidoquinone (13), were isolated from ethanol extracts of Lippia sidoides. Their structures were established by a combination of 1D and 2D NMR, IR, and EIMS spectral data analysis. The cytotoxic properties of compounds 3--13 were evaluated against HL60, SW1573, and CEM cell lines.
CONCLUSIONS:
Only Tectol (6) and lippsidoquinone (13) exhibited significant activity against human leukemia cell lines HL60 and CEM.
Contact Dermatitis. 1987 Aug;17(2):115-6.
Allergy to spermicidal lubricant in a contraceptive.[Pubmed:
3652700
]

METHODS AND RESULTS:
Allergic contact dermatitis is reported in a patient using a condom with the spermicidal lubricant Tectol. A 36 year old female, with no history of dermatitis or pruritus of the vagina or vulva, experienced itchy dermatitis 24-48 hours after her partner used a Durex Top Safe contraceptive containing Tectol. The dermatitis appeared on the neck, upper legs, underarms, and trunk area. When another contraceptive was used Durex Featherlite (without Tectol), the patient experienced no problems.
CONCLUSIONS:
Patch tests concluded that the Tectol lubricant was the cause for the reaction in the patient. Transmission of the lubricant to the patient occurred when the patient's partner, after handling the contraceptive (Durex Top Safe) during intercourse, placed his hands on the patient's body. To which exact element of Tectol the patient was sensitized could not be determined as the patient refused further treatment.
Bioorg Med Chem. 2016 Jul 15;24(14):3102-7.
Discovery and preliminary structure-activity relationship studies on tecomaquinone I and tectol as novel farnesyltransferase and plasmodial inhibitors.[Pubmed:
27240468
]
Biological screening of a library of synthesized benzo[c]chromene-7,10-dione natural products against human farnesyltransferase (FTase) has identified tecomaquinone I (IC50 of 0.065±0.004μM) as being one of the more potent natural product inhibitors identified to date.
METHODS AND RESULTS:
Anti-plasmodial screening of the same library against a drug-resistant strain of Plasmodium falciparum identified the structurally-related dichromenol Tectol as a moderately active growth inhibitor with an IC50 3.44±0.20μM. Two novel series of analogues, based on the benzo[c]chromene-7,10-dione scaffold, were subsequently synthesized, with one analogue exhibiting farnesyltransferase inhibitory activity in the low micromolar range. A preliminary structure-activity relationship (SAR) study has identified different structural requirements for anti-malarial activity in comparison to FTase activities for these classes of natural products.
CONCLUSIONS:
Our results identify tecomaquinone I as a novel scaffold from which more potent inhibitors of human and parasitic FTase could be developed.