Rebaudioside D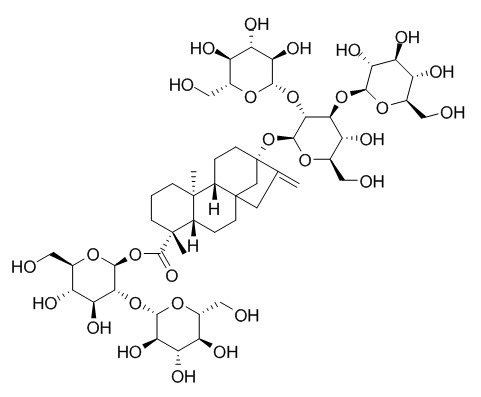 Rebaudioside D is a potential sweetener. Rebaudioside D shows similar stability when exposed to simulate stomach and small intestine fluids, with susceptibility to hydrolytic degradation by enteric bacteria collected from the cecum.
Inquire / Order: manager@chemfaces.com
Technical Inquiries: service@chemfaces.com
Tel: +86-27-84237783
Fax: +86-27-84254680

Address:
1 Building, No. 83, CheCheng Rd., Wuhan Economic and Technological Development Zone, Wuhan, Hubei 430056, PRC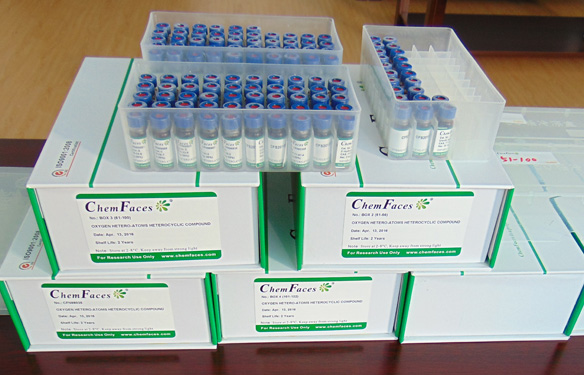 Providing storage is as stated on the product vial and the vial is kept tightly sealed, the product can be stored for up to
24 months(2-8C)
.
Wherever possible, you should prepare and use solutions on the same day. However, if you need to make up stock solutions in advance, we recommend that you store the solution as aliquots in tightly sealed vials at -20C. Generally, these will be useable for up to two weeks. Before use, and prior to opening the vial we recommend that you allow your product to equilibrate to room temperature for at least 1 hour.
Need more advice on solubility, usage and handling? Please email to: service@chemfaces.com
The packaging of the product may have turned upside down during transportation, resulting in the natural compounds adhering to the neck or cap of the vial. take the vial out of its packaging and gently shake to let the compounds fall to the bottom of the vial. for liquid products, centrifuge at 200-500 RPM to gather the liquid at the bottom of the vial. try to avoid loss or contamination during handling.
Phytochemistry Letters2017, 449-455
Evid Based Complement Alternat Med.2016, 2016:4357656
Int J Mol Sci.2020, 21(9):3144.
Biochem Pharmacol.2020, 178:114083
J Bone Miner Res.2017, 32(12):2415-2430
Nutrients.2019, 11(11):E2694
Biomol Ther (Seoul).2020, 28(6):542-548.
Fitoterapia.2015, 100:179-86
Integr Cancer Ther.2018, 17(3):832-843
Nat Commun.2019, 10(1):2745
Int J Toxicol. 2013 Jul;32(4):261-73.
Metabolism and toxicity studies supporting the safety of rebaudioside D.[Pubmed:
23766392
]
Rebaudioside D (Reb D) is one of the several glycosides found in the leaves of Stevia rebaudiana (Bertoni) Bertoni (Compositae) which has been identified as a potential sweetener.
METHODS AND RESULTS:
The metabolism of Reb A and Rebaudioside D was evaluated in various in vitro matrices (simulated gastrointestinal fluids, rat liver microsomes, and rat cecal contents) and through analysis of plasma collected from rats in a dietary toxicity study. Reb A and Rebaudioside D showed similar stability when exposed to simulated stomach and small intestine fluids, with susceptibility to hydrolytic degradation by enteric bacteria collected from the cecum. Incubations with rat liver microsomes indicated that neither compound is expected to be metabolized by the liver enzymes. Plasma concentrations of Rebaudioside D, Reb A, and/or the final hydrolysis product of each compound, free/conjugated steviol, were consistent between animals administered either Rebaudioside D or Reb A in the diet. A repeated exposure dietary toxicity study was conducted to compare the safety of Rebaudioside D, when administered at target exposure levels of 500, 1000, and 2000 mg/kg body weight (bw)/d to Sprague-Dawley rats for 28 days, to that of Reb A administered at a target exposure level of 2000 mg/kg bw/d. There were no treatment-related effects on the general condition and behavior of the animals and no toxicologically relevant, treatment-related effects on hematology, serum chemistry, or urinalysis.
CONCLUSIONS:
Macroscopic and microscopic findings revealed no treatment-related effects on any organ evaluated. Results were comparable between the group administered 2000 mg/kg/d Rebaudioside D and the group administered 2000 mg/kg/d Reb A.
Food Chem. 2015 May 1;174:564-70.
Investigation of the solubility enhancement mechanism of rebaudioside D using a solid dispersion technique with potassium sorbate as a carrier.[Pubmed:
25529720
]
Rebaudioside (Reb) D is a high intensity, natural sweetener that shows great potential for substituting sugar in sweetened beverages. However, Rebaudioside D is poorly water soluble, and thus, a solid dispersion technique was recently established to enhance its solubility.
METHODS AND RESULTS:
The purpose of this study was to elucidate the solubility enhancement mechanism of this solid dispersion material by employing Scanning Electron Microscopy (SEM), Raman spectroscopy, Fourier Transform Infrared spectroscopy (FT-IR) and X-ray Diffraction (XRD). Potassium sorbate (KS) was chosen as the carrier and two different concentration ratios were investigated as solid dispersions (SD) and as physical mixtures (PM).
CONCLUSIONS:
Our data demonstrated the possible mechanism for enhancing solubility through solid dispersion through increased surface area/volume ratio and hydrogen bonding between Rebaudioside D and KS. The interaction between the two components were also related to the different concentration ratios, therefore an optimisation of the ratio is important to produce a soluble and stable complex.
Int J Mol Sci. 2012 Nov 16;13(11):15126-36.
Catalytic hydrogenation of the sweet principles of Stevia rebaudiana, Rebaudioside B, Rebaudioside C, and Rebaudioside D and sensory evaluation of their reduced derivatives.[Pubmed:
23203115
]
Catalytic hydrogenation of rebaudioside B, rebaudioside C, and Rebaudioside D; the three ent-kaurane diterpene glycosides isolated from Stevia rebaudiana was carried out using Pd(OH)(2).
METHODS AND RESULTS:
Reduction of steviol glycosides was performed using straightforward synthetic chemistry with the catalyst Pd(OH)(2) and structures of the corresponding dihydro derivatives were characterized on the basis of 1D and 2D nuclear magnetic resonance (NMR) spectral data indicating that all are novel compounds being reported for the first time. Also, the taste properties of all reduced compounds were evaluated against their corresponding original steviol glycosides and sucrose.