Prunasin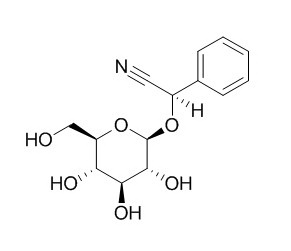 Prunasin is a kind of enzyme inhibitors.
Inquire / Order: manager@chemfaces.com
Technical Inquiries: service@chemfaces.com
Tel: +86-27-84237783
Fax: +86-27-84254680

Address:
1 Building, No. 83, CheCheng Rd., Wuhan Economic and Technological Development Zone, Wuhan, Hubei 430056, PRC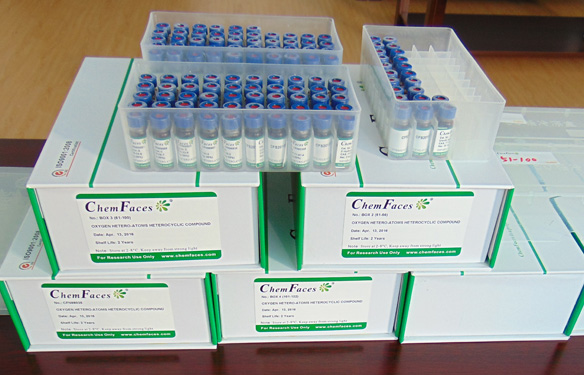 Providing storage is as stated on the product vial and the vial is kept tightly sealed, the product can be stored for up to
24 months(2-8C)
.
Wherever possible, you should prepare and use solutions on the same day. However, if you need to make up stock solutions in advance, we recommend that you store the solution as aliquots in tightly sealed vials at -20C. Generally, these will be useable for up to two weeks. Before use, and prior to opening the vial we recommend that you allow your product to equilibrate to room temperature for at least 1 hour.
Need more advice on solubility, usage and handling? Please email to: service@chemfaces.com
The packaging of the product may have turned upside down during transportation, resulting in the natural compounds adhering to the neck or cap of the vial. take the vial out of its packaging and gently shake to let the compounds fall to the bottom of the vial. for liquid products, centrifuge at 200-500 RPM to gather the liquid at the bottom of the vial. try to avoid loss or contamination during handling.
Industrial Crops and Products2017, 95:286-295
J Breast Cancer.2015, 18(2):112-118
Korean J Dent Mater.2018, 45(2):139-146
Pharmacological Reports2020, 1-9
Indian J. of Experimental Bio.2020, 9(58).
J Nat Med.2017, 71(2):380-388
Bioorg Med Chem.2018, 26(14):4201-4208
Asian Journal of Chemistry2014, 26(22):7811-7816
Oncotarget.2017, 9(3):4161-4172
Planta Med.2019, 85(3):217-224
Hum Exp Toxicol. 1995 Nov;14(11):895-901.
Small-intestinal transfer mechanism of prunasin, the primary metabolite of the cyanogenic glycoside amygdalin.[Pubmed:
8588951
]
1. The small-intestinal transfer of Prunasin (D-mandelo-nitrile-beta-D-glucoside), the primary metabolite of amygdalin which is not absorbed in the small intestine as such, was studied in rat jejunum and ileum in vitro.
METHODS AND RESULTS:
2. As shown by high pressure liquid chromatography, Prunasin is transferred essentially intact across the intestinal wall, without cleavage of the glycosidic bond and thus no formation of benzaldehyde or cyanide during the mucosal passage. 3. Only the jejunal transfer of Prunasin followed saturation kinetics (vmax = 1.6 mumol cm-1 min-1; KT = 460 mumol l-1) and exhibited a clearsodium-ion dependence. As indicated by the temperature dependence, only the jejunal mucosa-to-serosa transfer and the corresponding tissue uptake of Prunasin required apparently high activation energies. Transfer in the terminal ileum showed diffusion characteristics. 4. Jejunal methyl alpha-D-glucoside transfer was inhibited by the presence of Prunasin. Furthermore, the tissue uptake of methyl alpha-D-glucoside in rat jejunum was competitively inhibited by Prunasin.
CONCLUSIONS:
5. The results indicate that Prunasin is absorbed unmetabolised in the jejunum of the rat via the transport system of glucose.
J Agric Food Chem. 2001 Oct;49(10):5075-80.
Vicianin, prunasin, and beta-cyanoalanine in common vetch seed as sources of urinary thiocyanate in the rat.[Pubmed:
11600069
]
When young rats were fed a diet containing common vetch seed for 1 month, they excreted in the urine approximately 7 times more thiocyanate than they had ingested. Vicianin, Prunasin, and beta-cyanoalanine were identified as principal dietary sources of the excreted thiocyanate.
METHODS AND RESULTS:
Vicianin was isolated by chromatography and crystallization. Its structure was confirmed by mass spectrometry and by identification of its monosaccharides and aglycon. Prunasin was identified chromatographically by HPLC. The combined seed content of vicianin (0.68 micromol/g) and Prunasin (0.16 micromol/g) corresponded to the cyanogen content of the seed (0.91 +/- 0.14 micromol/g; n = 7), determined as cyanide after autolysis. When vicianin was fed, the urinary thiocyanate output was 21% of the ingested amount of vicianin, whereas beta-cyanoalanine yielded a urinary thiocyanate output of < 0.2%.
CONCLUSIONS:
Calculations show that 73% of the thiocyanate can be derived from vicianin and Prunasin, with 27% derived from beta-cyanoalanine. High urinary output of thiocyanate has been associated with endocrine and neurological disorders.
Phytochem Anal. 2014 Mar-Apr;25(2):122-6.
Quantitative analysis of amygdalin and prunasin in Prunus serotina Ehrh. using (1) H-NMR spectroscopy.[Pubmed:
24115144
]
Prunus serotina is native to North America but has been invasively introduced in Europe since the seventeenth century. This plant contains cyanogenic glycosides that are believed to be related to its success as an invasive plant. For these compounds, chromatographic- or spectrometric-based (targeting on HCN hydrolysis) methods of analysis have been employed so far. However, the conventional methods require tedious preparation steps and a long measuring time. To develop a fast and simple method to quantify the cyanogenic glycosides, amygdalin and Prunasin in dried Prunus serotina leaves without any pre-purification steps using (1) H-NMR spectroscopy.
METHODS AND RESULTS:
Extracts of Prunus serotina leaves using CH3 OH-d4 and KH2 PO4 buffer in D2 O (1:1) were quantitatively analysed for amygdalin and Prunasin using (1) H-NMR spectroscopy. Different internal standards were evaluated for accuracy and stability. The purity of quantitated (1) H-NMR signals was evaluated using several two-dimensional NMR experiments. Trimethylsilylpropionic acid sodium salt-d4 proved most suitable as the internal standard for quantitative (1) H-NMR analysis. Two-dimensional J-resolved NMR was shown to be a useful tool to confirm the structures and to check for possible signal overlapping with the target signals for the quantitation. Twenty-two samples of P. serotina were subsequently quantitatively analysed for the cyanogenic glycosides Prunasin and amygdalin.
CONCLUSIONS:
The NMR method offers a fast, high-throughput analysis of cyanogenic glycosides in dried leaves permitting simultaneous quantification and identification of Prunasin and amygdalin in Prunus serotina.
Plant Physiol. 2012 Apr;158(4):1916-32.
Prunasin hydrolases during fruit development in sweet and bitter almonds.[Pubmed:
22353576
]
Amygdalin is a cyanogenic diglucoside and constitutes the bitter component in bitter almond (Prunus dulcis). Amygdalin concentration increases in the course of fruit formation. The monoglucoside Prunasin is the precursor of amygdalin. Prunasin may be degraded to hydrogen cyanide, glucose, and benzaldehyde by the action of the β-glucosidase Prunasin hydrolase (PH) and mandelonitirile lyase or be glucosylated to form amygdalin.
METHODS AND RESULTS:
The tissue and cellular localization of PHs was determined during fruit development in two sweet and two bitter almond cultivars using a specific antibody toward PHs. Confocal studies on sections of tegument, nucellus, endosperm, and embryo showed that the localization of the Prunasin hydrolase proteins is dependent on the stage of fruit development, shifting between apoplast and symplast in opposite patterns in sweet and bitter cultivars. Two different Prunasin hydrolase genes, Ph691 and Ph692, have been identified in a sweet and a bitter almond cultivar. Both cDNAs are 86% identical on the nucleotide level, and their encoded proteins are 79% identical to each other. In addition, Ph691 and Ph692 display 92% and 86% nucleotide identity to Ph1 from black cherry (Prunus serotina). Both proteins were predicted to contain an amino-terminal signal peptide, with the size of 26 amino acid residues for PH691 and 22 residues for PH692.
CONCLUSIONS:
The Prunasin hydrolase activity and the localization of the respective proteins in vivo differ between cultivars. This implies that there might be different concentrations of Prunasin available in the seed for amygdalin synthesis and that these differences may determine whether the mature almond develops into bitter or sweet.