Piperine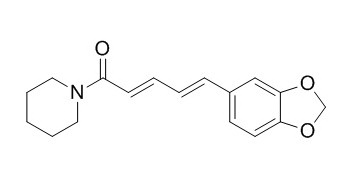 Piperine, an inhibitor of human P-glycoprotein and/or CYP3A4, which has antinociceptive, antiarthritic, antidepressant, hepatoprotective, immunomodulatory , antitumor, anti-oxidative, anti-apoptotic, chemo-protective, and anti-inflammatoryactivities. Administration of piperine appears to reverse preexisting high-fat diet (HFD)-induced hepatic steatosis and insulin resistance, probably by activation of adiponectin-AMPK signalling.
Inquire / Order: manager@chemfaces.com
Technical Inquiries: service@chemfaces.com
Tel: +86-27-84237783
Fax: +86-27-84254680

Address:
1 Building, No. 83, CheCheng Rd., Wuhan Economic and Technological Development Zone, Wuhan, Hubei 430056, PRC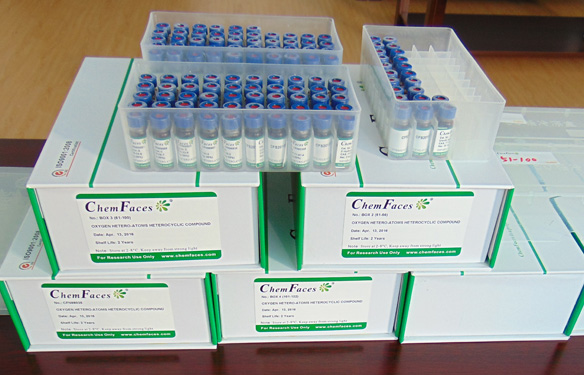 Providing storage is as stated on the product vial and the vial is kept tightly sealed, the product can be stored for up to
24 months(2-8C)
.
Wherever possible, you should prepare and use solutions on the same day. However, if you need to make up stock solutions in advance, we recommend that you store the solution as aliquots in tightly sealed vials at -20C. Generally, these will be useable for up to two weeks. Before use, and prior to opening the vial we recommend that you allow your product to equilibrate to room temperature for at least 1 hour.
Need more advice on solubility, usage and handling? Please email to: service@chemfaces.com
The packaging of the product may have turned upside down during transportation, resulting in the natural compounds adhering to the neck or cap of the vial. take the vial out of its packaging and gently shake to let the compounds fall to the bottom of the vial. for liquid products, centrifuge at 200-500 RPM to gather the liquid at the bottom of the vial. try to avoid loss or contamination during handling.
Journal of Agricultural Science2015 Sep 15
Proc Natl Acad Sci U S A. 2016 Jul 26;
Molecules. 2018 Jan 24;
FEBS Lett.2015 Jan 2;589(1):182-7.
Phytochem Anal.2016 Sep;
Sci Rep. 2018 Jan 11;
J Cell Biochem.2018 Feb;
The Korea Society of Pharmacognosy.2014
Appl Microbiol Biotechnol. 2015 Dec 21.
J Ethnopharmacol. 2017 Jul 12;
J Ethnopharmacol. 2004 Feb;90(2-3):339-46.
Immunomodulatory and antitumor activity of Piper longum Linn. and piperine.[Pubmed:
15013199
]
Alcoholic extract of the fruits of the plant Piper longum and its component Piperine was studied for their immunomodulatory and antitumor activity.
METHODS AND RESULTS:
Alcoholic extract of the fruits was 100% toxic at a concentration of 500 microg/ml to Dalton's lymphoma ascites (DLA) cells and 250 microg/ml to Ehrlich ascites carcinoma (EAC) cells. Piperine was found to be cytotoxic towards DLA and EAC cells at a concentration of 250 microg/ml. Alcoholic extract and Piperine was also found to produce cytotoxicity towards L929 cells in culture at a concentration of 100 and 50 microg/ml, respectively. Administration of alcoholic extract of Piper longum (10 mg/dose/animal) as well as Piperine (1.14 mg/dose/animal) could inhibit the solid tumor development in mice induced with DLA cells and increase the life span of mice bearing Ehrlich ascites carcinoma tumor to 37.3 and 58.8%, respectively. Administration of Piper longum extract and Piperine increased the total WBC count to 142.8 and 138.9%, respectively, in Balb/c mice. The number of plaque forming cells also enhanced significantly by the administration of the extract (100.3%) and Piperine (71.4%) on 5th day after immunization.
CONCLUSIONS:
Bone marrow cellularity and alpha-esterase positive cells were also increased by the administration of Piper longum extract and Piperine.
J Ethnopharmacol. 2015 Apr 21.
The protective effect of piperine on dextran sulfate sodium induced inflammatory bowel disease and its relation with pregnane X receptor activation.[Pubmed:
25907981
]
Inflammatory bowel disease (IBD) is associated with chronic inflammation of the intestinal tract. Piperine (1-peperoylpiperidine), the primary lipophilic component in black pepper (Piper nigrum) and long pepper (Piper longum), has been reported to be effective for anti-inflammatory. Rencently, several ethnopharmacological purity compounds, such as baicalin and artemisinin, are reported to have potentially therapeutic role in treating IBD. In the present study, the effects of Piperine on pregnane X receptor (PXR)-mediated CYP3A expression and its therapeutic role in IBD were investigated.
METHODS AND RESULTS:
LS174T cells and C57BL/6J mice were treated by the Piperine. Gene expressions were analyzed by real-time PCR, Western blot analysis, transient transfections assay and histological analysis. Data indicated that treatment of LS174T cells with Piperine markedly increased both CYP3A4 and PXR mRNA and protein. Transient transfection experiments indicated that transcriptional activation of the CYP3A4 gene via Piperine was PXR-dependent. Data show that pre-administration of Piperine decreased clinical hallmarks of colitis in DSS-treated PXR mice as measured by body weight loss and assessment of diarrhea, rectal bleeding, colon length, and histology. Inflammatory mediators (CCR2, ICAM-1, IL-1β, IL-6, IL-10, iNOS, MCP-1, and TNFα) after DSS treatment were significantly decreased in mice pretreated with Piperine but corresponding conditions did not occur in mice with down-regulation of PXR by small interfering RNA (siRNA).
CONCLUSIONS:
Piperine is a potential agonist of PXR and an inducer of PXR, which may induce CYP3A4 gene expression at the mRNA and protein levels. These results establish that Piperine may contribute to prevention or reduction of colonic inflammation.
Food Chem. 2013 Dec 15;141(4):3627-35.
Piperine reverses high fat diet-induced hepatic steatosis and insulin resistance in mice.[Pubmed:
23993530
]

METHODS AND RESULTS:
This study examined the effect of Piperine on hepatic steatosis and insulin resistance induced in mice by feeding a high-fat diet (HFD) for 13 weeks and elucidated potential underlying molecular mechanisms. Administration of Piperine (50 mg/kg body weight) to mice with HFD-induced hepatic steatosis resulted in a significant increase in plasma adiponectin levels. Also, elevated plasma concentrations of insulin and glucose and hepatic lipid levels induced by feeding a HFD were reversed in mice when they were administered Piperine. However, Piperine did not reduce body weight and other biochemical markers to an extent where they became equal to the levels found in the CD-fed mice. Piperine reversed HFD-induced down-regulation of adiponecitn-AMP-activated protein kinase (AMPK) signalling molecules which play an important role in mediating lipogenesis, fatty acid oxidation and insulin signalling in the livers of mice. The expressions of lipogenic target genes were decreased, whereas the expression of carnitine palmitoyltransferase 1 (CPT1) gene involved in fatty acid oxidation was increased in the livers of the Pin50 group. Piperine significantly decreased the phosphorylation of insulin receptor substrate-1 (IRS-1) compared with the HFD-fed mice.
CONCLUSIONS:
Administration of Piperine appeared to reverse preexisting HFD-induced hepatic steatosis and insulin resistance, probably by activation of adiponectin-AMPK signalling in mice.
J Pharmacol Exp Ther. 2002 Aug;302(2):645-50.
Piperine, a major constituent of black pepper, inhibits human P-glycoprotein and CYP3A4.[Pubmed:
12130727
]
Dietary constituents (e.g., in grapefruit juice; NaCl) and phytochemicals (e.g., St. John's wort) are important agents modifying drug metabolism and transport and thereby contribute to interindividual variability in drug disposition. Most of these drug-food interactions are due to induction or inhibition of P-glycoprotein and/or CYP3A4. Preliminary data indicate that Piperine, a major component of black pepper, inhibits drug-metabolizing enzymes in rodents and increases plasma concentrations of several drugs, including P-glycoprotein substrates (phenytoin and rifampin) in humans. However, there are no direct data whether Piperine is an inhibitor of human P-glycoprotein and/or CYP3A4.
METHODS AND RESULTS:
We therefore investigated the influence of Piperine on P-glycoprotein-mediated, polarized transport of digoxin and cyclosporine in monolayers of Caco-2 cells. Moreover, by using human liver microsomes we determined the effect of Piperine on CYP3A4-mediated formation of the verapamil metabolites D-617 and norverapamil. Piperine inhibited digoxin and cyclosporine A transport in Caco-2 cells with IC(50) values of 15.5 and 74.1 microM, respectively. CYP3A4-catalyzed formation of D-617 and norverapamil was inhibited in a mixed fashion, with K(i) values of 36 +/- 8 (liver 1)/49 +/- 6 (liver 2) and 44 +/- 10 (liver 1)/77 +/- 10 microM (liver 2), respectively.
CONCLUSIONS:
In summary, we showed that Piperine inhibits both the drug transporter P-glycoprotein and the major drug-metabolizing enzyme CYP3A4. Because both proteins are expressed in enterocytes and hepatocytes and contribute to a major extent to first-pass elimination of many drugs, our data indicate that dietary Piperine could affect plasma concentrations of P-glycoprotein and CYP3A4 substrates in humans, in particular if these drugs are administered orally.
J Cell Biochem. 2015 Apr 21.
Piperine from Black Pepper Inhibits Activation-Induced Proliferation and Effector Function of T Lymphocytes.[Pubmed:
25900378
]
Piperine is a major alkaloid component of black pepper (Piper nigrum Linn), which is a widely consumed spice.
METHODS AND RESULTS:
Here, we investigated the effect of Piperine on mouse T lymphocyte activation. Piperine inhibited polyclonal and antigen-specific T lymphocyte proliferation without affecting cell viability. Piperine also suppressed T lymphocyte entry into the S and G2 /M phases of the cell cycle, and decreased expression of G1 -associated cyclin D3, CDK4, and CDK6. In addition, Piperine inhibited CD25 expression, synthesis of interferon-γ, interleukin (IL)-2, IL-4, and IL-17A, and the generation of cytotoxic effector cells. The inhibitory effect of Piperine on T lymphocytes was associated with hypophosphorylation of Akt, extracellular signal-regulated kinase, and inhibitor of κBα, but not ZAP-70.
CONCLUSIONS:
The ability of Piperine to inhibit several key signaling pathways involved in T lymphocyte activation and the acquisition of effector function suggests that Piperine might be useful in the management of T lymphocyte-mediated autoimmune and chronic inflammatory disorders..
Life Sci. 2007 Mar 20;80(15):1373-81.
Antidepressant like effects of piperine in chronic mild stress treated mice and its possible mechanisms.[Pubmed:
17289085
]

METHODS AND RESULTS:
In this study, we investigated the antidepressant-like effect of Piperine in mice exposed to chronic mild stress (CMS) procedure. Repeated administration of Piperine for 14 days at the doses of 2.5, 5 and 10 mg/kg reversed the CMS-induced changes in sucrose consumption, plasma corticosterone level and open field activity. Furthermore, the decreased proliferation of hippocampal progenitor cells was ameliorated and the level of brain-derived neurotrophic factor (BDNF) in hippocampus of CMS stressed mice was up-regulated by Piperine treatment in the same time course. In addition, 3-(4,5-dimethylthiazol-2-yl)-2,5-diphenyltetrazolium bromide (MTT) and lactic dehydrogenase (LDH) assays showed that Piperine (6.25-25 microM) or fluoxetine (FLU, 1 microM) dose-dependently protected primary cultured hippocampal neurons from the lesion induced by 10 microM corticosterone (CORT). Reverse transcription-polymerase chain reaction (RT-PCR) was used to detect the messenger ribonucleic acid (mRNA) level of BDNF in cultured neurons. Treatment with Piperine (6.25-25 microM) for 72 h reversed the CORT-induced reduction of BDNF mRNA expression in cultured hippocampal neurons.
CONCLUSIONS:
In summary, up-regulation of the progenitor cell proliferation of hippocampus and cytoprotective activity might be mechanisms involved in the antidepressant-like effect of Piperine, which may be closely related to the elevation of hippocampal BDNF level.
Planta Med. 1993 Oct;59(5):413-7.
Evaluation of the liver protective potential of piperine, an active principle of black and long peppers.[Pubmed:
8255933
]
Piperine, an active alkaloidal constituent of the extract obtained from Piper longum and Piper nigrum, was evaluated for its antihepatotoxic potential in order to validate its use in traditional therapeutic formulations.
METHODS AND RESULTS:
This plant principle exerted a significant protection against tert-butyl hydroperoxide and carbon tetrachloride hepatotoxicity by reducing both in vitro and in vivo lipid peroxidation, enzymatic leakage of GPT and AP, and by preventing the depletion of GSH and total thiols in the intoxicated mice. Silymarin, a known hepatoprotective drug was tested simultaneously for comparison.
CONCLUSIONS:
Piperine showed a lower hepatoprotective potency than silymarin.