Obtusin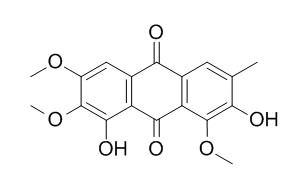 Reference standards.
Inquire / Order: manager@chemfaces.com
Technical Inquiries: service@chemfaces.com
Tel: +86-27-84237783
Fax: +86-27-84254680

Address:
1 Building, No. 83, CheCheng Rd., Wuhan Economic and Technological Development Zone, Wuhan, Hubei 430056, PRC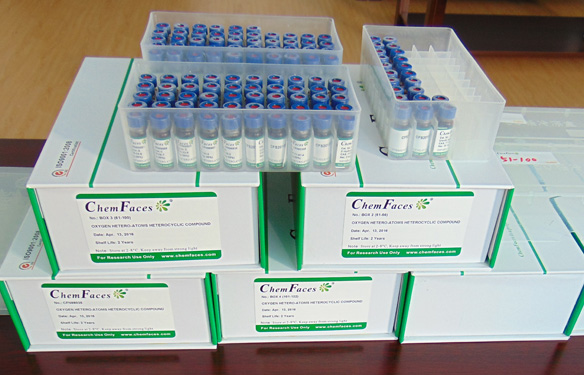 Providing storage is as stated on the product vial and the vial is kept tightly sealed, the product can be stored for up to
24 months(2-8C)
.
Wherever possible, you should prepare and use solutions on the same day. However, if you need to make up stock solutions in advance, we recommend that you store the solution as aliquots in tightly sealed vials at -20C. Generally, these will be useable for up to two weeks. Before use, and prior to opening the vial we recommend that you allow your product to equilibrate to room temperature for at least 1 hour.
Need more advice on solubility, usage and handling? Please email to: service@chemfaces.com
The packaging of the product may have turned upside down during transportation, resulting in the natural compounds adhering to the neck or cap of the vial. take the vial out of its packaging and gently shake to let the compounds fall to the bottom of the vial. for liquid products, centrifuge at 200-500 RPM to gather the liquid at the bottom of the vial. try to avoid loss or contamination during handling.
J Pharmaceut Biomed2020, 178:112894
Pharmacogn Mag.2015, 11(43):562-6
Food Chem.2018, 262:78-85
Food Sci Nutr.2019, 8(1):246-256
Molecules.2015, 20(10):19172-88
Int J Mol Sci.2019, 20(11):E2734
Cell Physiol Biochem.2017, 43(4):1425-1435
Pharmacognosy Magazine2018, 14(56):418-424
J Food Sci Technol.2019, 56(5):2712-2720
Molecules.2019, 24(21):E3834
Biol Pharm Bull. 2007 Nov;30(11):2207-10.
Anthraquinones from the seeds of Cassia tora with inhibitory activity on protein glycation and aldose reductase.[Pubmed:
17978503
]

METHODS AND RESULTS:
Nine anthraquinones, aurantio-Obtusin (1), chryso-Obtusin (2), Obtusin (3), chryso-Obtusin-2-O-beta-D-glucoside (4), physcion (5), emodin (6), chrysophanol (7), obtusifolin (8), and obtusifolin-2-O-beta-D-glucoside (9), isolated from an EtOAc-soluble extract of the seeds of Cassia tora, were subjected to in vitro bioassays to evaluate their inhibitory activity against advanced glycation end products (AGEs) formation and rat lens aldose reductase (RLAR).
CONCLUSIONS:
Among the isolates, compounds 6 and 8 exhibited a significant inhibitory activity on AGEs formation with observed IC(50) values of 118 and 28.9 microM, respectively, in an AGEs-bovine serum albumin (BSA) assay by specific fluorescence. Furthermore, compounds 6 and 8 inhibited AGEs-BSA formation more effectively than aminoguanidine, an AGEs inhibitor, by indirect AGEs-ELISA. N(epsilon)-Carboxymethyllysine (CML)-BSA formation was also inhibited by compounds 6 and 8. Whereas compounds 1, 4, and 6 showed a significant inhibitory activity on RLAR with IC(50) values of 13.6, 8.8, and 15.9 microM, respectively.