Kushenol X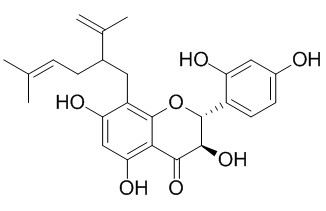 Kushenol X exhibits inhibitory activity against Sodium-dependent glucose cotransporter 2(SGLT2).
Inquire / Order: manager@chemfaces.com
Technical Inquiries: service@chemfaces.com
Tel: +86-27-84237783
Fax: +86-27-84254680

Address:
1 Building, No. 83, CheCheng Rd., Wuhan Economic and Technological Development Zone, Wuhan, Hubei 430056, PRC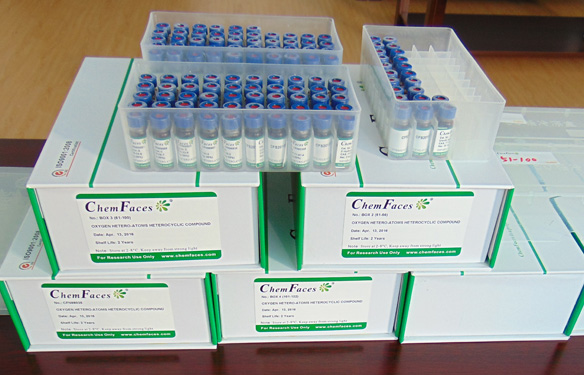 Providing storage is as stated on the product vial and the vial is kept tightly sealed, the product can be stored for up to
24 months(2-8C)
.
Wherever possible, you should prepare and use solutions on the same day. However, if you need to make up stock solutions in advance, we recommend that you store the solution as aliquots in tightly sealed vials at -20C. Generally, these will be useable for up to two weeks. Before use, and prior to opening the vial we recommend that you allow your product to equilibrate to room temperature for at least 1 hour.
Need more advice on solubility, usage and handling? Please email to: service@chemfaces.com
The packaging of the product may have turned upside down during transportation, resulting in the natural compounds adhering to the neck or cap of the vial. take the vial out of its packaging and gently shake to let the compounds fall to the bottom of the vial. for liquid products, centrifuge at 200-500 RPM to gather the liquid at the bottom of the vial. try to avoid loss or contamination during handling.
Journal of Apicultural Research2021, 60(1)
International Food Research Journal2018, 25(6):2560-2571
Saudi Pharm J2020, 10.1016
Exp Biol Med (Maywood).2019, 244(16):1463-1474
Food Chem.2019, 274:345-350
J of Health Science and Alternative Medicine2019, 1(1)
Oncol Rep.2019, 41(4):2453-2463
J Vet Sci.2020, 21(3):e39.
Sci Rep.2018, 8:15059
Mol Med Rep.2015, 12(5):7789-95
Journal of Huazhong Normal University, 2014 , 48 (4) :520-4.
Lavandulyl flavonoids with sodium-dependent glucose cotransporter 2 inhibitory activity from Sophora flavescens[Reference:
WebLink
]
To discover new bioactive Sodium-dependent glucose cotransporter 2(SGLT2)inhibitors from the traditional Chinese medicine"Ku Shen"(roots of Sophora flavescens),the bioassay-guided purification of an active ethyl acetate fraction was performed.
METHODS AND RESULTS:
Sixteen lavandulyl flavonoids were isolated and their structures were elucidated as kushenol H(1),kushenol K(2),kurarinol(3),kushenol Y(4),kushenol P(5),norkurarinone(6),kushenol I(7),kushenol N(8),(-)-kurarinone(9),Kushenol X(10),neokurarinol(11),kushenol C(12),sophoraflavanone G(13),leachianone A(14),kuraridine(15)and kushenol A(16). All isolated compounds exhibited inhibitory activity against SGLT2. Among them,the two main constituents of the active EtOAc fraction,(-)-kurarinone(9)and sophoraflavanone G(13)showed the most potential inhibitory activity against SGLT2with the IC50values of 2.24μmol/L and 1.45μmol/L,respectively.
Planta Med. 2005 Nov;71(11):1065-8.
Binding of flavonoids from Sophora flavescens to the rat uterine estrogen receptor.[Pubmed:
16320211
]
Prenylflavonoids and lavandulylflavonoids were isolated from the roots of Sophora flavescens Aiton (Fabaceae). The ability of 8-prenylkaempferol (1), Kushenol X (2), norkurarinone (3), leachianone A (4), kushenol C (5), maackiain (6) and a root-extract of S. flavescens to displace 17beta-estradiol (E2) from rat uterine estrogen receptor (ER) was determined.
METHODS AND RESULTS:
Relative binding affinities (RBA) of prenylated flavonoids were weak with RBA values between 0.004 and 0.072. A lavandulyl or prenyl group at the position 8 enhanced binding to rat uterine ER.
Chromatographia, 2008 , 68 (5-6) :471-4.
Simultaneous Determination of Nine Major Flavonoids in Sophora flavescens by RP-LC[Reference:
WebLink
]

METHODS AND RESULTS:
A liquid chromatographic method was applied to determine trifolirhizin, kushenol K, kushenol L, kushenol N, Kushenol X, kurarinone, norkurarinone, isokurarinone and kushenol A in the roots of Sophora flavescens, namely Kushen in China. The samples were separated on a YMC-C18 column (250 × 4.6 mm, 5 μm) with a gradient of methanol and 0.3% aqueous acetic acid (v/v) at a flow rate of 0.8 mL min−1 and detected at 295 nm. The complete separation was achieved within 45 min for the nine major flavonoids. All calibration curves expressed good linearity (r2 > 0.999) within the test range. The recovery of this method was 92.3–106.9%. The assay was successfully applied to the quantification of nine flavonoids in 26 samples of Kushen.
CONCLUSIONS:
The results indicated that this developed LC assay could be readily utilized as a quality control method for the Chinese herb medicine Kushen.