Iridin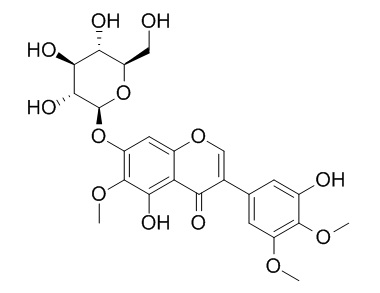 Inquire / Order: manager@chemfaces.com
Technical Inquiries: service@chemfaces.com
Tel: +86-27-84237783
Fax: +86-27-84254680

Address:
1 Building, No. 83, CheCheng Rd., Wuhan Economic and Technological Development Zone, Wuhan, Hubei 430056, PRC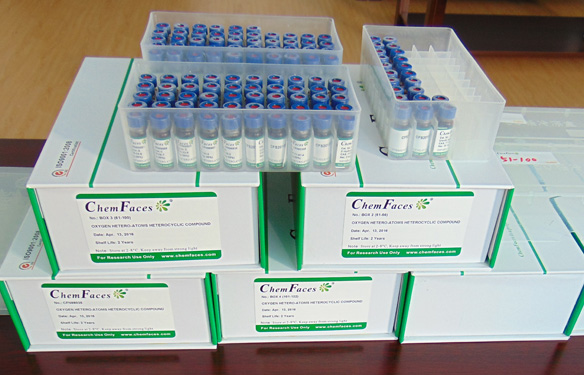 Providing storage is as stated on the product vial and the vial is kept tightly sealed, the product can be stored for up to
24 months(2-8C)
.
Wherever possible, you should prepare and use solutions on the same day. However, if you need to make up stock solutions in advance, we recommend that you store the solution as aliquots in tightly sealed vials at -20C. Generally, these will be useable for up to two weeks. Before use, and prior to opening the vial we recommend that you allow your product to equilibrate to room temperature for at least 1 hour.
Need more advice on solubility, usage and handling? Please email to: service@chemfaces.com
The packaging of the product may have turned upside down during transportation, resulting in the natural compounds adhering to the neck or cap of the vial. take the vial out of its packaging and gently shake to let the compounds fall to the bottom of the vial. for liquid products, centrifuge at 200-500 RPM to gather the liquid at the bottom of the vial. try to avoid loss or contamination during handling.
Microb Pathog.2019, 131:128-134
J Sep Sci.2018, 41(11):2488-2497
Onco Targets Ther.2017, 10:3467-3474
Food and Fermentation Industries2019, 45(7):45-51
Front Plant Sci.2018, 9:1424
Sci Rep.2018, 8:9267
Food Engineering Progress2019, 23(3)209-216
Industrial Crops and Products2020, 146:112186
Korean J. Crop Sci.2018, 63(2):131-139
Sci Rep.2019, 9(1):4646
Bioorg Chem. 2017 Feb;70:192-198.
8-Hydroxyirilone 5-methyl ether and 8-hydroxyirilone, new antioxidant and α-amylase inhibitors isoflavonoids from Iris germanica rhizomes.[Pubmed:
28069265
]
Iris species are well recognized as wealthy sources of isoflavonoids.
METHODS AND RESULTS:
In the present study, phytochemical investigation of the rhizomes of Iris germanica (Iridaceae) procure the isolation of two new isoflavonoids namely, 8-hydroxyirilone 5-methyl ether (2) and 8-hydroxyirilone (3), along with eight known isoflavonoids: irilone 4'-methyl ether (1), irilone (4), irisolidone (5), irigenin S (6), irigenin (7), irilone 4'-O-β-d-glucopyranoside (8), Iridin S (9), and Iridin (10). The isolated flavonoids were structurally characterized with the assist of comprehensive spectroscopic analyses (UV, IR, 1D and 2D NMR, and HRMS) and comparing with the published data. They were estimated for their antioxidant and antidaibetic capacities using DPPH and α-amylase inhibition assays, respectively.
CONCLUSIONS:
Compounds 2, 3, and 4 exhibited prominent antioxidant activities with IC50 values of 12.92, 9.23, and 10.46μM, respectively compared to propyl gallate (IC50 7.11μM). Moreover, 2-5 possessed highest α-amylase inhibitory activity with % inhibition 66.1, 78.3, 67.3, and 70.1, respectively in comparison to acarbose (reference α-amylase inhibitor). Additionally, their structure-activity relationship has been discussed.