Ganoderic acid A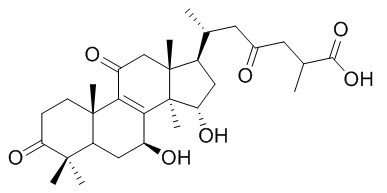 Ganoderic acid A , a representative active triterpenoid from Ganoderma lucidum, exhibits antinociceptive, antioxidative, cytotoxic, hepatoprotective and anticancer activities. It has a wide spectrum of targets including nuclear transcription factor-kappaB,activator protein-1,STAT,IL-6,JAK, and p38MAPK.
Inquire / Order: manager@chemfaces.com
Technical Inquiries: service@chemfaces.com
Tel: +86-27-84237783
Fax: +86-27-84254680

Address:
1 Building, No. 83, CheCheng Rd., Wuhan Economic and Technological Development Zone, Wuhan, Hubei 430056, PRC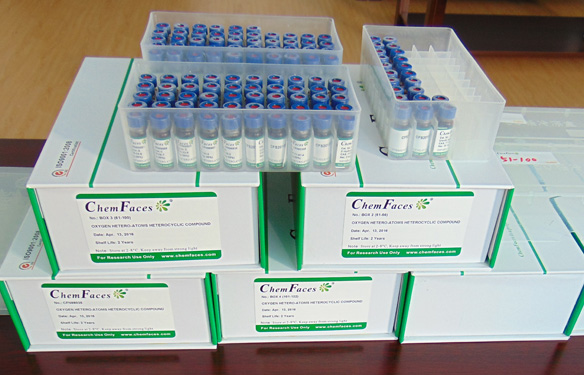 Providing storage is as stated on the product vial and the vial is kept tightly sealed, the product can be stored for up to
24 months(2-8C)
.
Wherever possible, you should prepare and use solutions on the same day. However, if you need to make up stock solutions in advance, we recommend that you store the solution as aliquots in tightly sealed vials at -20C. Generally, these will be useable for up to two weeks. Before use, and prior to opening the vial we recommend that you allow your product to equilibrate to room temperature for at least 1 hour.
Need more advice on solubility, usage and handling? Please email to: service@chemfaces.com
The packaging of the product may have turned upside down during transportation, resulting in the natural compounds adhering to the neck or cap of the vial. take the vial out of its packaging and gently shake to let the compounds fall to the bottom of the vial. for liquid products, centrifuge at 200-500 RPM to gather the liquid at the bottom of the vial. try to avoid loss or contamination during handling.
J of Applied Pharmaceutical Science2020, 10(1):077-082
J. Soc. Cosmet. Sci. Korea2016, 163-171
J Ethnopharmacol.2017, 198:205-213
Molecules.2019, 24(11):E2044
Molecules.2019, 24(23):E4303
Sci Rep.2017, 7:467-479
Fitoterapia.2018, 124:92-102
Int J Biol Macromol.2018, 112:1093-1103
Exp Parasitol.2018, 194:67-78
JPC-Journal of Planar Chromatography 2017, 30(4)
Nan Fang Yi Ke Da Xue Xue Bao. 2015 May 20;35(5):619-24.
Ganoderic acid A suppresses proliferation and invasion and induces apoptosis in human osteosarcoma cells.[Pubmed:
26018252
]
To investigate the effect of Ganoderic acid A (GA-A) on the biological behaviors of human osteosarcoma cells in vitro.
METHODS AND RESULTS:
MG63 and HOS cells were treated with 0.1, 0.25, and 0.5 mmol/L GA-A, and the changes in cell proliferation, apoptosis and migration were evaluated using MTT assay, flow cytometry, and Transwell assay, respectively. The expressions of STAT3, p38, and NF-κB1 in the cells were analyzed by Western blotting. GA-A effectively inhibited the proliferation of human osteosarcoma HOS and MG-63 cells in a dose-dependent manner, and induced obvious cell apoptosis in both cells. Treatment with 0.5 mmol/L GA-A also resulted in significant inhibition of the invasion of both cells. The results of Western blotting showed that GA-A down-regulated the expression level of phosphorylated STAT3 and increased the phosphorylation level of p38 and NF-κB1 expression in both cells.
CONCLUSIONS:
GA-A can induce proliferation inhibition, apoptosis and suppression of invasion in human osteosarcoma HOS and MG-63 cells.
Int J Med Mushrooms. 2013;15(2):175-82.
Production of Ginkgo leaf-shaped basidiocarps of the Lingzhi or Reishi medicinal mushroom Ganoderma lucidum (higher Basidiomycetes), containing high levels of α- and β-D-glucan and ganoderic acid A.[Pubmed:
23557369
]

METHODS AND RESULTS:
Ganoderic acid A and α- and β-D-glucan content were compared among morphologically different basidiocarps of the medicinal mushroom Ganoderma lucidum. Ginkgo leaf-shaped basidiocarps gradually hardened from the base to the pileus and accumulated a higher amount of bioactive components than normal (kidney-shaped) and antler/deer horn-shaped basidiocarps. In the normal G. lucidum stipe, the outer context contained the highest amount of α- and β-D-glucan (approximately 55%) and the highest amount of Ganoderic acid A (approximately 0.3%).
CONCLUSIONS:
Ginkgo leaf-shaped G. lucidum had a large area of outer layer and stout outer context, which contributed to their high α- and β-D-glucan and Ganoderic acid A content.
Planta Med. 2012 Nov;78(16):1740-8.
Inhibition of the JAK-STAT3 signaling pathway by ganoderic acid A enhances chemosensitivity of HepG2 cells to cisplatin.[Pubmed:
22961117
]
Ganoderic acid A is a lanostane triterpene isolated from Ganoderma lucidum. It has been reported to exhibit antitumor activity, which is mainly mediated through its inhibitory effect on nuclear transcription factor-kappaB and activator protein-1. But the role of Ganoderic acid A in JAK-STAT3 signaling pathways is still unclear.
METHODS AND RESULTS:
In the present study, we investigated the effect of Ganoderic acid A on the signal transducer and activator of the transcription 3 pathway and evaluated whether suppression of the signal transducer and activator of transcription 3 activity by Ganoderic acid A could sensitize HepG2 cells to cisplatin. Our results show that Ganoderic acid A significantly suppressed both the constitutively activated and IL-6-induced signal transducer and activator of transcription 3 phosphorylation in HepG2 cells. Inhibition of the signal transducer and activator of transcription 3 tyrosine phosphorylation was found to be achieved through suppression of JAK1 and JAK2. Furthermore, Ganoderic acid A promoted cisplatin-induced cell death by enhancing the sensitivity of HepG2 cells to cisplatin mainly via the signal transducer and activator of transcription 3 suppression.
CONCLUSIONS:
These observations suggest a potential therapeutic strategy of using Ganoderic acid A in combination with chemotherapeutic agents for cancer treatment.