Daidzin 6''-O-malonate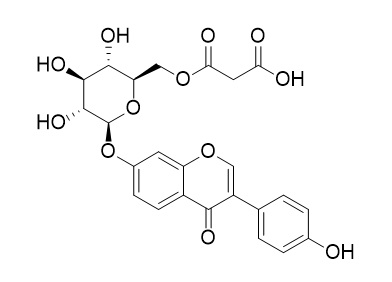 Daidzin 6''-O-malonate may have anticancer activity.
Inquire / Order: manager@chemfaces.com
Technical Inquiries: service@chemfaces.com
Tel: +86-27-84237783
Fax: +86-27-84254680

Address:
1 Building, No. 83, CheCheng Rd., Wuhan Economic and Technological Development Zone, Wuhan, Hubei 430056, PRC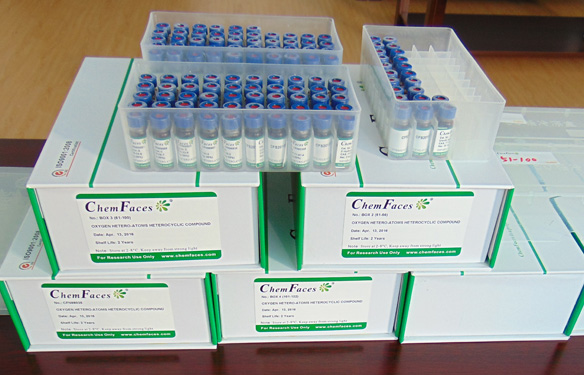 Providing storage is as stated on the product vial and the vial is kept tightly sealed, the product can be stored for up to
24 months(2-8C)
.
Wherever possible, you should prepare and use solutions on the same day. However, if you need to make up stock solutions in advance, we recommend that you store the solution as aliquots in tightly sealed vials at -20C. Generally, these will be useable for up to two weeks. Before use, and prior to opening the vial we recommend that you allow your product to equilibrate to room temperature for at least 1 hour.
Need more advice on solubility, usage and handling? Please email to: service@chemfaces.com
The packaging of the product may have turned upside down during transportation, resulting in the natural compounds adhering to the neck or cap of the vial. take the vial out of its packaging and gently shake to let the compounds fall to the bottom of the vial. for liquid products, centrifuge at 200-500 RPM to gather the liquid at the bottom of the vial. try to avoid loss or contamination during handling.
J Korean Soc Food Sci Nutr2020, doi: 10.3746.
Saudi Pharm J.2019, 27(1):145-153
Phytother Res.2019, 10.1002
J Ethnopharmacol.2017, 206:327-336
Phytother Res.2020, 34(4):788-795.
Fitoterapia.2015, 100:179-86
Pak J Pharm Sci.2019, 32(6)
J Cell Physiol.2020, 10.1002
Appl Biochem Biotechnol.2020, 190(2):732-744
J Formos Med Assoc.2020, S0929-6646(20)30425-3
J Ind Microbiol Biotechnol. 2014 Nov;41(11):1647-58.
Glycosylation and subsequent malonylation of isoflavonoids in E. coli: strain development, production and insights into future metabolic perspectives.[Pubmed:
25189810
]

METHODS AND RESULTS:
Genistin and daidzein exhibit a protective effect on DNA damage and inhibit cell proliferation. Glycosylation and malonylation of the compounds increase water solubility and stability. Constructed pET15b-GmIF7GT and pET28a-GmIF7MAT were used for the transformation of Escherichia coli and bioconversion of genistein and daidzein. To increase the availability of malonyl-CoA, a critical precursor of GmIF7MAT, genes for the acyl-CoA carboxylase α and β subunits (nfa9890 and nfa9940), biotin ligase (nfa9950), and acetyl-CoA synthetase (nfa3550) from Nocardia farcinia were also introduced. Thus, the isoflavonoids were glycosylated at position 7 by 7-O-glycosyltranferase and were further malonylated at position 6(″) of glucose by malonyl-CoA: isoflavone 7-O-glucoside-6(″)-O-malonyltransferase both from Glycine max. Engineered E. coli produced 175.7 μM (75.90 mg/L) of genistin and 14.2 μM (7.37 mg/L) genistin 6''-O-malonate. Similar conditions produced 162.2 μM (67.65 mg/L) daidzin and 12.4 μM (6.23 mg/L) Daidzin 6''-O-malonate when 200 μM of each substrate was supplemented in the culture.
CONCLUSIONS:
Based on our findings, we speculate that isoflavonoids and their glycosides may prove useful as anticancer drugs with added advantage of increased solubility, stability and bioavailability.