Calycosin-7-O-beta-D-glucoside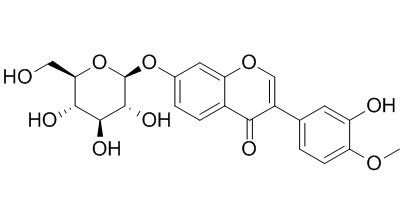 Calycosin-7-O-beta-D-glucoside, a melanin biosynthesis inhibitor, can protect BBB integrity in experimental cerebral ischemia–reperfusion injury via regulating NO/cav-1/MMPs pathway. It attenuates ischemia-reperfusion injuryin vivovia activation of the PI3K/Akt pathway, and has effects on cell apoptosis in cervical cancer HeLa cells and expression of Bcl-2/Bax.
Inquire / Order: manager@chemfaces.com
Technical Inquiries: service@chemfaces.com
Tel: +86-27-84237783
Fax: +86-27-84254680

Address:
1 Building, No. 83, CheCheng Rd., Wuhan Economic and Technological Development Zone, Wuhan, Hubei 430056, PRC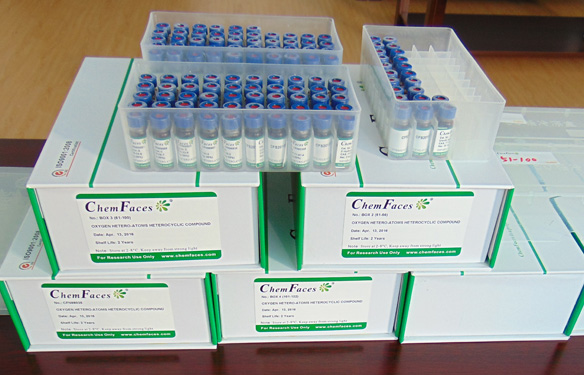 Providing storage is as stated on the product vial and the vial is kept tightly sealed, the product can be stored for up to
24 months(2-8C)
.
Wherever possible, you should prepare and use solutions on the same day. However, if you need to make up stock solutions in advance, we recommend that you store the solution as aliquots in tightly sealed vials at -20C. Generally, these will be useable for up to two weeks. Before use, and prior to opening the vial we recommend that you allow your product to equilibrate to room temperature for at least 1 hour.
Need more advice on solubility, usage and handling? Please email to: service@chemfaces.com
The packaging of the product may have turned upside down during transportation, resulting in the natural compounds adhering to the neck or cap of the vial. take the vial out of its packaging and gently shake to let the compounds fall to the bottom of the vial. for liquid products, centrifuge at 200-500 RPM to gather the liquid at the bottom of the vial. try to avoid loss or contamination during handling.
Food Chem.2018, 252:207-214
Antioxidants (Basel).2020, 9(6):544.
The Journal of Agromedicine and Medical Sciences2018, 4(1)
Phytochemistry.2017, 141:162-170
Nutrients2020, 12(2):488
J Nat Sc Biol Med2019, 10(2):149-156
Int J Anal Chem.2017, 2017:1254721
Sci Rep.2018, 8:15059
Drug Des Devel Ther.2020, 14:969-976.
Food Research International2020, 108987
Bmc Compl. Altern. M., 2015, 15(1):1-11.
Calycosin-7-O-β-D-glucoside promotes oxidative stress-induced cytoskeleton reorganization through integrin-linked kinase signaling pathway in vascular endothelial cells.[Pubmed:
26346982
]
Dysfunction of vascular endothelium is implicated in many pathological situations. Cytoskeleton plays an importance role in vascular endothelial permeability barrier and inflammatory response. Many Chinese herbs have the endothelial protective effect, of which, "Astragalus membranaceus" is a highly valued herb for treatment of cardiovascular and renal diseases in traditional Chinese medicine, In this study, we tested whether calycosin-7-O-β-D-glucoside (Calycosin), a main effective monomer component of "Astragalus membranaceus", could protect endothelial cells from bacterial endotoxin (LPS)-induced cell injury.
METHODS AND RESULTS:
Endothelial cell injury was induced by exposing human umbilical vein endothelial cells (HUVECs) to LPS. The effects of calycosin on LPS-induced changes in cell viability, apoptosis rate, cell migration, nitric oxide synthase (NOS), generationof intracellular reactive oxygen species (ROS) and cytoskeleton organization were determined. Microarray assay was employed to screen the possible gene expression change. Based on the results of microarray assay, the expression profile of genes involved in Rho/ROCK pathway and AKT pathway were further evaluated with quantitative real-time RT-PCR or western blot methods. Calycosin improved cell viability, suppressed apoptosis and protected the cells from LPS-induced reduction in cell migration and generation of ROS, protein level of NOS at a comparable magnitude to that of Y27632 and valsartan. Similar to Y27632 and valsartan, Calycosin, also neutralized LPS-induced actomyosin contraction and vinculin protein aggregation. Microarray assay, real-time PCR and western blot results revealed that LPS induced expression of FN, ITG A5, RhoA, PI3K (or PIP2 in western blotting), FAK, VEGF and VEGF R2, and inhibited expression of MLCP. We believed multiple pathways involved in the regulation of calycosin on HUVECs. Calycosin are considered to be able to activate MLCP through promoting the generation of NO, decreasing PMLC, suppressing the cytoskeleton remodeling caused by activation of Rho/ROCK pathway and inhibiting AKT pathway by decreasing VEGF, VEGF R2 and PI3K level.
CONCLUSIONS:
Calycosin protected HUVEC from LPS-induced endothelial injury, possibly through suppression of Rho/ROCK pathway and regulation of AKT pathway.
Mol Med Rep. 2016 Jan; 13(1): 633–640.
Calycosin-7-O-β-d-glucoside attenuates ischemia-reperfusion injury in vivo via activation of the PI3K/Akt pathway[Pubmed:
26648122
]
The aim of the present study was to investigate the effects and mechanisms of calycosin‑7‑O‑β‑D‑glucoside (CG) on ischemia‑reperfusion (I/R) injury in vivo.
METHODS AND RESULTS:
Hemodynamic parameters, including ejection fraction (EF), fractional shortening (FS), left ventricular end‑systolic pressure (LVESP) and left ventricular end‑diastolic pressure (LVEDP) were monitored using an ultrasound system, and infarct size was measured using Evans blue/tetrazolium chloride double staining. The activities of serum creatine kinase (CK), lactate dehydrogenase (LDH) and superoxide dismutase (SOD), and the levels of malondialdehyde (MDA) were determined to assess the degree of myocardial injury and oxidative stress‑induced damage. The protein expression levels of cleaved‑caspase‑3, cleaved‑caspase‑9, phosphorylated (p)‑phosphatidylinositol 3‑kinase (PI3K) p85, PI3K p85, p‑Akt and Akt were determined using western blotting. The results demonstrated that pretreatment with high dose (H)‑CG markedly improved cardiac function, as evidenced by upregulated EF, FS and LVESP, and downregulated LVEDP. In addition, administration of CG resulted in significant decreases in infarct size in the I/R+low dose‑CG and I/R+H‑CG groups, compared with the I/R group. The activities of CK and LDH, and the levels of MDA in the I/R+H‑CG group were reduced, compared with those in the I/R group, whereas SOD activity was elevated. Treatment with CG inhibited the cleavage and activity of caspase‑3 and caspase‑9, and enhanced the phosphorylation of PI3K p85 and Akt. Notably, administration of the PI3K inhibitor, LY294002, markedly lowered the levels of p‑PI3K p85/p‑Akt, and eradicated the inhibitory effects of H‑CG on infarct size, myocardial injury and oxidative stress‑induced damage.
CONCLUSIONS:
Taken together, the results suggested that CG may alleviate I/R injury by activating the PI3K/Akt signaling pathway.
Chinese Traditional & Herbal Drugs, 2015, 46(10):1498-502.
Effects of calycosin-7-O-β-D-glucoside on cell apoptosis in cervical cancer HeLa cells and expression of Bcl-2/Bax[Reference:
WebLink
]
To explore the effect of Calycosin-7-O-beta-D-glucoside (CG) on apoptosis in cervical cancer HeLa cells and expression of Bcl-2/Bax.
METHODS AND RESULTS:
HeLa cells were cultured and divided into two groups, including control group and experimental group. Cell viabilities were determined by the MTT method; Apoptosis and cell cycle were analyzed by flow cytometry; The changes of protein expression of cleaved Caspase-3, Bcl-2, and Bax were detected by Western blotting. From the data of MTT, the cell proliferation of human cervical cancer HeLa cells was inhibited by CG (2.5-100 μg/mL) in a dose- and time-dependent manner. Flow cytometry assays showed that EGCG significantly induced the apoptosis in HeLa cells. The apoptosis rate of the experimental group were increased gradually in 48 h after treated with CG (20, 40, and 80 μg/mL), they were 10.40%, 25.50%, and 39.40%, respectively, significantly higher than those in the control group. The data of Western blotting showed that CG down-regulated Bcl-2 and up-regulated cleaved Caspase-3 and Bax in a dose-dependent manner.
CONCLUSIONS:
CG could inhibit the the proliferation of HeLa cells and promote apoptosis, and the anticancer effect of CG may be associated with the down-regulation of Bcl-2 expression and up-regulation of Bax expression, as well as the increase of relative activity of Caspase-3. CG may be a promising antitumor agent for cancer treatment.
J Ethnopharmacol. 2014 Aug 8;155(1):692-701.
Calycosin-7-O-β-D-glucoside regulates nitric oxide /caveolin-1/matrix metalloproteinases pathway and protects blood-brain barrier integrity in experimental cerebral ischemia-reperfusion injury.[Pubmed:
24930357
]
Astragali Radix (AR) has been used for thousands years to treat ischemic stroke. Calycosin and its glycoside form Calycosin-7-O-beta-D-glucoside(CG) are two representative isoflavones in Astragali Radix. However, its neurological effects and related molecular mechanisms are largely unknown. The present study aims to evaluate the neuroprotective effects of CG on blood-brain barrier (BBB) integrity of ischemic brain tissue and explore the relevant signaling mechanisms.
METHODS AND RESULTS:
Male adult Sprague-Daweley rats were subjected to 2 h of middle cerebral artery occlusion (MCAO) plus 24 h or 14 days of reperfusion. CG (26.8 mg/kg) was intraperitoneally administered into the rats at 15 min before onset of ischemia. The neuroprotective effects of CG were evaluated by measuring infarct volume, histological damage and BBB permeability. Furthermore, the effects of CG on scavenging nitric oxide (NO), and modulating matrix metalloproteinases (MMPs) and caveolin-1 (cav-1) were investigated with in vitro cultured brain microvascular endothelial cells treated with NO donor or oxygen-glucose deprivation (OGD) and/or in vivo rat model of MCAO cerebral ischemia-reperfusion injury. CG treatment significantly reduced infarct volume, histological damage and BBB permeability in the in vivo MCAO ischemia-reperfusion rat model. CG treatment remarkably inhibited the expression and activities of MMPs, and secured the expression of cav-1 and tight junction proteins in the microvessels isolated from ischemic rat cortex. Furthermore, CG was revealed to scavenge NO, inhibit the activities of MMP-2 and MMP-9, and attenuate cell death in the in vitro cultured brain microvascular endothelial cells under OGD condition.
CONCLUSIONS:
CG could protect BBB integrity in experimental cerebral ischemia-reperfusion injury via regulating NO/cav-1/MMPs pathway.