Bis(2-ethylhexyl) phthalate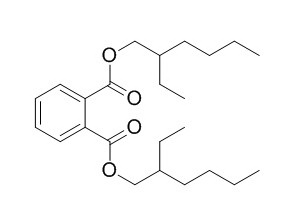 Bis(2-ethylhexyl) phthalate (DEHP) is a compound widely used in plastics technology to impart flexibility to rigid polymers, DEHP has oral toxicity during pregnancy and suckling in the Long-Evans rat.It can induce antiandrogenic effects in Spague-Dawley (SD) rats.
Inquire / Order: manager@chemfaces.com
Technical Inquiries: service@chemfaces.com
Tel: +86-27-84237783
Fax: +86-27-84254680

Address:
1 Building, No. 83, CheCheng Rd., Wuhan Economic and Technological Development Zone, Wuhan, Hubei 430056, PRC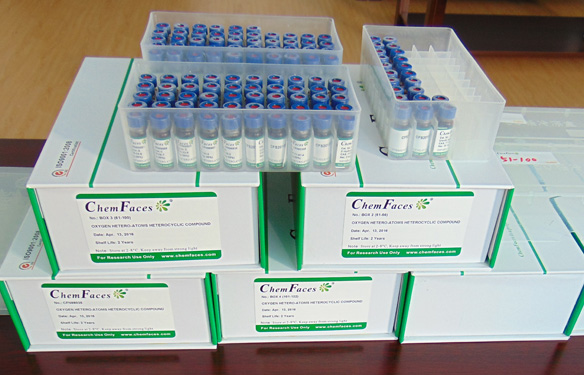 Providing storage is as stated on the product vial and the vial is kept tightly sealed, the product can be stored for up to
24 months(2-8C)
.
Wherever possible, you should prepare and use solutions on the same day. However, if you need to make up stock solutions in advance, we recommend that you store the solution as aliquots in tightly sealed vials at -20C. Generally, these will be useable for up to two weeks. Before use, and prior to opening the vial we recommend that you allow your product to equilibrate to room temperature for at least 1 hour.
Need more advice on solubility, usage and handling? Please email to: service@chemfaces.com
The packaging of the product may have turned upside down during transportation, resulting in the natural compounds adhering to the neck or cap of the vial. take the vial out of its packaging and gently shake to let the compounds fall to the bottom of the vial. for liquid products, centrifuge at 200-500 RPM to gather the liquid at the bottom of the vial. try to avoid loss or contamination during handling.
Nutrients.2019, 11(11):E2694
Evid Based Complement Alternat Med.2018, 2018:4259603
BMC Complement Altern Med.2016, 16:213
The Japan Society for Analytical Chemistry2017, 613-617
J Pharm Biomed Anal.2019, 172:268-277
Food Science and Biotechnology2015, 2205-2212
J Ethnopharmacol.2019, 228:132-141
Appl. Sci.2020, 10,1304
Phytother Res.2019, 33(5):1490-1500
Phytochemistry Letters2017, 449-455
JPEN J Parenter Enteral Nutr. 2011 Nov;35(6):770-5.
Influence of lipid type on bis (2-ethylhexyl)phthalate (DEHP) leaching from infusion line sets in parenteral nutrition.[Pubmed:
21868720
]
Bis(2-ethylhexyl)phthalate (or DEHP) is widely used in polyvinyl chloride (PVC) tubings for its good plasticizing properties. Because it is not covalently bound to the plastic matrix, it is able to escape from PVC during the infusion of the lipid emulsions used in parenteral nutrition (PN). This creates a vector through which it can enter into contact with the patient via the nutrition admixtures infused. This study was designed to assess the potential role of the type of lipids used in PN admixtures on the quantity of DEHP leached out from PVC-based tubings.
METHODS AND RESULTS:
PVC-based infusion lines, 6 commercially available lipid emulsions, and their oil base components were left in direct contact, and the amount of DEHP leached was measured by liquid chromatography. After a 24-hour exposure period, DEHP migration varied significantly (P = .0000152) according to lipid type. The olive oil-based emulsion Clinoleic leached the most DEHP (65.8 µg/mL intravenous fat emulsion), followed by the fish oil-based emulsion Omegaven (37.8 µg/mL). The soybean oil-based emulsions Intralipid, Medialipide, Lipidem, and Structolipid showed comparable performances, with DEHP leaching rates into the emulsion measured at 27.3, 27.8, 23.6, and 19.6 µg/mL, respectively. Results from the same experiments run on pure-form oils (soybean oil, olive oil, coconut oil, and cod liver oil) confirmed the influence of lipid type on DEHP leaching.
CONCLUSIONS:
The major DEHP leaching caused by olive oil-based emulsions raises cause for concern because DEHP presents distinctive toxic effects, including an increased risk of cholestasis.
Environ Health Perspect. 2011 Jul;119(7):914-20.
Food packaging and bisphenol A and bis(2-ethyhexyl) phthalate exposure: findings from a dietary intervention.[Pubmed:
21450549
]
Bisphenol A (BPA) and Bis(2-ethylhexyl) phthalate (DEHP) are high-production-volume chemicals used in plastics and resins for food packaging. They have been associated with endocrine disruption in animals and in some human studies. Human exposure sources have been estimated, but the relative contribution of dietary exposure to total intake has not been studied empirically. To evaluate the contribution of food packaging to exposure, we measured urinary BPA and phthalate metabolites before, during, and after a "fresh foods" dietary intervention.
METHODS AND RESULTS:
We selected 20 participants in five families based on self-reported use of canned and packaged foods. Participants ate their usual diet, followed by 3 days of "fresh foods" that were not canned or packaged in plastic, and then returned to their usual diet. We collected evening urine samples over 8 days in January 2010 and composited them into preintervention, during intervention, and postintervention samples. We used mixed-effects models for repeated measures and Wilcoxon signed-rank tests to assess change in urinary levels across time. Urine levels of BPA and DEHP metabolites decreased significantly during the fresh foods intervention [e.g., BPA geometric mean (GM), 3.7 ng/mL preintervention vs. 1.2 ng/mL during intervention; mono-(2-ethyl-5-hydroxy hexyl) phthalate GM, 57 ng/mL vs. 25 ng/mL]. The intervention reduced GM concentrations of BPA by 66% and DEHP metabolites by 53-56%. Maxima were reduced by 76% for BPA and 93-96% for DEHP metabolites.
CONCLUSIONS:
BPA and DEHP exposures were substantially reduced when participants' diets were restricted to food with limited packaging.
Ann Clin Lab Sci. 1985 Mar-Apr;15(2):140-51.
Bis-(2-ethylhexyl) phthalate, an ubiquitous environmental contaminant.[Pubmed:
3994287
]
Bis-(2-ethylhexyl) phthalate (DEHP) is the most commonly used plasticizing agent for the widely used plastic polyvinylchloride (PVC). Consequently, this compound is found everywhere in the environment of civilization, where it is in frequent contact with every person. Blood storage bags and tubing, food wrappers, and many children's toys contain appreciable amounts of DEHP. Given this frequency of exposure, the toxic potential of the compound has become a major concern. Many workers have demonstrated its exceedingly low acute toxicity, while results from chronic exposure studies have been mixed. However, in 1982 the National Toxicology Program reported a significantly increased incidence of hepatocellular carcinoma in rats and mice exposed to high doses of DEHP over a period of two years. The significance of these studies remains in question. Bis-(2-ethylhexyl) phthalate is metabolized extensively by mammals, but reports of the direct study of the toxic effects of its metabolites are few.
CONCLUSIONS:
Efficient methods for analysis of biological samples for DEHP are available, but they are complicated by the constant presence of this compound as a contaminant.
Reprod Biol. 2013 Sep;13(3):195-202.
Bis-(2-ethylexhyl) phthalate impairs spermatogenesis in zebrafish (Danio rerio).[Pubmed:
24011190
]
Bis-(2-ethylhexyl) phthalate (DEHP) is a widely used industrial additive for increasing plastic flexibility. Its metabolites are known to exert toxic effects on reproduction and development of mammals. The aim of this study was to evaluate the effects of environmentally relevant concentrations of DEHP (0.2 and 20 μg/L) on the reproductive biology of adult male zebrafish (Danio rerio).
METHODS AND RESULTS:
The effects of DEHP and 17β-ethynylestradiol (a positive control) were determined after one or three weeks of exposure by TUNEL assay, histomorphometric analysis and evaluation of reproductive performance. DEHP impaired reproduction in zebrafish by inducing a mitotic arrest during spermatogenesis, increasing DNA fragmentation in sperm cells and markedly reducing embryo production (up to 90%).
CONCLUSIONS:
In conclusion, relatively short-term exposure to environmentally relevant concentrations of DEHP is able to alter spermatogenesis and affect reproduction in zebrafish.