8-Gingerol

8-Gingerol is one of the principal components of ginger, which is widely used in China and elsewhere as a food, spice and herb, it has anti-oxidant, anti-inflammatory, immunosuppressive, and skin-whitening activities. It suppresses cellular tyrosinase activity and decrease melanin content, inhibits the expression of MC1R, MITF, tyrosinase, TRP1 and TRP2, decreases intracellular RS and ROS levels in B16F10 and B16F1 cells, inhibits melanogenesis by down-regulation of MAPK, PKA signaling pathway.
Inquire / Order: manager@chemfaces.com
Technical Inquiries: service@chemfaces.com
Tel: +86-27-84237783
Fax: +86-27-84254680

Address:
1 Building, No. 83, CheCheng Rd., Wuhan Economic and Technological Development Zone, Wuhan, Hubei 430056, PRC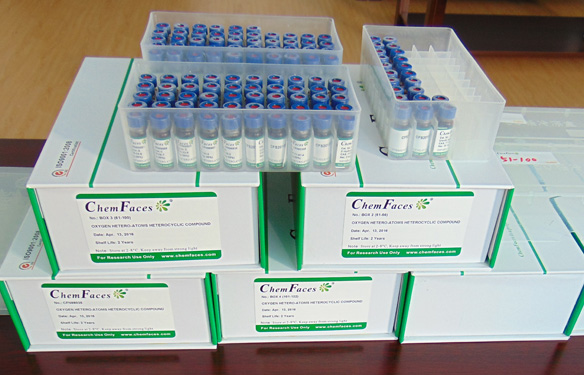 Providing storage is as stated on the product vial and the vial is kept tightly sealed, the product can be stored for up to
24 months(2-8C)
.
Wherever possible, you should prepare and use solutions on the same day. However, if you need to make up stock solutions in advance, we recommend that you store the solution as aliquots in tightly sealed vials at -20C. Generally, these will be useable for up to two weeks. Before use, and prior to opening the vial we recommend that you allow your product to equilibrate to room temperature for at least 1 hour.
Need more advice on solubility, usage and handling? Please email to: service@chemfaces.com
The packaging of the product may have turned upside down during transportation, resulting in the natural compounds adhering to the neck or cap of the vial. take the vial out of its packaging and gently shake to let the compounds fall to the bottom of the vial. for liquid products, centrifuge at 200-500 RPM to gather the liquid at the bottom of the vial. try to avoid loss or contamination during handling.
J Chromatogr B Analyt Technol Biomed Life Sci. 2017, 1064:115-123
J of Engineering Science&Technology2018, 13(9):2820-2828
Phytochemistry2018, 15:83-92
Int J Biol Macromol.2018, 112:1093-1103
Int J Mol Sci.2017, 19(1)
Integr Med Res.2017, 6(4):395-403
Pak J Pharm Sci.2019, 32(6):2879-2885
Trop J Nat Prod Res.2019, 3(1):6-9
Br J Pharmacol.2020, 10.1111
Pharmacognosy Magazine2018, 14(56):418-424
Biochem Biophys Res Commun. 2013 Aug 23;438(2):375-81.
8-Gingerol inhibits melanogenesis in murine melanoma cells through down-regulation of the MAPK and PKA signal pathways.[Pubmed:
23892040
]
8-Gingerol is an active component of Zinger and shows several pharmacological activities, such as antipyretic and anti-inflammation characteristics. To identify a potential skin-whitening agent, the inhibitory effects of 8-Gingerol on melanogenesis and its mechanism of action were investigated.
METHODS AND RESULTS:
In the present study, the effects of 8-Gingerol on mushroom tyrosinase, tyrosinase activity and melanin content were determined spectrophotometrically; the expression of melanogenesis-related proteins in B16F10 and B16F1 melanoma cells were determined by Western blotting. Furthermore, the possible signaling pathways involved in 8-Gingerol-mediated depigmentation were also investigated using specific inhibitors. The results revealed that 8-Gingerol(5-100μM) effectively suppressed intracellular tyrosinase activity and decreased the amount of melanin in B16F10 and B16F1 cells. In addition, 8-Gingerol also effectively decreased intracellular reactive species (RS) and reactive oxygen species (ROS) levels at the same dose range. Our results indicated that 8-Gingerol inhibited melanogenesis in B16F10 and B16F1 cells by down-regulation of both mitogen-activated protein kinases (MAPK) and protein kinase A (PKA) signaling pathways or through its antioxidant properties.
CONCLUSIONS:
Hence, 8-Gingerol could be used as an effective skin-whitening agent.
J Ethnopharmacol. 2010 Feb 3;127(2):515-20.
Comparative antioxidant and anti-inflammatory effects of [6]-gingerol, [8]-gingerol, [10]-gingerol and [6]-shogaol.[Pubmed:
19833188
]
The aim of the present study was to examine and compare the antioxidant and anti-inflammatory activities of gingerols and their natural analogues to determine their structure-activity relationship and molecular mechanisms.
METHODS AND RESULTS:
The in vitro activities of the compounds [6]-gingerol, 8-Gingerol, [10]-gingerol and [6]-shogaol were evaluated for scavenging of 1,1-diphenyl-2-picyrlhydrazyl (DPPH), superoxide and hydroxyl radicals, inhibition of N-formyl-methionyl-leucyl-phenylalanine (f-MLP) induced reactive oxygen species (ROS) production in human polymorphonuclear neutrophils (PMN), inhibition of lipopolysaccharide induced nitrite and prostaglandin E(2) production in RAW 264.7 cells. In the antioxidant activity assay, [6]-gingerol, 8-Gingerol, [10]-gingerol and [6]-shogaol exhibited substantial scavenging activities with IC(50) values of 26.3, 19.47, 10.47 and 8.05 microM against DPPH radical, IC(50) values of 4.05, 2.5, 1.68 and 0.85 microM against superoxide radical and IC(50) values of 4.62, 1.97, 1.35 and 0.72 microM against hydroxyl radical, respectively. The free radical scavenging activity of these compounds also enhanced with increasing concentration (P<0.05). On the other hand, all the compounds at a concentration of 6 microM have significantly inhibited (P<0.05) f-MLP-stimulated oxidative burst in PMN. In addition, production of inflammatory mediators (NO and PGE(2)) has been inhibited significantly (P<0.05) and dose-dependently.
CONCLUSIONS:
6-Shogaol has exhibited the most potent antioxidant and anti-inflammatory properties which can be attributed to the presence of alpha,beta-unsaturated ketone moiety. The carbon chain length has also played a significant role in making 10-gingerol as the most potent among all the gingerols. This study justifies the use of dry ginger in traditional systems of medicine.
Molecules. 2011 Mar 22;16(3):2636-45.
Immunosuppressive activity of 8-gingerol on immune responses in mice.[Pubmed:
21441866
]
8-Gingerol is one of the principal components of ginger, which is widely used in China and elsewhere as a food, spice and herb.
METHODS AND RESULTS:
It shows immunosuppressive activity on the immune responses to ovalbumin (OVA) in mice. In the present study, we found that 8-Gingerol suppressed lipopolysaccharide (LPS) and concanavalin A (ConA)-stimulated splenocyte proliferation in vitro. In vivo, 8-Gingerol not only significantly suppressed Con A-, LPS- and OVA-induced splenocyte proliferation (P < 0.05) but also decreased the percentage of CD19+ B cells and CD3+ T cell (P < 0.05) at high doses (50, 100 mg/kg). Moreover, OVA-specific IgG, IgG1 and IgG2b levels in OVA-immunized mice were reduced by 8-Gingerol at doses of 50, 100 mg/kg.
CONCLUSIONS:
These results suggest that 8-Gingerol could suppress humoral and cellular immune responses in mice. The mechanism might be related to direct inhibition of sensitized T and B lymphocytes.
Phytother. Res., 2015, 29(11):1707–13.
Differential Inhibition of T Lymphocyte Proliferation and Cytokine Synthesis by [6]-Gingerol, [8]-Gingerol, and [10]-Gingerol.[Reference:
WebLink
]
[6]-Gingerol, 8-Gingerol , and [10]-gingerol are pungent components of fresh ginger, extracts of which inhibit various components of the inflammatory response.
METHODS AND RESULTS:
Because little is known regarding the effect of gingerols with different unbranched alkyl side chain lengths on the activation and effector function of T lymphocytes, we compared the effects of [6]-gingerol, 8-Gingerol , and [10]-gingerol on murine T lymphocyte proliferation, expression of CD25 and CD69 activation markers, cytokine synthesis, and interleukin (IL)-2 receptor signaling. All three gingerols inhibited DNA synthesis by T lymphocytes, as well as interferon-γ synthesis. In contrast, only 8-Gingerol and [10]-gingerol inhibited CD25 and CD69 expression, and IL-2 synthesis. None of the gingerols affected IL-4 synthesis. Exogenous IL-2 enhanced T lymphocyte proliferation in the presence of [6]-gingerol but did not significantly increase T lymphocyte proliferation in the presence of 8-Gingerol or [10]-gingerol. In line with this finding, 8-Gingerol and [10]-gingerol impaired IL-2-induced proliferation of CTLL-2 cells, but constitutive CD25 expression was unaffected, indicating inhibition of IL-2 receptor signaling. In general, [10]-gingerol and 8-Gingerol were more potent inhibitors of T lymphocytes than [6]-gingerol.
CONCLUSIONS:
Suppression of T lymphocyte responses by gingerols suggests that these phytochemicals may be beneficial in chronic inflammatory conditions associated with excessive or inappropriate T lymphocyte activation.