Toddalolactone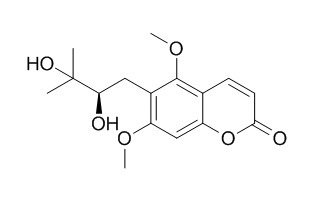 Toddalolactone, a natural coumarin, inhibits the activity of recombinant human Plasminogen activator inhibitor-1 (PAI-1) in a dose-dependent manner, yielding an IC50 value of 37.31 ± 3.23 μM.
Inquire / Order: manager@chemfaces.com
Technical Inquiries: service@chemfaces.com
Tel: +86-27-84237783
Fax: +86-27-84254680

Address:
1 Building, No. 83, CheCheng Rd., Wuhan Economic and Technological Development Zone, Wuhan, Hubei 430056, PRC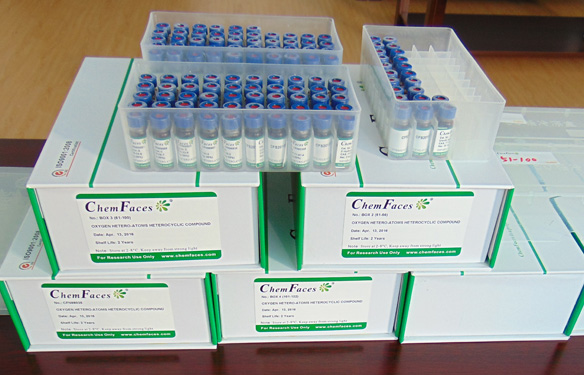 Providing storage is as stated on the product vial and the vial is kept tightly sealed, the product can be stored for up to
24 months(2-8C)
.
Wherever possible, you should prepare and use solutions on the same day. However, if you need to make up stock solutions in advance, we recommend that you store the solution as aliquots in tightly sealed vials at -20C. Generally, these will be useable for up to two weeks. Before use, and prior to opening the vial we recommend that you allow your product to equilibrate to room temperature for at least 1 hour.
Need more advice on solubility, usage and handling? Please email to: service@chemfaces.com
The packaging of the product may have turned upside down during transportation, resulting in the natural compounds adhering to the neck or cap of the vial. take the vial out of its packaging and gently shake to let the compounds fall to the bottom of the vial. for liquid products, centrifuge at 200-500 RPM to gather the liquid at the bottom of the vial. try to avoid loss or contamination during handling.
Food Science and Biotechnology2015, 2205-2212
Toxicol In Vitro.2018, 52:94-105
PLoS One.2015, 10(5):e0127060
Korean J. Medicinal Crop Sci.2018, 26(2):148-156
Int J Mol Sci.2020, 21(8):2790.
J of Physics Conference Series2019, 1349(1)
Psychopharmacology (Berl).2020, 10.1007
bioRxiv-Pharm.&Toxi.2022, 2022.481203.
Anal Bioanal Chem.2018, 410(5):1561-1569
Cancer Manag Res.2019, 11:483-500
Phytother Res. 2002 May;16(3):281-2.
Spasmolytic activity of Toddalia asiatica Var. floribunda.[Pubmed:
12164278
]
The spasmolytic activity of the aerial parts of Toddalia asiatica var. floribunda (family Rutaceae) was evaluated.
METHODS AND RESULTS:
The ethanol extract exhibited significant spasmolytic activity and was then partitioned into five fractions. The activity was found to be concentrated only in the hexane and chloroform fractions.
CONCLUSIONS:
This activity was shown not to be due to the coumarins, Toddalolactone and toddanone, as was previously thought.
Front Pharmacol. 2017 Jul 21;8:489.
Inhibition of PAI-1 Activity by Toddalolactone as a Mechanism for Promoting Blood Circulation and Removing Stasis by Chinese Herb Zanthoxylum nitidum var. tomentosum.[Pubmed:
28785222
]
Traditional Chinese medicine has been used to treat a variety of human diseases for many centuries. Zanthoxylum nitidum var. tomentosum is used as an adjuvant to promote blood circulation and remove stasis. However, the mechanisms of improving circulation and other biological activities of Z. nitidum var. tomentosum are still unclear. Plasminogen activator inhibitor-1 (PAI-1) regulates the plasminogen activation system through inhibition of tissue-type and urokinase-type plasminogen activators (tPA and uPA). PAI-1 has been linked to fibrin deposition that evolves into organ fibrosis and atherosclerosis.
METHODS AND RESULTS:
In the present study, we showed that ethanol extract prepared from Z. nitidum var. tomentosum exhibited PAI-1 inhibitory activity, and identified Toddalolactone as the main active component that inhibited the activity of recombinant human PAI-1 with IC50 value of 37.31 ± 3.23 μM, as determined by chromogenic assay, and the effect was further confirmed by clot lysis assay. In vitro study showed that Toddalolactone inhibited the binding between PAI-1 and uPA, and therefore prevented the formation of the PAI-1/uPA complex. Intraperitoneal injection of Toddalolactone in mice significantly prolonged tail bleeding and reduced arterial thrombus weight in a FeCl3-induced thrombosis model. In addition, the hydroxyproline level in the plasma and the degree of liver fibrosis in mice were decreased after intraperitoneal injection of Toddalolactone in CCl4-induced mouse liver fibrosis model.
CONCLUSIONS:
Taken together, PAI-1 inhibition exerted by Toddalolactone may represent a novel molecular mechanism by which Z. nitidum var. tomentosum manifests its effect in the treatment of thrombosis and fibrosis.
Yakugaku Zasshi. 1991 Jul;111(7):376-85.
Studies on the chemical constituents of rutaceous plants. LXVII. The chemical constituents of Toddalia asiatica (L.) Lam. (T. aculeata Pers). Examination of coumarins using supercritical fluid and soxhlet extraction. Is toddalolactone a genuine natural co[Pubmed:
1783986
]
It is well known that Toddalolactone (1) is a main component of Toddalia asiatica (L.) Lam. (T. aculeata Pers.) (Rutaceae). However, supercritical fluid (SCF) extraction of the plant by using CO2 showed that a main component of the extract was not Toddalolactone, but aculeatin (2), a coumarin having an epoxy ring on the side chain. These facts strongly suggested that Toddalolactone, corresponding to the hydrate of 2, was an artefact derived from 2 during extraction.
METHODS AND RESULTS:
SCF extraction under various conditions was examined in detail by quantitative analyses of Toddalolactone and 2 by high performance liquid chromatography and the optimum condition extracting the both components was found to be at 40 degrees C and at 300 kg/cm2. The condition was applied to the plant treated with aqueous sodium hydrogen carbonate in order to remove any acidic substances and Toddalolactone was still detected in the extract.
CONCLUSIONS:
Thus, it is conclude that Toddalolactone should be a genuine natural coumarin but that previous isolation of Toddalolactone as a main component resulted in an isolation of an artefact derived from 2. SCF extraction was suggested to be a useful extraction method.