Tectorigenin 7-O-xylosylglucoside
Reference standards.
Inquire / Order: manager@chemfaces.com
Technical Inquiries: service@chemfaces.com
Tel: +86-27-84237783
Fax: +86-27-84254680

Address:
1 Building, No. 83, CheCheng Rd., Wuhan Economic and Technological Development Zone, Wuhan, Hubei 430056, PRC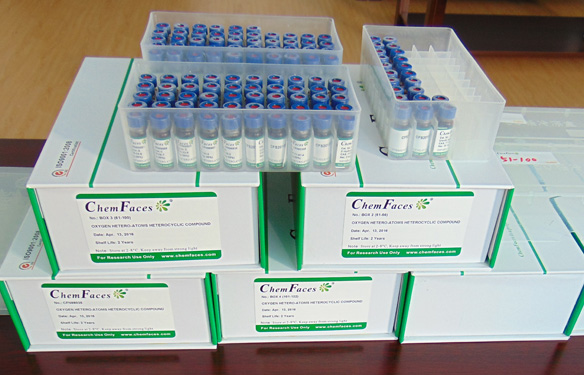 Providing storage is as stated on the product vial and the vial is kept tightly sealed, the product can be stored for up to
24 months(2-8C)
.
Wherever possible, you should prepare and use solutions on the same day. However, if you need to make up stock solutions in advance, we recommend that you store the solution as aliquots in tightly sealed vials at -20C. Generally, these will be useable for up to two weeks. Before use, and prior to opening the vial we recommend that you allow your product to equilibrate to room temperature for at least 1 hour.
Need more advice on solubility, usage and handling? Please email to: service@chemfaces.com
The packaging of the product may have turned upside down during transportation, resulting in the natural compounds adhering to the neck or cap of the vial. take the vial out of its packaging and gently shake to let the compounds fall to the bottom of the vial. for liquid products, centrifuge at 200-500 RPM to gather the liquid at the bottom of the vial. try to avoid loss or contamination during handling.
Phytomedicine.2018, 40:37-47
Pest Manag Sci.2019, 75(9):2530-2541
J Agric Food Chem.2015, 63(44):9869-78
Biosci. Rep.2020, 10.1024
Exp Ther Med.2019, 18(6):4388-4396
Food Chem.2019, 274:345-350
Mol Cells.2015, 38(9):765-72
Int J Mol Sci.2019, 20(11):E2734
Evid Based Complement Alternat Med.2016, 2016:4357656
Int J Biol Macromol.2018, 112:1093-1103
Bioscience and Microflora, 2011, 30(4):135-140.
Metabolism of Isoflavones Found in the Pueraria thomsonii Flower by Human Intestinal Microbiota.[Pubmed:
25045319
]
Isoflavones contained in the root and flower of Kudzu (Pueraria lobata and related species) are suggested to be the critical component for its effects. Although metabolism of soy isoflavones has been well studied, the composition of isoflavones found in Kudzu is completely different from that of soy isoflavones.
METHODS AND RESULTS:
In the present study, we investigated whether isoflavones found in the flower of Pueraria thomsonii, a species of Kudzu, were metabolized by human fecal microbiota and murine small intestinal enzymes. Among 5 glycosidic isoflavones of the Pueraria thomsonii flower, Tectorigenin 7-O-xylosylglucoside, tectoridin, genistin and glycitin were completely hydrolyzed by a homogenate of germfree mouse small intestine without contribution of bacteria. Released aglycones were not further metabolized, except that up to half of glycitein disappeared. Mouse small intestinal enzymes did not metabolize 6-hydroxygenistein 6,7-di-O-glucoside. Isoflavone aglycones as well as 6-hydroxygenistein 6,7-di-O-glucoside were highly metabolized by most of the human fecal suspensions.
CONCLUSIONS:
Metabolites were not detected with the present analytical methods in most cases. Although further investigations of the pharmacokinetics of Pueraria thomsonii flower isoflavones are needed, the results of the present study indicate active metabolism of Pueraria thomsonii flower isoflavones in the human intestine.