Quercetin-3-O-glucuronide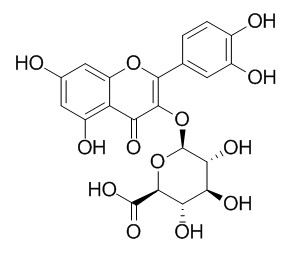 Quercetin-3-O-glucuronide is a potent stilbene oxidase inhibitor, it has antioxidant, anti-atherogenic, and anti-inflammatory activities. Quercetin-3-O-glucuronide significantly improves Alzheimer's disease (AD)-type deficits in hippocampal formation basal synaptic transmission and long-term potentiation, possibly through mechanisms involving the activation of the c-Jun N-terminal kinases and the mitogen-activated protein kinase signaling pathways. Quercetin-3-O-glucuronide is equally effective in inhibiting ROS-associated inflammation and ameliorating insulin resistant endothelial dysfunction by beneficial regulation of IRS-1 function.
Inquire / Order: manager@chemfaces.com
Technical Inquiries: service@chemfaces.com
Tel: +86-27-84237783
Fax: +86-27-84254680

Address:
1 Building, No. 83, CheCheng Rd., Wuhan Economic and Technological Development Zone, Wuhan, Hubei 430056, PRC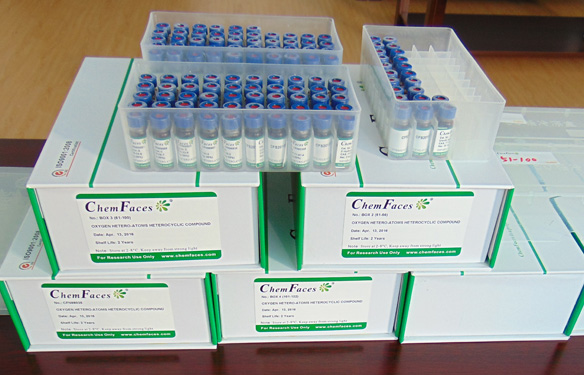 Providing storage is as stated on the product vial and the vial is kept tightly sealed, the product can be stored for up to
24 months(2-8C)
.
Wherever possible, you should prepare and use solutions on the same day. However, if you need to make up stock solutions in advance, we recommend that you store the solution as aliquots in tightly sealed vials at -20C. Generally, these will be useable for up to two weeks. Before use, and prior to opening the vial we recommend that you allow your product to equilibrate to room temperature for at least 1 hour.
Need more advice on solubility, usage and handling? Please email to: service@chemfaces.com
The packaging of the product may have turned upside down during transportation, resulting in the natural compounds adhering to the neck or cap of the vial. take the vial out of its packaging and gently shake to let the compounds fall to the bottom of the vial. for liquid products, centrifuge at 200-500 RPM to gather the liquid at the bottom of the vial. try to avoid loss or contamination during handling.
Pharm Biol. 2015 Oct 1
Int J Mol Med.2015 Dec 28.
J Pharm Biomed Anal. 2017 Jun 5;
Acta Biochim Pol.2015 May 26
Appl Microbiol Biotechnol. 2015 Dec 21.
Front Pharmacol. 2017 Apr 25;
Am J Chin Med.2016;44(8)
J Agric Food Chem.2018 Jan 10;
Separation Science and Technology2016 Mar,23
Anticancer Res.2014 Jul;34(7):3505-9.
PLoS One. 2015 May 14;10(5):e0126481.
Antimicrobial Air Filters Using Natural Euscaphis japonica Nanoparticles.[Pubmed:
25974109
]
Controlling bioaerosols has become more important with increasing participation in indoor activities. Treatments using natural-product nanomaterials are a promising technique because of their relatively low toxicity compared to inorganic nanomaterials such as silver nanoparticles or carbon nanotubes.
METHODS AND RESULTS:
In this study, antimicrobial filters were fabricated from natural Euscaphis japonica nanoparticles, which were produced by nebulizing E. japonica extract. The coated filters were assessed in terms of pressure drop, antimicrobial activity, filtration efficiency, major chemical components, and cytotoxicity. Pressure drop and antimicrobial activity increased as a function of nanoparticle deposition time (590, 855, and 1150 μg/cm2(filter) at 3-, 6-, and 9-min depositions, respectively). In filter tests, the antimicrobial efficacy was greater against Staphylococcus epidermidis than Micrococcus luteus; ~61, ~73, and ~82% of M. luteus cells were inactivated on filters that had been coated for 3, 6, and 9 min, respectively, while the corresponding values were ~78, ~88, and ~94% with S. epidermidis. Although statistically significant differences in filtration performance were not observed between samples as a function of deposition time, the average filtration efficacy was slightly higher for S. epidermidis aerosols (~97%) than for M. luteus aerosols (~95%). High-performance liquid chromatography (HPLC) and electrospray ionization-tandem mass spectrometry (ESI/MS) analyses confirmed that the major chemical compounds in the E. japonica extract were 1(ß)-O-galloyl pedunculagin, Quercetin-3-O-glucuronide, and kaempferol-3-O-glucoside. In vitro cytotoxicity and disk diffusion tests showed that E. japonica nanoparticles were less toxic and exhibited stronger antimicrobial activity toward some bacterial strains than a reference soluble nickel compound, which is classified as a human carcinogen.
CONCLUSIONS:
This study provides valuable information for the development of a bioaerosol control system that is environmental friendly and suitable for use in indoor environments.
PLoS One. 2015 Apr 15;10(4):e0121784.
Quercetin represses apolipoprotein B expression by inhibiting the transcriptional activity of C/EBPβ.[Pubmed:
25875015
]
Quercetin is one of the most abundant polyphenolic flavonoids found in fruits and vegetables and has anti-oxidative and anti-obesity effects. Because the small intestine is a major absorptive organ of dietary nutrients, it is likely that highly concentrated food constituents, including polyphenols, are present in the small intestinal epithelial cells, suggesting that food factors may have a profound effect in this tissue.
METHODS AND RESULTS:
To identify novel targets of quercetin in the intestinal enterocytes, mRNA profiling using human intestinal epithelial Caco-2 cells was performed. We found that mRNA levels of some apolipoproteins, particularly apolipoprotein B (apoB), are downregulated in the presence of quercetin. On the exposure of Caco-2 cells to quercetin, both mRNA and protein levels of apoB were decreased. Promoter analysis of the human apoB revealed that quercetin response element is localized at the 5'-proximal promoter region, which contains a conserved CCAAT enhancer-binding protein (C/EBP)-response element. We found that quercetin reduces the promoter activity of apoB, driven by the enforced expression of C/EBPβ. Quercetin had no effect on either mRNA or protein levels of C/EBPβ. In contrast, we found that quercetin inhibits the transcriptional activity of C/EBPβ but not its recruitment to the apoB promoter. On the exposure of Caco-2 cells to Quercetin-3-O-glucuronide, which is in a cell-impermeable form, no notable change in apoB mRNA was observed, suggesting an intracellular action of quercetin. In vitro interaction experiments using quercetin-conjugated beads revealed that quercetin binds to C/EBPβ.
CONCLUSIONS:
Our results describe a novel regulatory mechanism of transcription of apolipoprotein genes by quercetin in the intestinal enterocytes.