Mirificin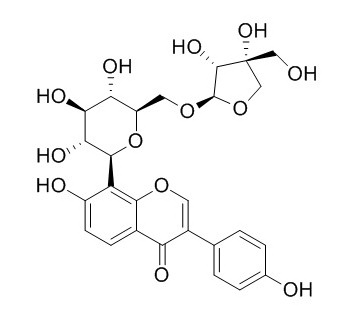 Inquire / Order: manager@chemfaces.com
Technical Inquiries: service@chemfaces.com
Tel: +86-27-84237783
Fax: +86-27-84254680

Address:
1 Building, No. 83, CheCheng Rd., Wuhan Economic and Technological Development Zone, Wuhan, Hubei 430056, PRC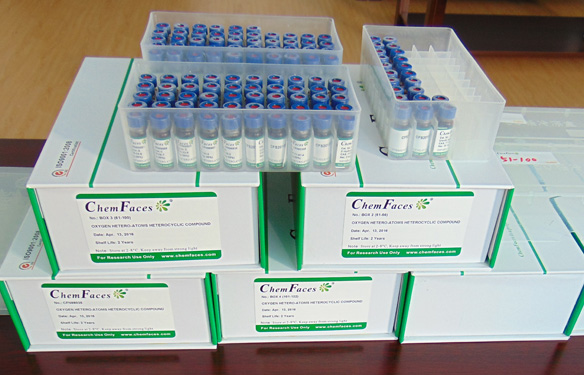 Providing storage is as stated on the product vial and the vial is kept tightly sealed, the product can be stored for up to
24 months(2-8C)
.
Wherever possible, you should prepare and use solutions on the same day. However, if you need to make up stock solutions in advance, we recommend that you store the solution as aliquots in tightly sealed vials at -20C. Generally, these will be useable for up to two weeks. Before use, and prior to opening the vial we recommend that you allow your product to equilibrate to room temperature for at least 1 hour.
Need more advice on solubility, usage and handling? Please email to: service@chemfaces.com
The packaging of the product may have turned upside down during transportation, resulting in the natural compounds adhering to the neck or cap of the vial. take the vial out of its packaging and gently shake to let the compounds fall to the bottom of the vial. for liquid products, centrifuge at 200-500 RPM to gather the liquid at the bottom of the vial. try to avoid loss or contamination during handling.
J Pharm Biomed Anal.2018, 151:32-41
Molecules.2019, 24(4):E709
Journal of Apiculture2019, 34(2):131-136
Spectrochim Acta A2019, 210:372-380
J Enzyme Inhib Med Chem.2019, 34(1):134-143
Nutr Res Pract2019, 13:e45
J Liq Chromatogr R T2018, 41(12):761-769
Molecules.2019, 24(17):E3127
Research on Crops.2017, 18(3):569
Biol Pharm Bull.2018, 41(1):65-72
Molecules. 2015 Oct 15;20(10):18704-16.
Study of the Biotransformation of Tongmai Formula by Human Intestinal Flora and Its Intestinal Permeability across the Caco-2 Cell Monolayer.[Pubmed:
26501241
]
Tongmai formula (TMF) is a well-known Chinese medicinal preparation that contains isoflavones as its major bioactive constituents. As traditional Chinese medicines (TCMs) are usually used by oral administration, their fate inside the intestinal lumen, including their biotransformation by human intestinal flora (HIF) and intestinal absorption deserves study.
METHODS AND RESULTS:
In this work TMF extract was incubated with human intestinal bacteria under anaerobic conditions and the changes in the twelve main constituents of TMF were then investigated. Their intestinal permeabilities, i.e., the transport capability across the intestinal brush border were investigated with a human colon carcinoma cell line (Caco-2) cell monolayer model to predict the absorption mechanism. Meanwhile, rapid HPLC-DAD methods were established for the assay. According to the biotransformation curves of the twelve constituents and the permeability coefficients, the intestinal absorption capacity of the typical compounds was elevated from the levels of 10(-7) cm/s to 10(-5) cm/s from those of the original compounds in TMF. Among them the main isoflavone glycosides puerarin (4), Mirificin (6) and daidzin (7) were transformed into the same aglycone, daidzein (10).
CONCLUSIONS:
Therefore it was predicted that the aglycone compounds might be the real active ingredients in TMF. The models used can represent a novel path for the TCM studies.
《Journal of Instrumental Analysis》 2013-04
Simultaneous Determination of Puerarin,3-Methoxy Puerarin,Mirificin and Daidzin in the Bioactive Fraction of Naodesheng Prescription by RP-HPLC/UV Method[Reference:
WebLink
]

METHODS AND RESULTS:
A reversed-phase high performance liquid chromatography coupled with UV detection(RP-HPLC/UV) was developed and validated for the simultaneous determination of four isoflavonoids,including puerarin(PU),3-methoxy puerarin(MP),Mirificin(MI) and daidzin(DA),in the bioactive fraction of Naodesheng prescription,i.e.a widely used herbal medicine(HM) in China mainly for treatment of cerebral arteriosclerosis,ischemic stroke,sequelae of cerebral hemorrhage and etc.The separation of four compounds was accomplished on a Hyspersil ODS-2 column(250 mm×4.6 mm,5 μm i.d.) by using methanol-water(25 ∶ 75) as mobile phase with isocratic elution at a flow rate of 0.9 mL/min.The UV detection wavelength was set at 250 nm,and the column temperature was 25 ℃.The high resolution and reproducible peaks were achieved for four compounds in 20 min.All the calibration curves showed good linearities(r≥0.999 7) over the test concentration range.The relative standard deviations(RSDs) of the method were less than 2.2% for precision,stability and reproducibility assays,and the spiked recoveries were in the range of 96%-102%.
CONCLUSIONS:
The total contents of the four isoflavonoids were determined to be in the range of 37.3%-37.8%in the bioactive fraction of Naodesheng prescription.