Isorhamnetin-3-O-neohespeidoside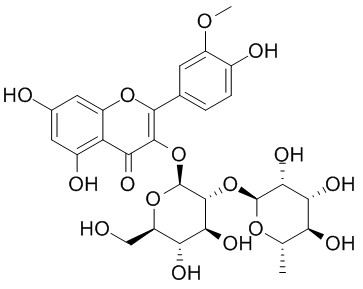 Isorhamnetin 3-O-neohesperoside is the major active substance of Puhuang, a traditional herb medicine widely used in clinical practice to tackle many chronic diseases. It has significant biological and pharmacological activities, including antioxidant, antiatherogenic and antimicrobial effects.
Inquire / Order: manager@chemfaces.com
Technical Inquiries: service@chemfaces.com
Tel: +86-27-84237783
Fax: +86-27-84254680

Address:
1 Building, No. 83, CheCheng Rd., Wuhan Economic and Technological Development Zone, Wuhan, Hubei 430056, PRC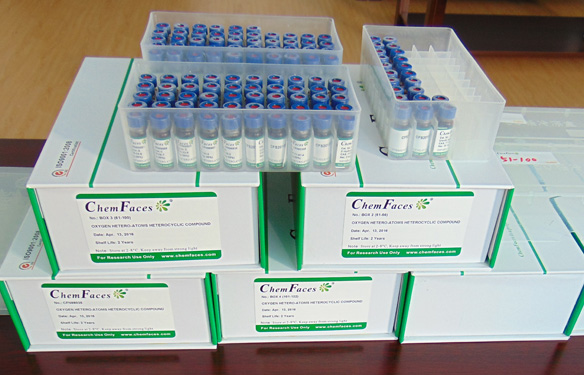 Providing storage is as stated on the product vial and the vial is kept tightly sealed, the product can be stored for up to
24 months(2-8C)
.
Wherever possible, you should prepare and use solutions on the same day. However, if you need to make up stock solutions in advance, we recommend that you store the solution as aliquots in tightly sealed vials at -20C. Generally, these will be useable for up to two weeks. Before use, and prior to opening the vial we recommend that you allow your product to equilibrate to room temperature for at least 1 hour.
Need more advice on solubility, usage and handling? Please email to: service@chemfaces.com
The packaging of the product may have turned upside down during transportation, resulting in the natural compounds adhering to the neck or cap of the vial. take the vial out of its packaging and gently shake to let the compounds fall to the bottom of the vial. for liquid products, centrifuge at 200-500 RPM to gather the liquid at the bottom of the vial. try to avoid loss or contamination during handling.
Curr Eye Res.2018, 43(1):27-34
Molecules.2017, 22(6)
Food Res Int.2017, 96:40-45
Universidade Estadual Paulista2017, 42785
Front Neurosci.2019, 13:1091
JPC-Journal of Planar Chromatography 2017, 30(4)
Molecules.2019, 24(2):329
J Cell Biochem.2018, 119(2):2231-2239
The Japan Society for Analytical Chemistry2018, 67(4):201-206
Molecules.2019, 24(6):E1177
J Chromatogr B Analyt Technol Biomed Life Sci. 2015 Jan 1;974:131-7.
Measurement of hydroxysafflor yellow A in human urine by liquid chromatography-tandem mass spectrometry.[Pubmed:
25463208
]

METHODS AND RESULTS:
A rapid and specific high performance liquid chromatography-tandem mass spectrometry (LC-MS/MS) was developed for the quantification of hydroxysafflor yellow A (HSYA) in human urine with Isorhamnetin-3-O-neohespeidoside as internal standard (IS). HSYA and IS were extracted from urine samples by simple solid-phase extraction and separated on an Agilent Zorbax SB C18 column (4.6 mm × 150 mm, 5 μm) with the mobile phase of 0.2 mM ammonium acetate: methanol (30/70, v/v) at a flow rate of 0.4 mL/min. Polar endogenous interferences eluted in 0.1-2.5 min were switched into waste channel by the Valve Valco, to reduce the possible matrix effect for MS detection in each run. The MS detection of analytes was performed on a tandem mass spectrometer equipped with an electrospray ionization source in negative mode using multiple-reaction monitoring. The MS/MS ion transitions monitored were m/z 611.3→491.2 for HSYA and m/z 623.2→299.2 for IS. The method was fully validated for selectivity, sensitivity, linearity, precision, accuracy, recovery, matrix effect and stability, and then was applied to the urinary excretion study of injectable powder of pure HSYA in healthy Chinese volunteers for the first time.
CONCLUSIONS:
The results suggested that urine was the main excretion way of HSYA in healthy volunteers, further demonstrating the feasibility and necessity of our current method.