Daidzein 7-O-glucuronide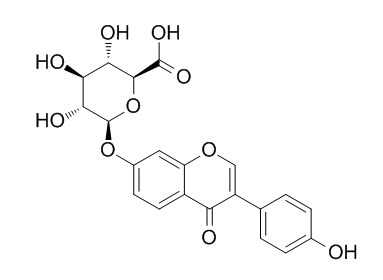 Daidzein-7-O-glucuronide has estrogenic potency.
Inquire / Order: manager@chemfaces.com
Technical Inquiries: service@chemfaces.com
Tel: +86-27-84237783
Fax: +86-27-84254680

Address:
1 Building, No. 83, CheCheng Rd., Wuhan Economic and Technological Development Zone, Wuhan, Hubei 430056, PRC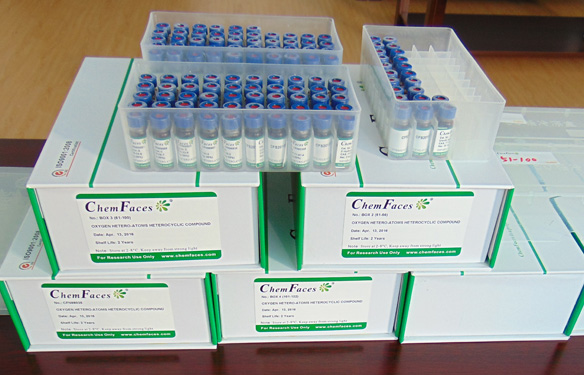 Providing storage is as stated on the product vial and the vial is kept tightly sealed, the product can be stored for up to
24 months(2-8C)
.
Wherever possible, you should prepare and use solutions on the same day. However, if you need to make up stock solutions in advance, we recommend that you store the solution as aliquots in tightly sealed vials at -20C. Generally, these will be useable for up to two weeks. Before use, and prior to opening the vial we recommend that you allow your product to equilibrate to room temperature for at least 1 hour.
Need more advice on solubility, usage and handling? Please email to: service@chemfaces.com
The packaging of the product may have turned upside down during transportation, resulting in the natural compounds adhering to the neck or cap of the vial. take the vial out of its packaging and gently shake to let the compounds fall to the bottom of the vial. for liquid products, centrifuge at 200-500 RPM to gather the liquid at the bottom of the vial. try to avoid loss or contamination during handling.
Trop J Nat Prod Res.2019, 3(1):6-9
Foods.2020, 9(10):1348.
Drug Des Devel Ther.2020, 14:5189-5204.
J Sep Sci.2019, 42(21):3352-3362
Journal of Food Hygiene and Safety2019, 34(5):413-420
FASEB J.2019, 33(2):2026-2036
Free Radic Biol Med.2017, 112:191-199
American Association for Anatomy2020, doi: 10.1002.
Nutrients.2020, 12(5):1242.
Br J Pharmacol.2020, 10.1111
Toxicology in Vitro, 2015,25(4):706-715.
Deconjugation of soy isoflavone glucuronides needed for estrogenic activity.[Reference:
WebLink
]
Soy isoflavones (SIF) are present in the systemic circulation as conjugated forms of which the estrogenic potency is not yet clear.
METHODS AND RESULTS:
The present study provides evidence that the major SIF glucuronide metabolites in blood, genistein-7-O-glucuronide (GG) and Daidzein 7-O-glucuronide (DG), only become estrogenic after deconjugation. The estrogenic potencies of genistein (Ge), daidzein (Da), GG and DG were determined using stably transfected U2OS-ERα, U2OS-ERβ reporter gene cells and proliferation was tested in T47D-ERβ cells mimicking the ERα/ERβ ratio of healthy breast cells and inT47D breast cancer cells. In all assays applied, the estrogenic potency of the aglycones was significantly higher than that of their corresponding glucuronides. UPLC analysis revealed that in U2OS and T47D cells, 0.2–1.6% of the glucuronides were deconjugated to their corresponding aglycones. The resulting aglycone concentrations can account for the estrogenicity observed upon glucuronide exposure. Interestingly, under similar experimental conditions, rat breast tissue S9 fraction was about 30 times more potent in deconjugating these glucuronides than human breast tissue S9 fraction.
CONCLUSIONS:
Our study confirms that SIF glucuronides are not estrogenic as such, and that the small % of deconjugation in the cell is enough to explain the slight bioactivity observed for the SIF-glucuronides. Species differences in deconjugation capacity should be taken into account when basing risk–benefit assessment of these SIF for the human population on animal data.
Aaps Pharmscitech, 2011, 12(4):p.1044-1049.
Enhanced Intestinal Absorption of Daidzein by Borneol/Menthol Eutectic Mixture and Microemulsion.[Reference:
WebLink
]
In the present study, the effect of a borneol/menthol eutectic mixture (25:75) and microemulsion on the absorption of daidzein in rat intestinal membrane was evaluated.
METHODS AND RESULTS:
The microemulsion formulation was composed of ethyl oleate (oil), Cremophor RH40 (surfactant), PEG400 (co-surfactant), and water. The borneol/menthol eutectic mixture and its microemulsion were found to enhance the intestinal absorption of daidzein in vitro. A diffusion chamber system with isolated rat intestinal membranes was used. In contrast, verapamil (0.3 mM), a typical P-glycoprotein inhibitor, showed no effect on the absorption of daidzein by this system. A pharmacokinetic study was conducted in rats. After oral administration of daidzein at a dose of 10 mg/kg in the form of either borneol/menthol eutectic mixtures or suspension, the relative bioavailability of borneol/menthol eutectic mixtures and microemulsion was enhanced by about 1.5- and 3.65-fold, respectively, compared with a daidzein suspension.
CONCLUSIONS:
In conclusion, a borneol/menthol eutectic mixture can enhance the absorption of daidzein, although the mechanism of absorption enhancement is still unclear.
Acta Pharmacologica Sinica, 01 Sep 2005, 26(9):1145-1152
Influence of dosage forms on pharmacokinetics of daidzein and its main metabolite daidzein-7-O-glucuronide in rats.[Reference:
WebLink
]
To investigate the influence of dosage forms on the pharmacokinetics of daidzein and its main metabolite Daidzein 7-O-glucuronide in Wistar rats.
METHODS AND RESULTS:
After administration of two typical dosage forms (daidzein solution and suspension), the concentrations of daidzein and Daidzein 7-O-glucuronide were determined by an LC-MS-MS method. The pharmacokinetic parameters were calculated and analyzed statistically using the Student's t-test. Absorption of daidzein after administration of daidzein solution (tmax=0.46 h) was more rapid than that of the suspension (tmax=5.00 h). The peak plasma concentrations of daidzein after administration of daidzein solution and suspension were 601.1 microg/L and 127.3 microg/L, respectively, and those of Daidzein 7-O-glucuronide were 3000 microg/L and 192.6 microg/L, respectively. The absolute bioavailabilities of free daidzein in rats after administration of daidzein solution and suspension were 12.8% and 6.1%, respectively, which were calculated to be 47.0% and 12.2%, respectively, in the form of total daidzein (free plus conjugated daidzein).
CONCLUSIONS:
Absorption of daidzein solution was better than absorption of suspension (P<0.05).