6''-O-xylosyl-glycitin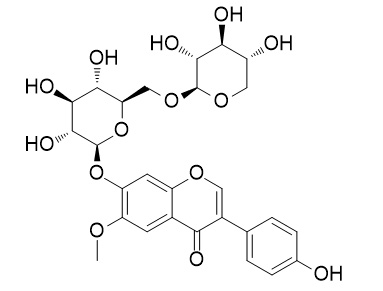 Reference standards.
Inquire / Order: manager@chemfaces.com
Technical Inquiries: service@chemfaces.com
Tel: +86-27-84237783
Fax: +86-27-84254680

Address:
1 Building, No. 83, CheCheng Rd., Wuhan Economic and Technological Development Zone, Wuhan, Hubei 430056, PRC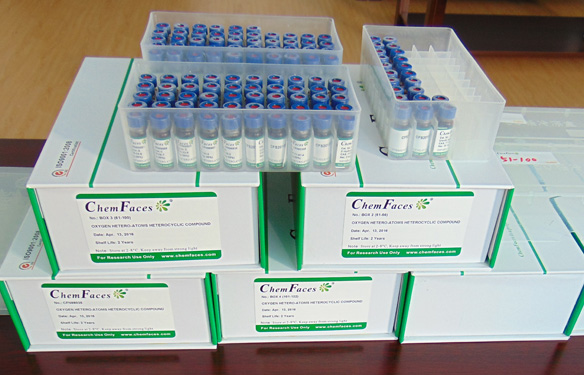 Providing storage is as stated on the product vial and the vial is kept tightly sealed, the product can be stored for up to
24 months(2-8C)
.
Wherever possible, you should prepare and use solutions on the same day. However, if you need to make up stock solutions in advance, we recommend that you store the solution as aliquots in tightly sealed vials at -20C. Generally, these will be useable for up to two weeks. Before use, and prior to opening the vial we recommend that you allow your product to equilibrate to room temperature for at least 1 hour.
Need more advice on solubility, usage and handling? Please email to: service@chemfaces.com
The packaging of the product may have turned upside down during transportation, resulting in the natural compounds adhering to the neck or cap of the vial. take the vial out of its packaging and gently shake to let the compounds fall to the bottom of the vial. for liquid products, centrifuge at 200-500 RPM to gather the liquid at the bottom of the vial. try to avoid loss or contamination during handling.
Oncotarget.2017, 9(3):4161-4172
Scientific World Journal.2014, 2014:654193
Arch Pharm Res.2015, 38(6):1080-9
Preprints2017, 2017120176
J of Ana. Chem.2019, 74(11):1113-1121
Molecules.2019, 24(11):E2102
Molecules.2019, 25(1):E103
Mol Med Rep.2014, 9(5):1653-9
Oncol Rep.2016, 35(3):1356-64
BMC Plant Biol.2018, 18(1):122
Biol Pharm Bull. 2001 Oct;24(10):1117-21.
Tectorigenin, an isoflavone of Pueraria thunbergiana Benth., induces differentiation and apoptosis in human promyelocytic leukemia HL-60 cells.[Pubmed:
11642314
]
Cytotoxic effects of six isoflavonoids, tectorigenin, glycitein, tectoridin, glycitin, 6''-O-xylosyltectoridin, and 6''-O-xylosyl-glycitin isolated from the flower of Pueraria thunbergiana Benth. together with genistein, a known differentiation and apoptosis inducer, were examined.
METHODS AND RESULTS:
Among these isoflavonoids, tectorigenin and genistein exhibited cytotoxicity against various human cancer cells; glycitein showed only mild cytotoxicity. These results suggest that the isoflavone structure and 5-hydroxyl group are crucial for the cytotoxic properties and that glycosides are inactive. Moreover, tectorigenin induced differentiation of human promyelocytic leukemia HL-60 cells to granulocytes and monocytes/macrophages, and caused apoptotic changes of DNA in the cells, as did genistein. Tectorigenin also inhibited autophosphorylation of epidermal growth factor (EGF) receptor by EGF and decreased the expression of Bcl-2 protein, with less activity than genistein.
CONCLUSIONS:
From these results, tectorigenin may be a possible therapeutic agent for leukemia.