1,3,5-Trihydroxyxanthone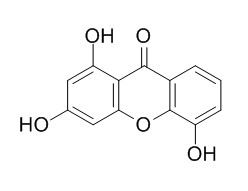 1,3,5-Trihydroxyxanthone has selective inhibitory activity on platelet aggregation induced by adenosine diphosphate.
Inquire / Order: manager@chemfaces.com
Technical Inquiries: service@chemfaces.com
Tel: +86-27-84237783
Fax: +86-27-84254680

Address:
1 Building, No. 83, CheCheng Rd., Wuhan Economic and Technological Development Zone, Wuhan, Hubei 430056, PRC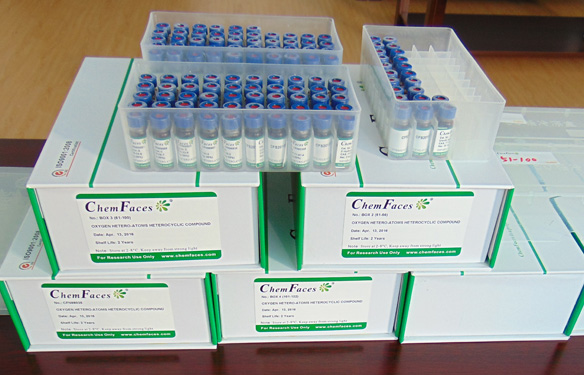 Providing storage is as stated on the product vial and the vial is kept tightly sealed, the product can be stored for up to
24 months(2-8C)
.
Wherever possible, you should prepare and use solutions on the same day. However, if you need to make up stock solutions in advance, we recommend that you store the solution as aliquots in tightly sealed vials at -20C. Generally, these will be useable for up to two weeks. Before use, and prior to opening the vial we recommend that you allow your product to equilibrate to room temperature for at least 1 hour.
Need more advice on solubility, usage and handling? Please email to: service@chemfaces.com
The packaging of the product may have turned upside down during transportation, resulting in the natural compounds adhering to the neck or cap of the vial. take the vial out of its packaging and gently shake to let the compounds fall to the bottom of the vial. for liquid products, centrifuge at 200-500 RPM to gather the liquid at the bottom of the vial. try to avoid loss or contamination during handling.
Evid Based Complement Alternat Med.2017, 2017:7383104
BMC Complement Altern Med.2019, 19(1):325
J Ethnopharmacol.2017, 206:327-336
Chemistry of Natural Compounds2018, 54(3):572¨C576
Sci Rep. 2018, 462(8)
Phytomedicine.2019, 55:229-237
The Korea Journal of Herbology2020, 35(3):33-45.
International J of Green Pharmacy2019, 13(3)
RSC Advances2017, 86
Korean Journal of Pharmacognosy2018, 49(3):270-277
Phytochemistry. 2012 Aug;80:58-63.
Benzophenones and xanthones from Garcinia cantleyana var. cantleyana and their inhibitory activities on human low-density lipoprotein oxidation and platelet aggregation.[Pubmed:
22640928
]

METHODS AND RESULTS:
Three benzophenones, 2,6,3',5'-tetrahydroxybenzophenone (1), 3,4,5,3',5'-pentahydroxybenzophenone (3) and 3,5,3',5'-tetrahydroxy-4-methoxybenzophenone (4), as well as a xanthone, 1,3,6-trihydroxy-5-methoxy-7-(3'-methyl-2'-oxo-but-3'-enyl)xanthone (9), were isolated from the twigs of Garcinia cantleyana var. cantleyana. Eight known compounds, 3,4,5,3'-tetrahydroxy benzophenone (2), 1,3,5-Trihydroxyxanthone (5), 1,3,8-trihydroxyxanthone (6), 2,4,7-trihydroxyxanthone (7), 1,3,5,7-tetrahydroxyxanthone (8), quercetin, glutin-5-en-3β-ol and friedelin were also isolated. The structures of the compounds were elucidated by spectroscopic methods. The compounds were investigated for their ability to inhibit low-density lipoprotein (LDL) oxidation and platelet aggregation in human whole blood in vitro. Most of the compounds showed strong antioxidant activity with compound 8 showing the highest inhibition with an IC₅₀ value of 0.5 μM, comparable to that of probucol.
CONCLUSIONS:
Among the compounds tested, only compound 4 exhibited strong inhibitory activity against platelet aggregation induced by arachidonic acid (AA), adenosine diphosphate (ADP) and collagen. Compounds 3, 5 and 8 showed selective inhibitory activity on platelet aggregation induced by ADP.